Instant Home Insurance Quote
TGS Insurance » Homeowners Insurance »
North Carolina Homeowners Insurance
TGS Insurance Agency understands that protecting your home and family is a top priority as a homeowner in North Carolina. Investing in a comprehensive homeowners insurance policy is one way to ensure your peace of mind, knowing that you are financially protected in the event of unexpected circumstances. However, understanding the intricacies of homeowners insurance can be overwhelming. We are here to help you explore the basics of North Carolina homeowners insurance, including policy options, coverage limits and frequently asked questions. At TGS Insurance Agency, we take great pride in offering our clients some of the most competitive rates in the state of North Carolina while also providing preferred coverage. Have additional questions? Our team of independent insurance agents is here to help!
What Does Home Insurance Cover in North Carolina?
Home insurance coverage in North Carolina can vary depending on the specific policy and insurer, but generally, it includes protection against various types of damage to your home and personal property, as well as liability coverage.
The most common types of coverage included in North Carolina home insurance policies are:
Dwelling coverage: This type of coverage protects your home's physical structure, including walls, roof, and foundation.
Personal property coverage: This coverage protects your personal belongings, including furniture, electronics, and other items, from damages or losses caused by covered perils.
Liability coverage: This coverage protects you from lawsuits arising from bodily injury or property damage caused by you or your family members.
Additional living expenses coverage: This coverage provides financial assistance for living expenses if you are temporarily displaced from your home due to covered perils.
It's important to note that there are often limits to coverage amounts and certain exclusions in home insurance policies. Be sure to carefully review your policy to understand what is covered and what is not. Additionally, you may want to consider purchasing supplemental coverage for specific risks. Many North Carolina homeowners elect to add endorsements or riders to fill any gaps and ensure they are fully protected. Some of the most common additional coverages in North Carolina include:
Earthquake Coverage is offered either as an addition to your existing policy (at an additional cost) or, more commonly, as a separate policy with its own deductible. Earthquake insurance will help you replace or rebuild your home if a quake damages your home and/or your belongings.
Flood Insurance is a stand-alone policy, separate from your homeowners insurance policy, and has its own deductible. You may be required by your lender to have this coverage if you live in a flood plain.
Guaranteed Replacement Cost is the most complete coverage for your home. If you have this endorsement, and the Coverage A limit stated in your policy is not enough to cover the loss to your home, your insurance company will pay the difference.
Water Backup Coverage is an endorsement of your policy that will extend extra coverage to you if your dwelling or belongings are damaged by water backup or sump overflow.
How Much Does North Carolina Home Insurance Cost?
The cost of homeowners insurance in North Carolina can vary depending on a variety of factors, including the value of your home, the location of your home, the type of coverage you choose, and the insurance company you choose.
In 2022, the average cost of homeowners insurance in North Carolina was $1,215 per year among TGS Insurance Agency customers, slightly lower than the national average of $1,477. However, keep in mind that this is just an average, and your actual premium may be higher or lower depending on your individual circumstances.
Factors that can affect the cost of your homeowners insurance in North Carolina include, but are not limited to:
The age, size, and construction materials of your home
Your location and the likelihood of natural disasters such as hurricanes or tornadoes
The amount of coverage you choose for your home and personal property
The deductible amount you choose
Your credit score and claims history
It's a good idea to shop around and compare quotes from different insurance companies to find the best coverage at a reasonable price. (PRO TIP: Have someone do this for you. At TGS Insurance Agency, we shop 55+ carriers to find you the best policy at the best price for you.) Additionally, you may be able to lower your premium by bundling your home insurance with other types of insurance, such as auto insurance, or by taking advantage of discounts offered by your insurance company, such as having a security system or being a non-smoker.
Buying Home Insurance in North Carolina
Ensuring your home is fully covered by the right homeowners insurance policy is crucial to safeguarding your investment. TGS Insurance Agency provides a hassle-free solution to compare rates with our free online instant quote tool, allowing you to effortlessly shop and compare over 55+ companies with just your address. Our experienced team of independent agents will collaborate with you until your coverage meets your requirements and budget, delivering unbeatable rates.
Is Homeowners Insurance Mandatory in North Carolina?
No, homeowners insurance is not mandatory in North Carolina. However, most mortgage lenders require homeowners insurance as a loan condition.
How Can I Lower My Homeowners Insurance Premiums in North Carolina?
You can lower your homeowners insurance premiums in North Carolina by increasing your deductible, bundling your insurance policies, installing safety features in your home, and improving your credit score.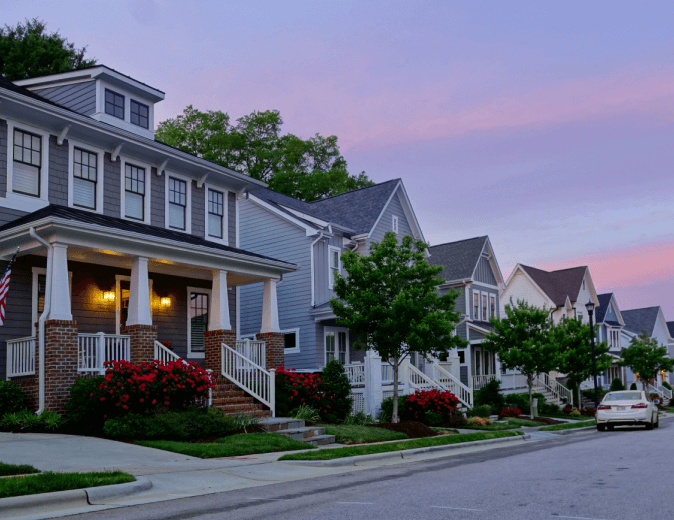 Learn More About Home Insurance on Our Blog:
Looking for More Information on Your Area?