Getting a Raleigh Home Insurance Quote Has Never Been Easier!
Finding the right Raleigh homeowners insurance can be confusing and time-consuming. TGS Insurance Agency is here to change that. Our expert home insurance agents do the hard work for you, making your home insurance shopping experience easy and stress-free. Getting started is simple; enter your address for a free, no-obligation instant quote, and our helpful team will take it from there!
What Does Raleigh Home Insurance Cover?
Most home insurance policies include some level of the following types of coverage.
| | |
| --- | --- |
| Coverage A | covers damages to your home |
| Coverage B | covers damages to additional structures on your property such as detached garages, sheds, or fences |
| Coverage C | covers damage to personal property such as furniture, electronics, and clothes |
| Coverage D | covers additional living expenses if your home becomes uninhabitable due to a covered loss |
| Coverage E | covers personal liability including coverage for claims arising from accidents on your property |
| Coverage F | covers medical expenses for injuries occurring on your property for those outside of your household |
When it comes to home insurance in Raleigh, there's no shortage of options. A standard policy typically covers a variety of losses, including damage caused by weather, theft, and accidents. But not all policies are created equal. That's why it's important to work with a knowledgeable agent who can help you navigate the complexities of home insurance and tailor your coverage to fit your needs. Whether you need more protection for your personal belongings or additional liability coverage, we've got you covered.
What is the Average Cost of Home Insurance in Raleigh?
Homeowner's insurance for TGS Insurance Agency customers in Raleigh, North Carolina, averages $1,224 annually. While the location in Raleigh is a big factor in the price of your insurance, it is not the only thing considered. Because every home insurance policy and house is different, carriers also look at the age of your home, its value, your credit score, and coverage amounts. On average, TGS has saved customers $870 on their home insurance premiums. To lock in your savings, type your address above for an instant quote!
Average Homeowners Insurance Cost by Coverage Level in Raleigh
The cost to replace your home is essential to determine the dwelling coverage you need on your home insurance policy; this limit directly impacts your home insurance premium. On top of affecting your average annual costs, having an accurate replacement cost can prevent you from being underinsured if a covered loss takes your entire house. These are the average annual home insurance costs in Raleigh, North Carolina, based on dwelling coverage limits associated with the policy. 
| Dwelling Coverage Limits | Average Annual Premium (incl. Windstorm & Hail Coverage) |
| --- | --- |
| $100,000.00 - $199,999.00 | $774.72 |
| $200,000.00 - $299,999.00 | $1,104.93 |
| $300,000.00 - $399,999.00 | $1,347.85 |
| $400,000.00 - $499,999.00 | $1,603.02 |
| $500,000.00 - $599,999.00 | $1,863.90 |
| $600,000.00 - $699,999.00 | $2,113.90 |
How Does My ZIP Code Affect My Home Insurance?
While some factors regarding your location, such as the probability of severe weather, are calculated at the city or county level. Some factors are analyzed as specifically as your zip code or neighborhood. Since the size and build of your home are usually consistent within neighborhoods, the location of your home plays a significant role in determining your risk of covered perils. In Raleigh, the ZIP code 27601 has the lowest average premium of $1,023 for TGS customers. The ZIP code with the highest premium is 27614, costing TGS customers an average of $1,607 annually.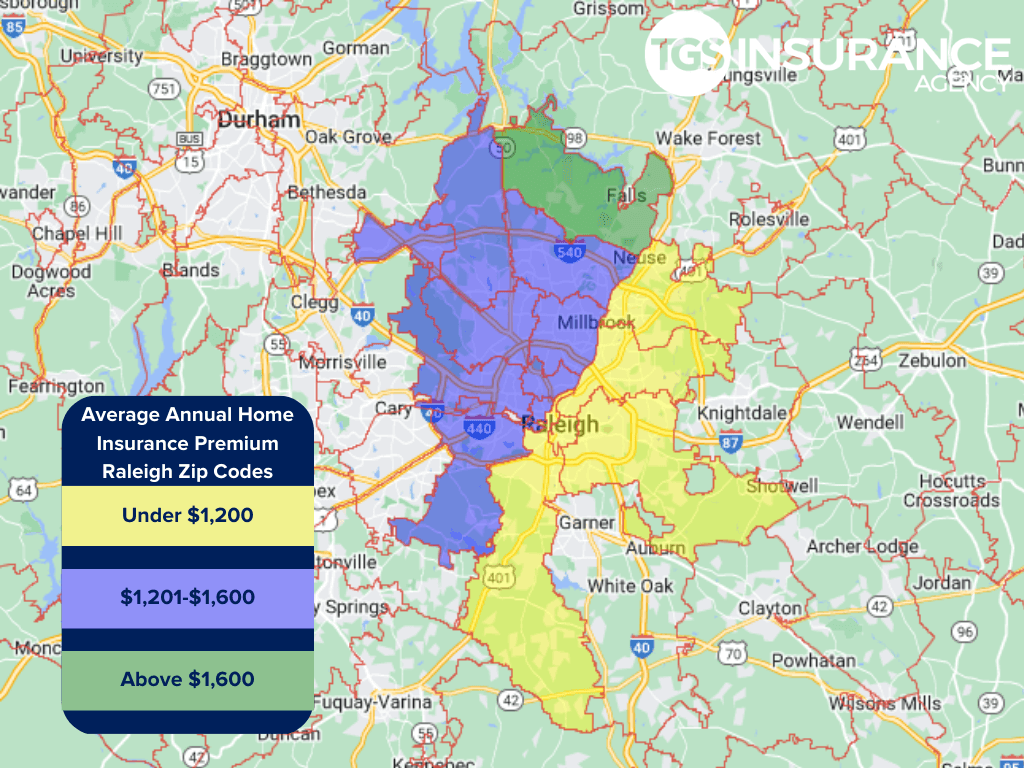 Cheapest Raleigh Home Insurance Carrier
Homeowners in Raleigh, North Carolina, all want the same thing- an excellent home insurance policy that doesn't break the bank. Cost is one of the most influential things people look at when purchasing insurance, next to the amount of coverage. This is why homeowners must compare and shop their policies across multiple carriers! Insurance carriers set their rates, so your premium could vary across multiple carriers with the same coverage. Our two most affordable (and popular) insurance providers in Raleigh, North Carolina, are Travelers and SageSure. On average, TGS Insurance drivers in Raleigh, North Carolina, pay $1,104 for Travelers annually and $931 for Safeco.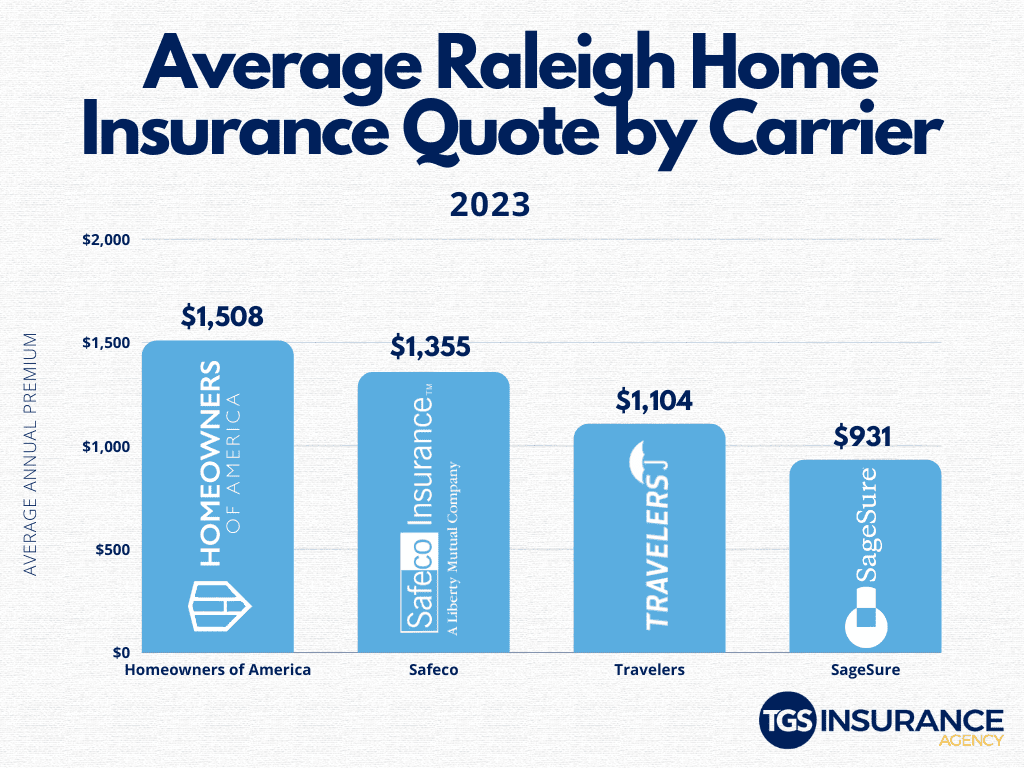 Raleigh Zip Codes We Insure
| | | | | |
| --- | --- | --- | --- | --- |
| 27601 | 27605 | 27608 | 27612 | 27615 |
| 27603 | 27606 | 27609 | 27613 | 27616 |
| 27604 | 27607 | 27610 | 27614 | 27617 |
Zip code not listed? Don't worry! We can help homeowners throughout North Carolina save money on their home insurance. Get started with a free instant quote by providing your address above.