Get an Instant High Point Home Insurance Quote!
With over 55 top-rated insurance carriers at our disposal, we pride ourselves on being an independent agency that can offer comprehensive High Point home insurance options to meet your every need. Our team of highly qualified homeowners insurance agents will do the heavy lifting for you, making your home insurance shopping process a breeze. Get started with an instant, free quote today, and let us help you customize your policy to find any discounts you qualify for. We shop, you save – it's that simple!
What is Covered in High Point Home Insurance?
Don't let unexpected losses threaten your home and personal belongings. With home insurance in High Point, you can have peace of mind knowing you're covered against various risks. A standard policy typically covers your home's structure, personal belongings, liability, and additional living expenses. But not all policies are created equal, so it's important to work with an agent who can help you customize your coverage to fit your unique needs. Whether you need more protection for your high-value items or want to add coverage for specific risks like earthquakes or floods, we've got you.
What Does Home Insurance Cost in High Point?
Homeowners insurance in High Point costs $1,014 a year on average, or $84.50 per month, among TGS Insurance customers. The cost of your home insurance premium will vary based on a few different things. This can be from your credit, location, value of your home, and what year your home was built. It is normal for your home insurance to vary from this average and other numbers you see online. The great thing about it is that you can completely customize your coverage.TGS Insurance Agency has helped over 18,000 customers save on their home insurance premiums. To lock in your savings, type your address above for an instant quote! 
Average Homeowners Insurance Cost by Coverage Level in High Point
The cost to replace your home is essential to determine the dwelling coverage you need on your home insurance policy; this limit directly impacts your home insurance premium. On top of affecting your average annual costs, having an accurate replacement cost can prevent you from being underinsured if a covered loss takes your entire house. These are the average annual home insurance costs in High Point, North Carolina, based on dwelling coverage limits associated with the policy. 
| Dwelling Coverage Limits | Average Annual Premium (incl. Windstorm & Hail Coverage) |
| --- | --- |
| $100,000.00 - $199,999.00 | $658.42 |
| $200,000.00 - $299,999.00 | $951.43 |
| $300,000.00 - $399,999.00 | $1,175.54 |
| $400,000.00 - $499,999.00 | $1,423.82 |
| $500,000.00 - $599,999.00 | $1,653.82 |
Does My ZIP Code Affect Home Insurance Premiums in High Point?
Insurance carriers look at more than your home state when pricing your premium- they can get as specific as your ZIP Code. For example, in North Carolina, when you are closer to the coast, you may experience higher annual premiums because of your risks of perils like flooding and hurricanes. In High Point, the ZIP code 27263 has the lowest premium, averaging $789 per year among TGS customers. The ZIP code with the highest average premium is 27265, costing TGS customers an average of $1,093 a year.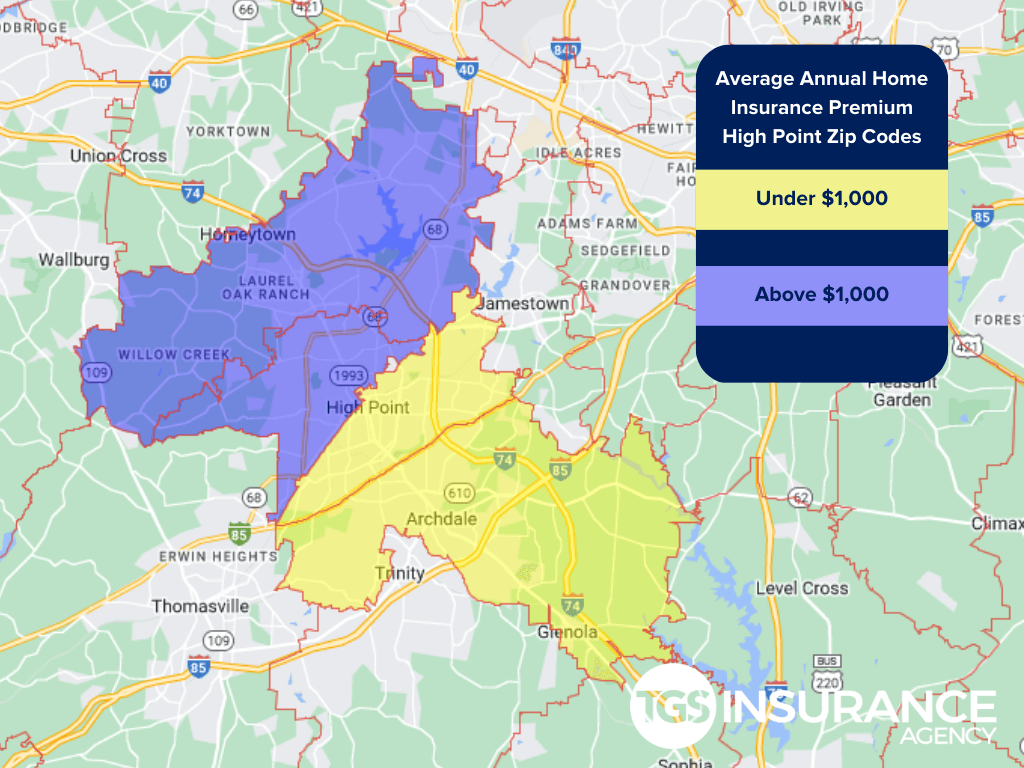 How Different Insurance Carriers in High Point Differ in Price
When searching for a new home insurance policy, you want to ensure it fits your needs and is within your budget. The carrier you decide to use is one of the biggest factors affecting your premium cost. Carrier rates differ because they have different ways of determining your risk to them. Say your house is a bit older- one carrier may see that as not a huge deal, but another will take that seriously and charge you more for your premium. In High Point, the least expensive carrier is SageSure, and on average, High Point residents pay $758 a year. Here is a breakdown of our most popular carriers in High Point and how their averages differ.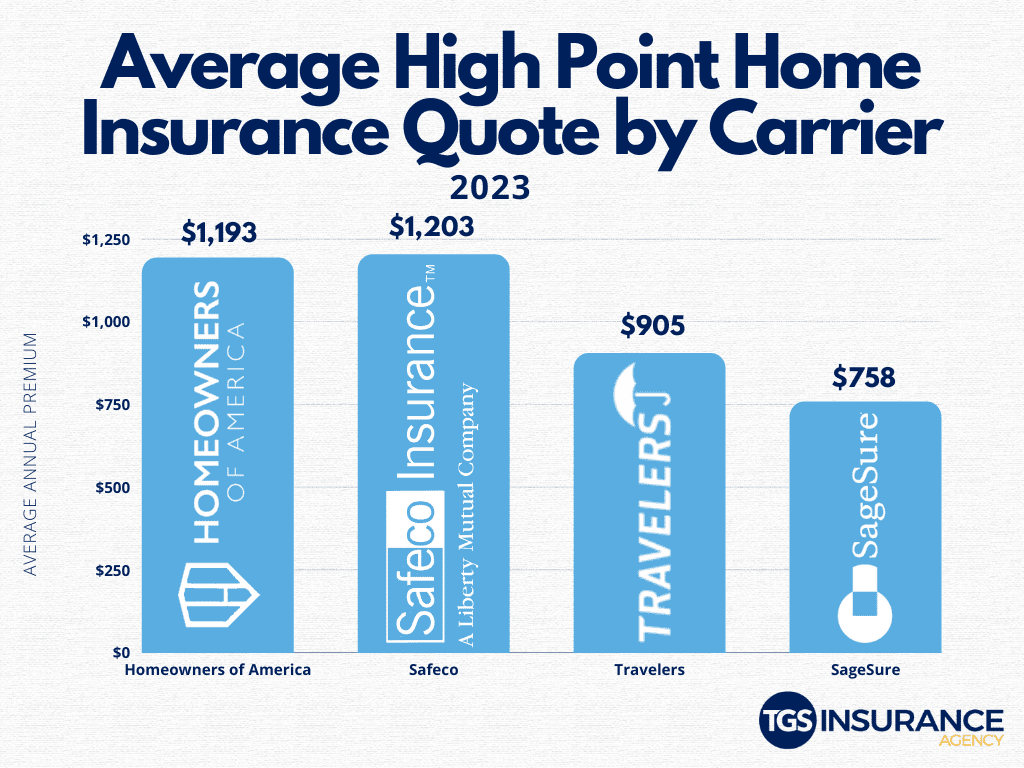 When picking which carrier is right for you, the cheapest may not always be the best. But there is no need for endless days of researching, quoting, and aggravation. At TGS, we shop around for you. You get all the prices and coverages given to you. Then you can decide which is your perfect match!
Zip Codes in High Point We Insure
Don't see your zip code? Not a problem! We can help homeowners throughout North Carolina find the best home coverage for their needs. Get started with a free instant quote by providing your address above.