Finding Affordable Fayetteville Home Insurance Made Simple
At TGS Insurance Agency, we leverage our relationships with several top-rated carriers to find you the best coverage and prices. Our online quoting tool makes getting a home insurance quote easier and faster than ever- all we need is your address! Our agents are ready to review your quote to assure you are getting the coverage you need and not overpaying for coverage you don't.  
We shop, and you save time and money; it really is that easy.
What is Covered in Fayetteville Home Insurance?
Don't let unexpected losses threaten your home and personal belongings. With home insurance in Fayetteville, you can have peace of mind knowing you're covered against various risks. A standard policy typically covers your home's structure, personal belongings, liability, and additional living expenses. But not all policies are created equal, so it's important to work with an agent who can help you customize your coverage to fit your unique needs. Whether you need more protection for your high-value items or want to add coverage for specific risks like earthquakes or floods, we've got you covered.
How Much Does Fayetteville Home Insurance Cost?
The average cost of home insurance in Fayetteville, North Carolina, is $1,575 among TGS Insurance Agency customers. Home insurance rates vary based on several factors, including your home's age, value, and location, as well as your credit score and desired coverage levels. This average is based on policies with an average home value of $267,355 and includes windstorm and hail coverage with a 2% deductible. TGS Insurance Agency offers customizable options to all our customers so you can find the right policy and pay what you want. Get started with a free instant home insurance quote by providing your address above.
Average Fayetteville Home Insurance Cost By Dwelling Coverage Limits
As mentioned above, dwelling coverage is a component of home insurance that protects the physical structure of your home from covered perils. It is designed to cover the cost of repairing or rebuilding your home if it is damaged or destroyed by a covered event. The amount of dwelling coverage you need will depend on the cost of rebuilding your home. Your home insurance policy typically provides coverage up to a specified dollar amount, known as the policy limit. It's important to ensure that your dwelling coverage limit is high enough to cover the cost of rebuilding your home in the event of a total loss. Dwelling coverage limits can have a significant impact on home insurance premiums. In general, the higher the dwelling coverage limit, the higher the premium since the insurance company will take on more risk.
In Fayetteville, North Carolina, if you need $200,000 in dwelling coverage, you'll pay an average of $1,586 per year. However, if your home is worth more, you'll want more coverage, so homeowners wanting $400,000 in dwelling coverage will pay closer to an average of $2,322 in Fayetteville, North Carolina.
| Dwelling Coverage Limits | Average Annual Premium (incl. Windstorm & Hail Coverage) |
| --- | --- |
| $100,000.00 - $199,999.00 | $1,098.64 |
| $200,000.00 - $299,999.00 | $1,586.20 |
| $300,000.00 - $399,999.00 | $1,939.06 |
| $400,000.00 - $499,999.00 | $2,322.10 |
| $500,000.00 - $599,999.00 | $2,718.44 |
How Does Your Location in
Fayetteville
Affect Your Home Insurance?
Where you live is one of the biggest factors that affect your home insurance premium. This gets so specific that carriers look at ZIP codes and neighborhoods. If your neighborhood has a higher theft rate than the neighborhood a few blocks down, your rates will be higher. If home insurance companies identify anything in your area that might make your home riskier to insure, you will see that reflected in your premium. Because carriers are very particular with risk evaluations, rates vary greatly-even within the same city. Below is a breakdown of the average annual premium for home insurance in Fayetteville: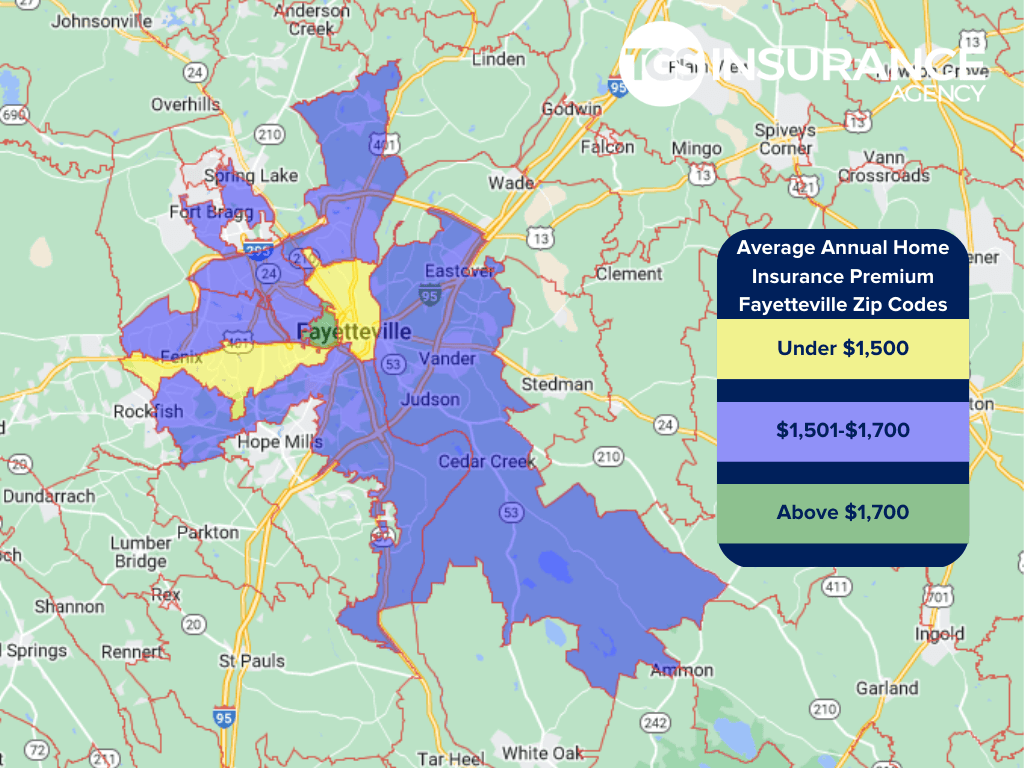 Cheapest
Fayetteville
Home Insurance Carrier
Homeowners in Fayetteville, North Carolina, all want the same thing- an excellent home insurance policy that doesn't break the bank. Cost is one of the most influential things people look at when purchasing insurance, next to the amount of coverage. This is why homeowners must compare and shop their policies across multiple carriers! Insurance carriers set their rates, so your premium could vary across multiple carriers with the same coverage. Our two most affordable (and popular) insurance providers in Fayetteville, North Carolina, are Safeco and SageSure. On average, TGS Insurance customers in Fayetteville, North Carolina, pay $1,346 for Safeco annually and $1,117 for SageSure.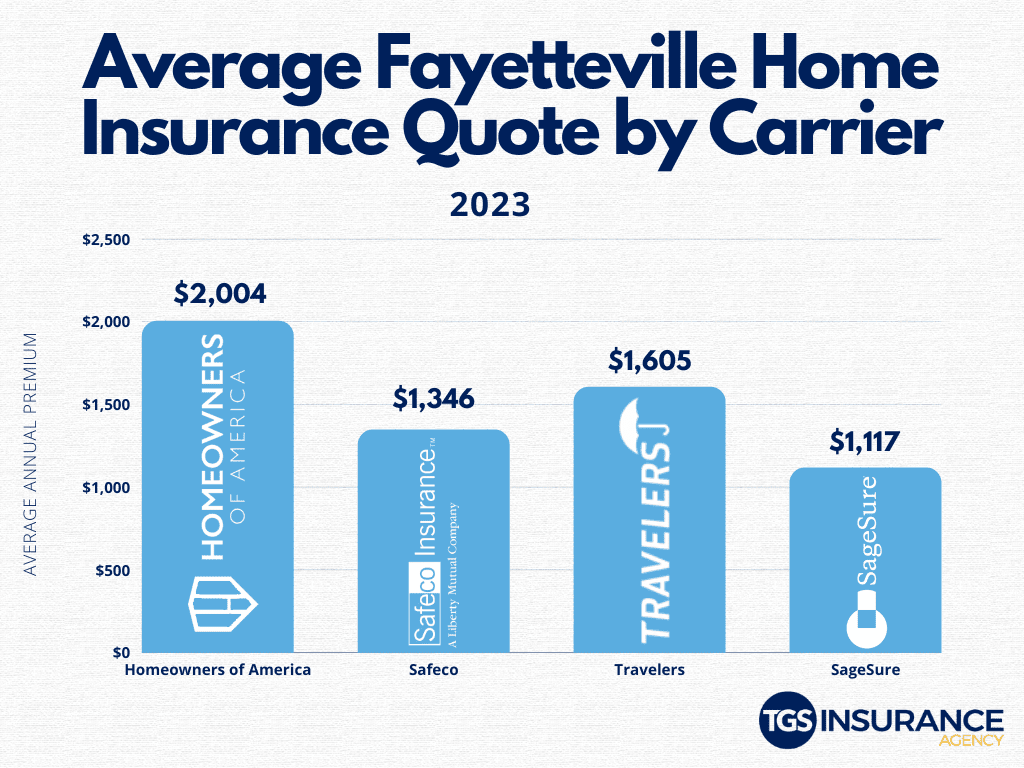 Fayetteville
Zip Codes We Insure
| | | | |
| --- | --- | --- | --- |
| 28301 | 28304 | 28306 | 28312 |
| 28303 | 28305 | 28311 | 28314 |
Zip code not listed? Don't worry! We can help homeowners throughout North Carolina save money on their home insurance. Get started with a free instant quote by providing your address above.