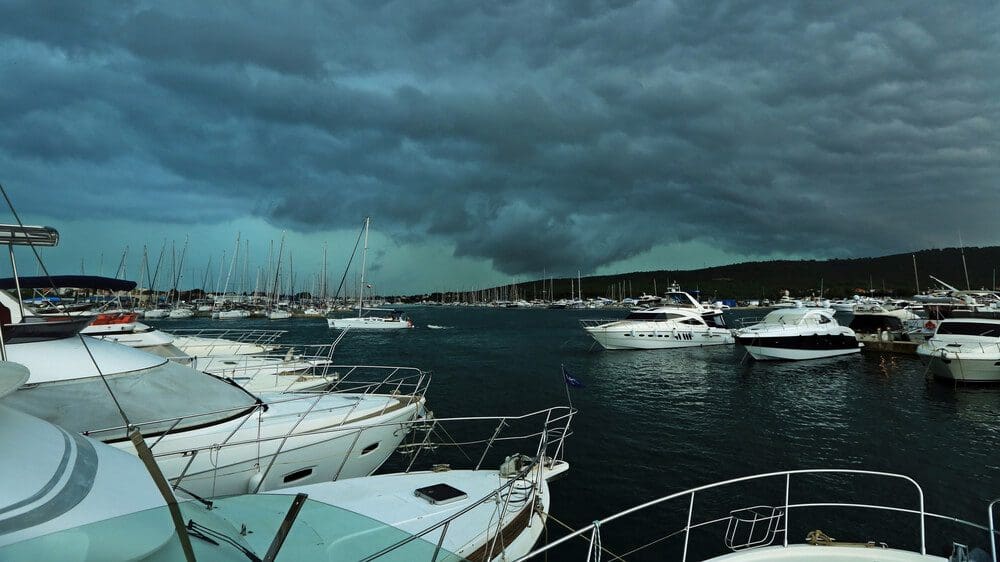 The ushering in of summer brings the Gulf Coast plenty of opportunities for recreation and relaxation. Boating is a wonderful example of these activities, but with storm season upon us, preparing your boat for a hurricane is a necessity. Boaters have unique challenges to overcome when storms approach. With damages to over 60,000 boats and well over half a billion dollars from Hurricane Irma and Harvey in 2017 alone, it is easy to see how these forces of nature can unleash widespread destruction. 
Insurers have reacted to these losses by first, raising the premiums and deductibles for boats along the Gulf Coast. And secondly, implementing more stringent requirements upon boat owners to have a plan to deal with these disasters.  
Many carriers require a written plan, known as a Hurricane Plan or Named Storm Plan, that requires you, the boat owner, to execute to maintain coverage for that event. The underwriters will examine the plan and use that to "rate the risk". A boat that can be taken miles away from the coast via trailer is a lesser risk than one that has to ride out the storm tied to a dock.  For larger boats, it's not uncommon for the Named Storm Plan to require you to take your vessel outside the National Hurricane Center Storm warning areas. Failure to follow the plan can result in greatly increased deductibles, sometimes as high as 50%. Some insurers simply have taken the storm risk out of the equation by writing a "Named Windstorm Exclusion" into the policy.   
Having a plan and protecting your watercraft can help you and your boating community heal faster, mitigate stress, and save you from recovering from the financial stresses windstorms may bring.
Boat Insurance Helps You Recover After a Disaster
Staying protected year-round plays a key part in protecting your watercraft for the hurricane season. Enrolling in boat insurance can help you offset damages, pay for any bodily injuries that could occur on your boat during a storm, assist with damage caused to other people's property, towing, the cleaning of hazardous materials, and more. There are a lot of different policies and coverages can change depending on your situation or carrier. 
Things to Consider When Preparing Your Boat For a Hurricane
Securing your boat will take some effort on your part with all of the traditional elements of hurricane preparation with the added challenges that are unique to your watercraft. When storms approach your area and it's time to protect your sea vessel, remember the following considerations as part of your preparations:
Remember to take extra time as you will need to secure your home as well as your boat should a storm head your direction. If your boat is located in a different place than your residence, be sure to allow for the proper amount of time to reach it or make arrangements with a licensed, insured crew to ensure its safety.

Prepare an evacuation route should your boat require to be removed by land or sea and reserve an area in which it can be safely stored for the time being.

There are many different elements at play when storms approach marinas including rain, wind, rising seas, irregular tides, storm surges, debris, and more. Prepare thoroughly for the various elements your boat will be exposed to during a windstorm.

Consider the unmentioned. Every marina, watercraft, and situation is unique to itself. Audit the steps you need to take for your circumstances and prepare appropriately to execute your plans when storms arrive. 
If you store your boat at a marina, it's a good idea to have a conversation with them regarding their storm policies. Some marinas are designed to provide a safe harbor behind protective barriers, others are more exposed and may order the evacuation of your boat leading up a storm. Since 2017, when several marinas were destroyed, there have been significant policy changes with how they deal with storms.   
Executing Your Named Storm Plan for Your Boat
Executing the agreed-upon Named Storm Plan is essential to maintaining your coverage and minimizing the risk to you and your vessel. Understand the timing of the conditions, the marina policies, and limitations, and leave yourself adequate safe time to execute your plan.
Once you've devised a plan, it's time to put it into action. Check out these steps to preparing your boat when a hurricane is approaching:
If you're leaving by sea, be sure to prepare as you would for any other voyage with a special emphasis on extra rations of food, emergency supplies, safety equipment, fully charged batteries, radios/communication devices, extra fuel, tools, PPE, and a clear navigation path. Always follow local and national guidelines before setting for your course and never operate in unsafe waters. Considering the timing of the approaching storm, executing too early could create a false-alarm with ever-shifting storms, but waiting too long could trap you or create a dangerous situation. Before Hurricane Harvey, many boats from Port Aransas and Rockport, Texas made the journey to the safety of Freeport Marina, located behind a high-water flood gate. Some waited too long and were stuck outside the gate, left to ride out the storm without protection.

If you decide to keep your vessel at its marina, consider renting dry storage if it is available. If dry storage is not an option:

Remove important documentation and store in a secure area.

Remove any excess equipment or items that are removable including cushions, dinghies, fishing equipment, etc.

Secure everything. Anything on your boat that can move should be fastened and secured in a manner that can survive extreme conditions. Cover equipment that can not be taken and secure these coverings in the same manner.

Boats in lifts should be also tied and secured in the same manner of boats resting in slips. Water may rise so be prepared to secure your watercraft appropriately to withstand a rise in water depth. If your slip has a ceiling, take into account the rise that will come and consider if your slip is high enough to protect your vessel without damage.

Be sure to consult the harbormaster at the marina for guidance on preparations for boats that will remain.

For a more technical look at boating tips during a hurricane, you can check out this article from the U.S. Coast Guard for more details.
These tips are not universal but may help serve you as a guide when preparing. Always discuss docking practices with the professionals at your local marina as no two marinas are the same and conditions will vary depending on your location.
Find the Right Boat Insurance Policy for You
Hurricanes and tropical storms can deliver tremendous amounts of damage but you don't have to face them alone. Here at TGS Insurance, through our network of partnerships with some of the biggest names in boat insurance and a team of expertly trained insurance agents, we create insurance quotes completely customized to your needs. This means you get the things you've worked for covered without overspending.