Houston Car Insurance
Houston is known for many things: the word's largest rodeo, NASA, its ties to the oil & gas industry and so much more! Houston is also home to more vehicular crashes per year than any other major city in Texas. According to the Texas Department of Transportation, there were 58,167 crashes in 2020; that's an average of 159 accidents per day on Houston roads. Houston car insurance is not only a legal requirement but a moral and financial necessity to protect yourself, other drivers, passengers, and pedestrians alike.
Minimum auto insurance limits are set at the state level, but with the average cost of a vehicle increasing year after year, a minimum limit auto insurance policy is hardly enough to cover you in the event of a serious accident. Less than 0.20% of auto policies that we write in Texas are state minimum liability only. For this reason, we will focus on full coverage auto policies in this article unless noted otherwise. Full coverage auto insurance includes liability insurance plus both collision and comprehensive coverage.
How Much Is Car Insurance in Houston, TX?
The average cost for full coverage auto insurance in Houston is $1,007 among TGS Insurance Agency customers. Car insurance rates differ considerably due to several constituents, based on you, your vehicle, and your location, among many other things. These factors include, but are not limited to:
Driver's age
Driver's driving record
Driver's claims history
Driver's marital status
Driver's credit score
Vehicle's make and model
Vehicle's use (is this a weekend car? Or is it used to commute daily?)
Location
How Does Location Affect Car Insurance Rates in Houston?
Similar to homeowners insurance, location is an important factor in determining your auto insurance rates in Houston. If your neighborhood has a higher rate of theft than the neighborhood a few blocks down, your rates will be higher. If there is a higher than the average number of uninsured motorists in your area, your rates will be higher. If auto insurance companies identify anything in your area that might make your vehicle riskier to insure, you will see that reflected in your premium. Likewise, there are things you can do like parking your car in a garage or covered area versus the street that can help reduce your premium. Because carriers get so granular with their risks evaluations, rates can vary greatly- even within the same city. Below is a breakdown of the average premium for auto insurance around Houston:
| City | Average Annual Premium |
| --- | --- |
| Austin | $975 |
| Arlington | $990 |
| San Antonio | $1,005 |
| Lubbock | $1,019 |
| Plano | $1,030 |
| Corpus Christi | $1,068 |
| Fort Worth | $1,086 |
| Houston | $1,109 |
| Dallas | $1,143 |
| El Paso | $1,355 |
Is Houston Car Insurance More Expensive than Other Major Texas Cities?
At $1,109, Houston car insurance costs more than the state average of $1,019 but is not the most expensive city in Texas. Among TGS Insurance customers, Houston has the 3rd most expensive average premium per vehicle with at least full coverage auto insurance.
| Zip Code | Average Annual Premium |
| --- | --- |
| 77064 | $970 |
| 77068 | $1,013 |
| 77065 | $1,039 |
| 77095 | $1,055 |
| 77040 | $1,072 |
| 77070 | $1,089 |
| 77082 | $1,136 |
| 77044 | $1,150 |
| 77041 | $1,155 |
| 77084 | $1,161 |
| 77083 | $1,209 |
Compare Houston Car Insurance Quotes with TGS Insurance Agency
There are many options available when it comes to Houston car insurance coverage. The best way to purchase the right auto insurance policy for your needs is to talk to an experienced insurance agent. TGS Insurance Agency now makes it easier than ever to insure your vehicle with a totally free, instant car insurance quote. (With zero hassle!) If you prefer to talk to someone from the start, TGS Insurance is always here for you- feel free to contact us at your earliest convenience!
Disclaimer
Every driver is unique. Insurance premium costs are impacted by several factors; therefore, we recommend obtaining an individualized quote to find your rates.
Our data is representative of quality, publicly sourced, and internal data, but should not be deciphered as bindable.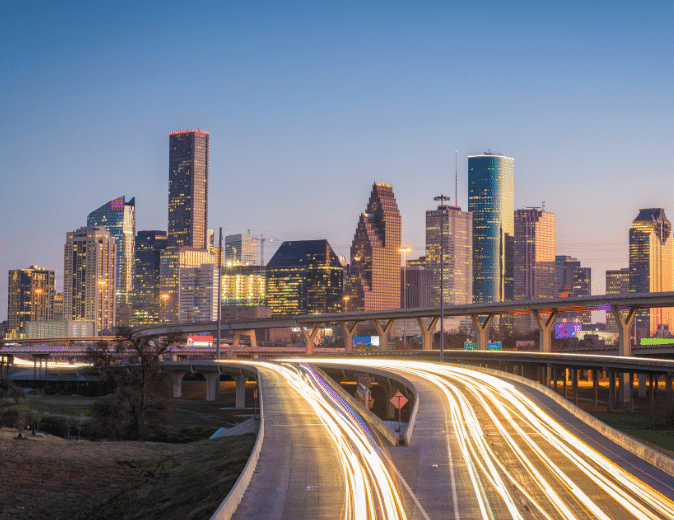 Learn More About Houston Car Insurance:
Looking for More Information on Your Area?
Houston Auto Insurance FAQs
Does my Auto Insurance Follow the Car or the Driver in Houston?
A standard auto insurance policy follows the car, not the driver.
Is Texas a No-Fault State for Car Accidents?
No, Texas is not a no-fault state; Texas is an at-fault state. In short, This means that the person responsible for the accident is also responsible for paying for damages. Further, if the responsible party doesn't have sufficient coverage to cover your expenses, you may also be able to sue the at-fault driver to recover the difference. 
This is yet another reason making sure that you have sufficient coverage is crucial!
How Much is it to Register a Car in Houston?
The standard fee for cars and lighter pickup trucks (6,000 lbs or less) is a base registration fee of $50.75. Additional fees include a $10.00 local fee, a $7.50 inspection fee, and a $4.75 processing and handling fee. All in, it costs $73 to register your car/pickup truck (less than 6,000 lbs). For additional vehicles, check out the Texas Department of Motor Vehicles website.