Start Your Free Auto Insurance Quote Now
TGS Insurance » Auto Insurance »
30/60/25 Coverage – Understanding Texas' Minimum Auto Insurance Requirements
Almost every state requires drivers to carry a minimum amount of liability insurance to cover the costs of accidents where they are at fault. In Texas, these minimum requirements are often referred to as 30/60/25 coverage.
What is 30/60/25 Coverage?
30/60/25 coverage refers to the state minimum liability limits acceptable by Texas law which are:
$30,000 bodily injury coverage per person
$60,000 bodily injury coverage per accident
$25,000 property damage coverage per accident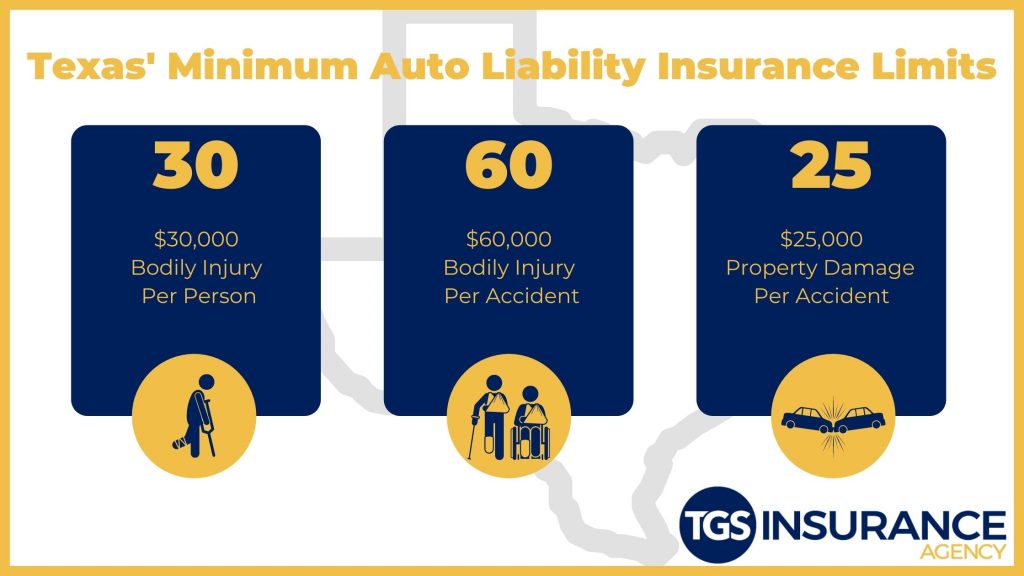 Bodily Injury Liability Coverage applies to medical bills and compensation for lost income of people outside of your family injured in a car accident where you are found liable. If other parties sue you, this coverage can also help with your legal fees.
Property Damage Coverage will pay the actual cash value for the replacement or repair of another vehicle and the replacement or repair of stationary objects such as fences.
How Much Does Texas State Minimum Car Insurance Cost?
The average cost to meet Texas' minimum auto insurance requirements with 30/60/25 coverage is $526 per year or $44/month. Rates will vary among individuals based on several factors, including driver's characteristics, vehicle characteristics, coverage options, and location, among others.
Allstate is most frequently the cheapest auto insurance company for Texas minimum liability insurance.
| Company | Average Annual Premium |
| --- | --- |
| Allstate | $444 |
| Houston General | $480 |
| Travelers | $512 |
| Safeco | $514 |
| Nationwide | $519 |
| Progressive | $524 |
| Mercury | $556 |
| State Auto | $749 |
Are Texas' Minimum Auto Insurance Requirements Enough?
While 30/60/25 coverage will meet the state requirements, it might be too low to fully cover an accident if you are at fault, which will leave you on the hook for the balance. According to Insurify.com, the most popular car in Texas in 2020 was the Nissan Altima, which had an MSRP of $24,100. If you were to cause an accident and total the car of someone driving a new Altima, your property damage coverage barely covers that MSRP. What if you cause a multiple vehicle accident? Or what if the other driver is driving a brand new Ford F-150, which starts at $30,000? The reality is that simply meeting the state's minimum requirements leaves you vulnerable to paying a large chunk of money out of pocket if you were to cause an accident. Not to mention, liability insurance only covers others. Most drivers should consider adding additional coverages beyond what is required by the state.
Texas Proof of Insurance Requirements
In addition to purchasing the required minimum auto insurance in Texas – again, 30/60/25 at the very least – you need to keep it handy and be prepared to show this proof of insurance card when:
You are asked by a police officer during a traffic stop
You are in an accident
You are registering your car or renewing its registration
As of September 1, 2013, Texas drivers have been allowed to show this proof of insurance via their mobile devices during traffic stops.
Get Insured With TGS Insurance Agency!
Our agents at TGS Insurance Agency are ready to help you find an auto insurance policy that meets your coverage needs at a price you can afford. We will work with you to find the right type of coverage and then shop your policy among our 35+ A-rated (or better!) partners to find you the best price on the market for your auto insurance policy.
Disclaimer
Every driver is unique. Insurance premium costs are impacted by several factors; therefore, we recommend obtaining an individualized quote to find your rates.
Our data is representative of quality, publicly sourced, and internal data, but should not be deciphered as bindable.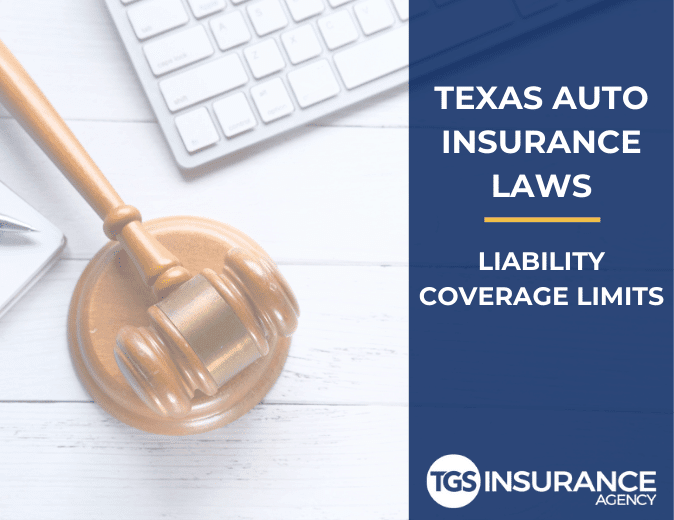 Learn More About Auto Insurance:
Recent Auto Insurance Articles: