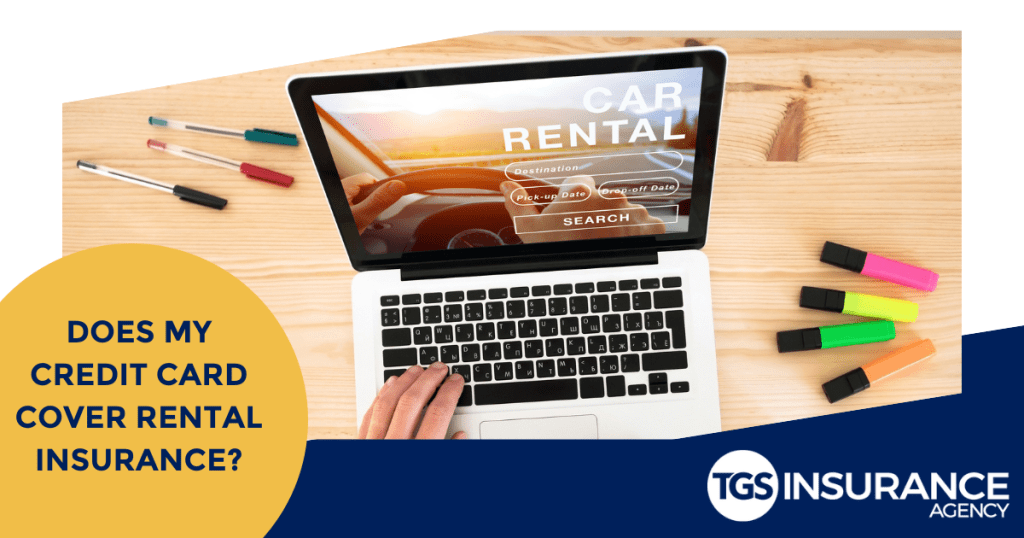 Picture this; you're about to sign the dotted line for the "collision damage waiver" or CDW insurance when you remember that your credit card offers you coverage for rental cars. Most rewards credit cards provide some level of protection when you use them to pay for a rental car. Still the protection often varies from one card to another. So, we have put together the basics to find out if your credit card covers rental car insurance.
What type of coverage do rental car companies provide?
Before you rent a vehicle, rental car companies provide four types of car insurance. They include the following:
Supplemental Liability Insurance: This increases your liability up to $1 million. It can cost anywhere between $7-$15 per day.
Collision Damage Waiver (CDW) or Loss Damage Waiver (LDW): Waives your burden for theft or damages. The cost can range from $9-$19 per day.
Personal Accident Insurance (PAI): This coverage provides medical and accidental death benefits should you or your passengers become injured or killed due to an accident. Coverage can cost $1-$7 per day.
Personal Effects Coverage: Receive compensation for any personal property stolen from your rental vehicle. It can cost anywhere between $1-$5 per day.
Do I Already Have Rental Car Insurance?
If you drive regularly and own a car, then it's possible you already carry an auto insurance policy with some sort of protection when you drive a rental car. Therefore you can decline most rental insurance offered to you.
However, it's always a good idea to brush up on your auto insurance policy (and home) to see what's covered and what's not so you know where your gaps in coverage are. If you're unsure of what's in your auto policy, contact one of our agents at TGS insurance! Our team will be happy to help you better understand your policy, offer solutions to any gaps, and save you a ton of money!
It's important to note that depending on what types of protection you should opt out of depends entirely on the value of your rental car and your own auto insurance policy limits, deductibles, and coverages.
If you are offered Liability Insurance Supplement, decline if you have sufficient personal liability insurance.
If you are offered Collision Damage Waiver (CDW) or Loss Damage Waiver (LDW), decline if you have sufficient personal comprehensive and collision coverage.
If you are offered Personal Accident Insurance (PAI), decline if you've got sufficient personal injury protection and health insurance.
If you are offered Personal Effects Coverage, decline if your homeowners or renters insurance extends to rental cars.
What type of coverage does my credit card cover for rentals?
Credit cards typically only provide collision damage coverage, so you will not be held responsible for any theft or damage to the rental car.
When you pick up your rental car, you'll need to decide whether you want to pay for the rental company's collision damage waiver (CDW). The waiver takes the responsibility off your hands if any damages may incur while in your possession. If your credit card provides free CDW protection as a part of its rewards, you can save money and avoid paying for the protection you already have.
Which Credit Card Covers Car Rental Insurance?
Creditcards.com put together a list of the best credit cards with the most coverage for rental vehicles. Knowing if your credit card covers rental insurance can save you hundreds of dollars in the long run.
American Express
Amex offers protection up to $50,000 on most cards and $75,000 for Platinum and Reserve cards for damage or theft.
Delta SkyMiles® Reserve American Express Card or The Platinum Card from American Express will provide rental car insurance protection for accidental deaths and dismemberment.
Reserve and Platinum cards include accidental injury insurance in a rental car for a limit of $300,000. 
Platinum and Reserve cards also carry personal property rental car coverage.
Amex rental car protection is a secondary option if your primary insurance plan does not cover rental damages.
Chase
Capital One
Capital One rental car insurance offers coverage for loss due to collision and theft up to the vehicle's worth in the United States and abroad except for Israel, Jamaica, The Republic of Ireland, and Northern Ireland.
Capital One car rental insurance additionally offers compensation for qualified loss-of-use and admin charges set by the rental car company and moderate towing fees.
Capital one is your second source of insurance when you're in your home country and acts as your primary insurance outside of the country (except for the unqualified countries).
There is a 15-day protection guarantee for rental cars in your country and 31 days outside the country.
Bank of America
Bank of America credit cards include car rental insurance.
Visa cards cover 31 rental days, and Mastercards cover 15 rental days in a row.
Visa cards protect from theft and damage up to the cash value of most cars.
For Mastercards, it covers theft and damages up to $50,000 or less.
Protects from loss-of-use and towing expenses.
Protection is secondary coverage on all cards.
Wells Fargo
Protection is for loss and damage up to the vehicle's cash value to a limit of $50,000.
Protection is secondary for all states except for New York.
FAQs: Does My Credit Car Cover Rental Insurance?
Which credit card is best for rental car insurance?
According to Creditcards.com, the best credit cards for rentals are:
1. American Express
2. Chase
3. Capital One
4. Bank of America
5. Wells Fargo
Do you need extra insurance when renting a car?
Depending on your auto insurance policy, you may be covered under that primary policy and could decline the additional coverage when renting a car. If your auto insurance doesn't offer rental vehicle coverage, your rewards credit card may offer some protection. Check with your auto insurance provider and your credit card company to see your coverage. It could save you some money in the long run.
How do I know if my credit card covers car rental insurance?
You can determine if your credit card covers rental insurance in two ways. You can either read the fine print on your credit card or give the company a call and check your benefits. 
Start Your Free Auto Insurance Quote Now
Recent Auto Insurance Articles: