TGS Insurance » Auto Insurance » Houston Auto Insurance » Ford F-150 Auto Insurance
Ford F-150 Car Insurance Cost in Houston [2022]
F-150s may be "built Ford tough" but that doesn't mean they're invincible. No matter how tough your vehicle may be, car insurance is a necessity, especially in Houston where state minimum liability insurance is required by law. According to a study done by  iSeeCars.com, the Ford F-150 was both the most popular new truck and the most popular used truck purchased by Houston drivers in 2021. If you are in the market for either a new or used Ford F-150, it's important to plan for insurance costs when budgeting for your new vehicle.
What Is The Average Cost of Auto Insurance for a Ford F-150? 
In Houston, the average cost of full coverage car insurance for a Ford F-150 is $1,268 ($105/month). Simply meeting the state minimum liability requirements will cost you an average of $575 ($10/mo). 
These averages look at all F-150s collectively over the past four years. Actual auto insurance rates for you individually will vary based on several factors. These factors include but are not limited to:
Vehicle-Related Factors:
Age
Trim Package
Mileage
Use (ex: is this a weekend vehicle, or are you commuting daily?)
Driver-Related Factors:
Age
Driving Record
Claims History
Marital Status
Credit Score
Other Factors:
How Does The Age of My F–150 Impact My Auto Insurance Rates?
In general, the newer your F-150 is, the higher your premium will be. Your newer F-150 is worth more than your neighbor's 25-year-old F-150, and therefore the replacement cost will be higher for insurers to cover. Below we look at the average cost of full coverage insurance for an F-150 over the past 4 years.
One important thing for new car owners to remember is that you might be eligible for discounts based on the safety features of your new vehicle, so be sure to ask your agent what your carrier has available!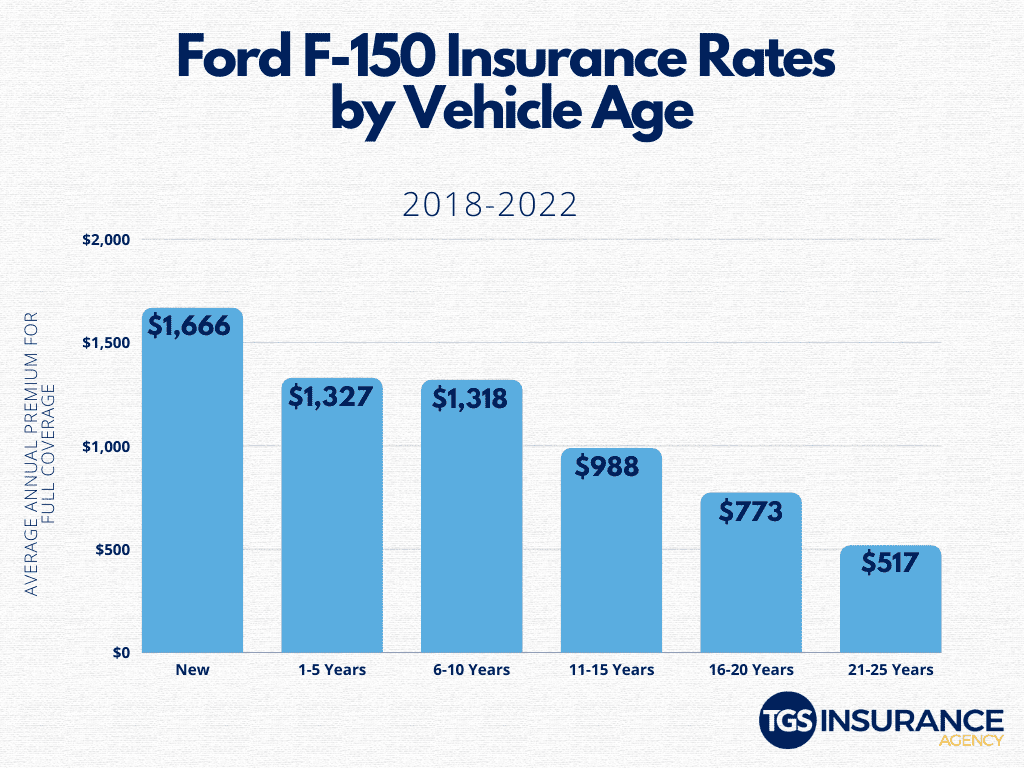 What is The Cheapest Carrier for F-150 Car Insurance in Houston?
Each carrier calculates rates based on an internal assessment of risk that is based on a variety of factors. These factors pertain to the driver, the vehicle, use of the vehicle, the location, and more. Because there are so many factors in play and each carrier weighs them differently, it is crucial that you shop your policy with multiple carriers to assure you are getting the best rate for YOUR needs. Don't have time? Let us do the heavy lifting by shopping 35+ carriers and providing you with your best Houston auto quote. 
Over the past 4 years, Travelers has had the lowest rate for full coverage auto insurance on Ford F-150s in Houston. Rounding out the 5 cheapest insurers for F 150s are Safeco, Progressive, Allstate, and State Auto.
| Carrier | Average Annual Premium |
| --- | --- |
| Travelers | $950 |
| Safeco | $1,132 |
| Progressive | $1,310 |
| Allstate | $1,351 |
| State Auto | $1,376 |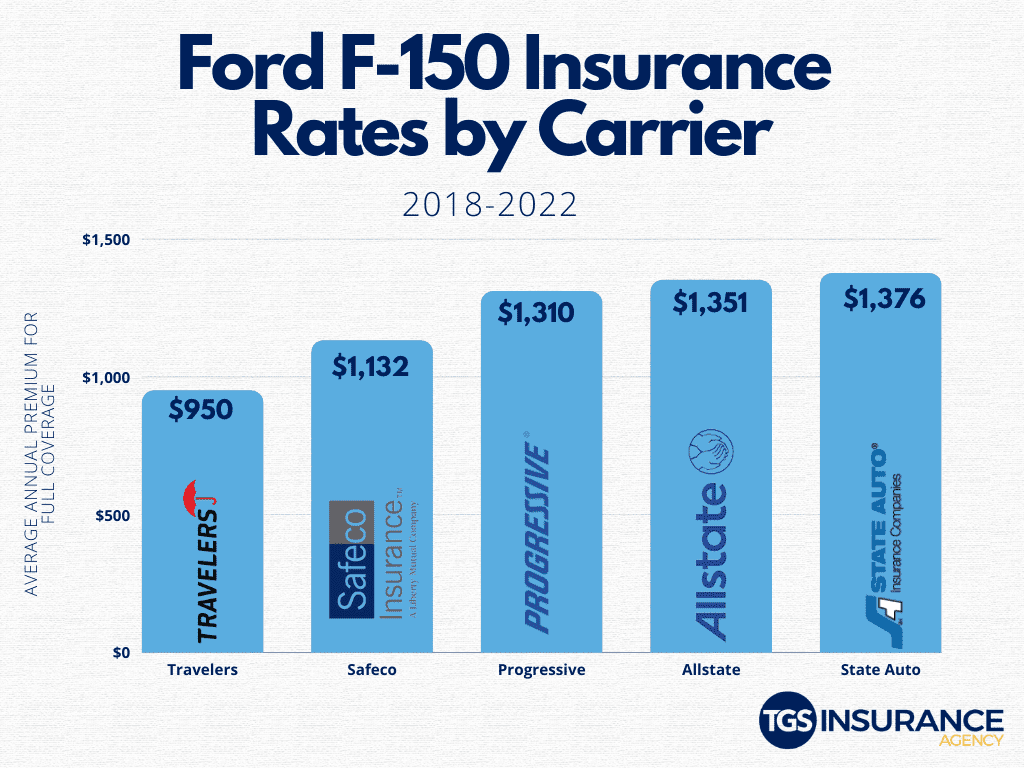 Are Ford F-150 Expensive to Insure Compared to Similar Trucks?
Compared to other pickup trucks in a similar category, the F-150 is the second most affordable to insure, costing only $27 more than the GMC Sierra. The range is very tight between these truck models regarding the cost to insure, so small details such as trim choices could shift things around.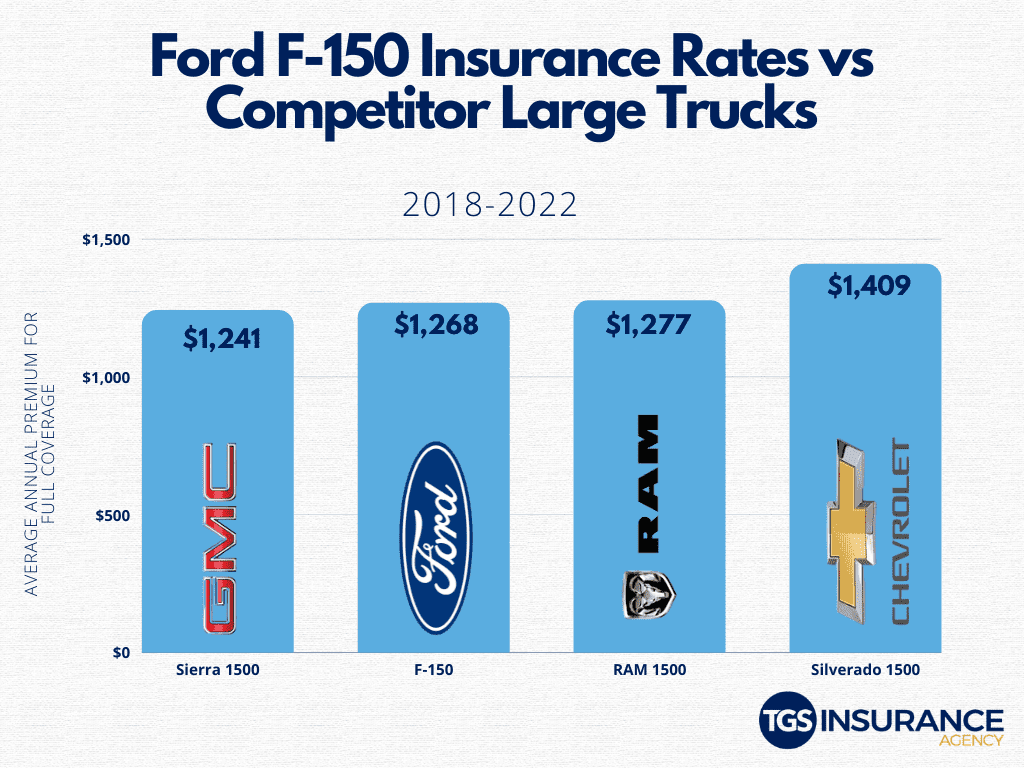 Compare Houston F-150 Insurance Quotes with TGS Insurance Agency
There are many options available when it comes to Houston car insurance coverage for your Ford F-150. The best way to purchase the right auto insurance policy for your needs is to talk to an experienced insurance agent. TGS Insurance Agency now makes it easier than ever to insure your vehicle with a totally free, instant car insurance quote. (With zero hassle!) If you prefer to talk to someone from the start, TGS Insurance is always here for you- feel free to contact us at your earliest convenience!
Disclaimer
Every driver is unique. Insurance premium costs are impacted by several factors; therefore, we recommend obtaining an individualized quote to find your rates.
Our data is representative of quality, publicly sourced, and internal data, but should not be deciphered as bindable.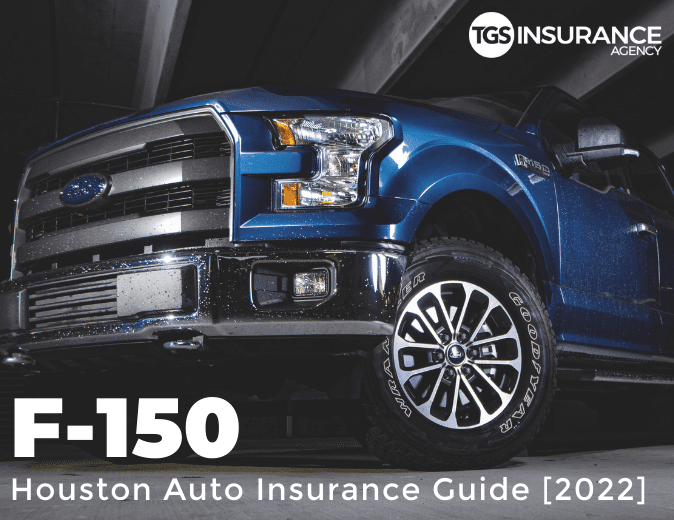 Get Started Today.
Start Saving Today.
Just fill out the information below