Start Your Free Auto Insurance Quote Now
TGS Insurance
»
Auto Insurance
»
Fort Worth
Fort Worth Auto Insurance
Fort Worth, Texas, located in Tarrant County, is a largely populated city about 30 miles from Dallas. According to the US Census, Fort Worth was home to 918,915 Texans as of 2020. This is a 32% increase from 2010. With the growing population leading to increasingly congested roads and almost a 30-minute average commute time, keeping safe on the roads is essential. The state requires Fort Worth car insurance, but understanding your policy and ensuring adequate coverage is a personal responsibility that financially protects you and your assets.
How Much Car Insurance Do I Need in Fort Worth?
In Texas, by law, you must have at least $30,000 in bodily injury liability coverage for each person, $60,000 per accident, and $25,000 for property damage per accident. These legal requirements should be the starting point but not the only consideration for determining how much coverage you need. In fact, less than 0.20% of auto policies that we write in Texas are state minimum liability only. In addition to satisfying legal requirements, you must meet your lender's requirements if you have a lease or loan on your vehicle. Finally, assessing your personal assets and ensuring your coverage limits exceed that value is critical. If you are involved in an accident, you may be liable for damages beyond your coverage limits which could lead to a financial disaster if you are not prepared.
How Much Does Car Insurance Cost in Fort Worth?
The average car insurance policy in Fort Worth costs $1,086.11 per year among TGS Insurance Agency customers. Auto insurance rates can vary significantly due to several particulars, based on your vehicle, location, and the coverage you choose, among many other things. Below is an example of some factors that influence your premium and how they do so.
Age/Driving Experience: This is specifically important for younger drivers. Some of the most expensive insurance premiums are paid by young drivers, and 50-year-old drivers pay the most affordable premiums.
Driving history: Car insurance providers look at your driving history to accurately predict your driving future.
Credit Score: Drivers with poor credit tend to file more claims than drivers with better credit, and those claims are typically more expensive. Insurance companies want to raise your rate if you have poor credit.
Vehicle: Insurance for a brand-new car will be more expensive because it will be more expensive to fix and/or replace than an older car.
Annual Mileage: The more you drive, the more likely you will get in an accident and experience wear and tear on your vehicle. This will increase your rates.
Location: When determining your insurance rates, your insurance looks as close as your ZIP code. Population, weather, crime, and floods are all things that go into determining your premium.
Does My Location Affect Car Insurance Rates in Fort Worth?
Determining auto insurance rates is very similar to determining home insurance rates. Providers look at factors in your areas like the potential dangers you face and the crime rates. Your premiums could be lower if you live in a relatively low crime rate neighborhood. You could be a perfectly safe driver, but it is not just you on the road! If your area is known for having a higher-than-average amount of uninsured motorists, you may have to pay more for your premium. Fort Worth's ZIP code with the highest average premium is 76104; the average cost for this ZIP code is $1,637. Below is a comparison of the average cost of auto insurance within ZIP codes of Fort Worth from our customers at TGS: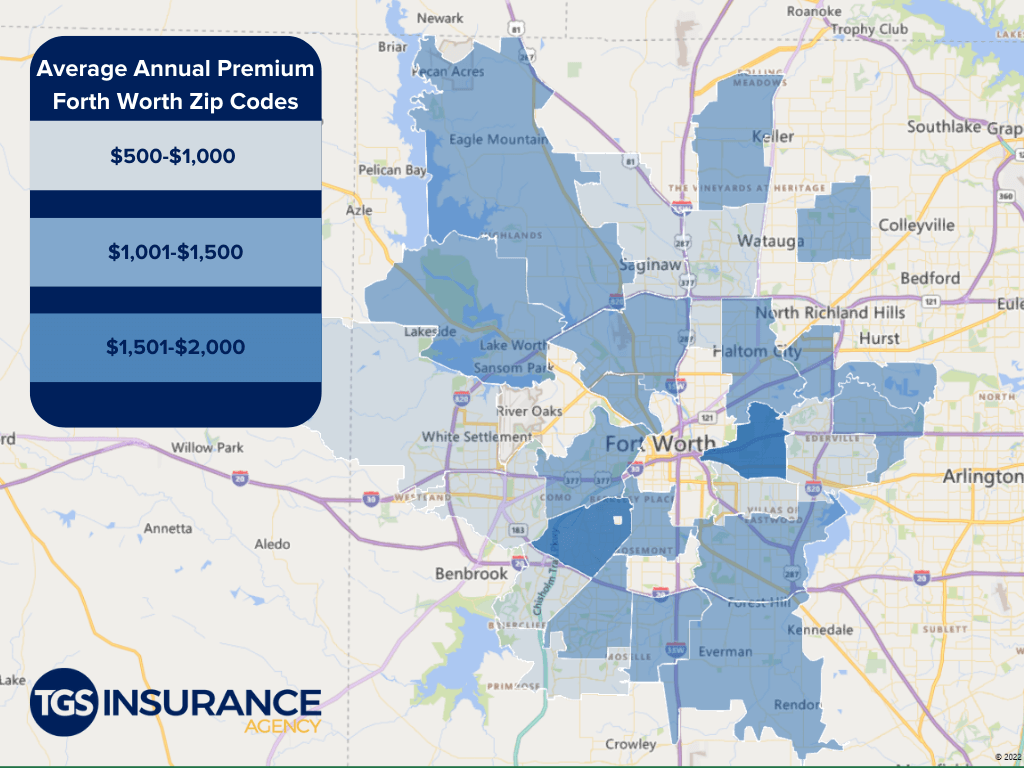 Fort Worth Car Insurance Rates by Insurer
Choosing your car insurance provider is about more than just the price, even though we know the cost is undoubtedly a factor. Because each provider is in charge of setting their own rates, the premium for the exact same coverage can vary between carriers. The top carrier in Fort Worth is Progressive. TGS Insurance Agency customers in Fort Worth pay an average of $1,073.91 per year when insured by Progressive. Looking at the numbers, an overwhelming number of people in your area have chosen Progressive over our next most popular carrier, Allstate. The average premium for Allstate is $1,067.82 for TGS Insurance customers. Here is a breakdown of the different carriers used in Fort Worth.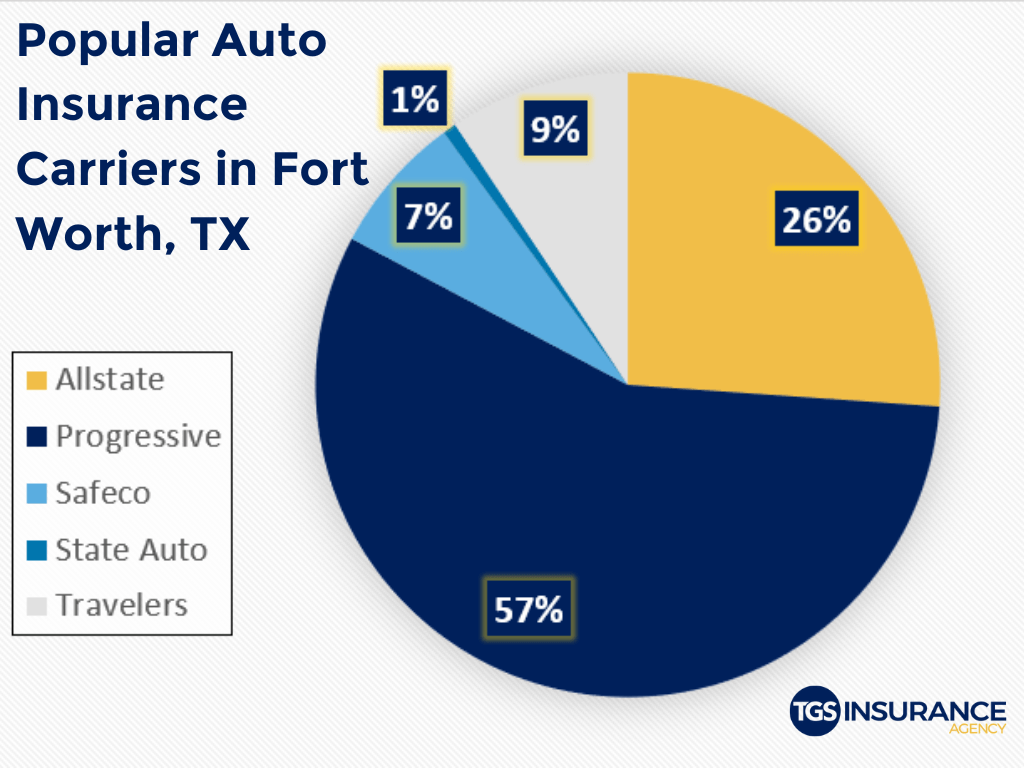 Comparison Shop Car Insurance in Fort Worth from Multiple Carriers in Minutes!
Shopping for car insurance can be exhausting, dull, and downright stressful. TGS Insurance Agency is here to change that. At TGS Insurance, we do all the nitty-gritty work for you, so you don't have to! Our agents will shop your car insurance policy across our bank of 35+ carriers to find you the best policy at the best price, so you never have to compromise on coverage to save money. How do you get started? Easy! All we need is your address, and you'll get an accurate auto insurance quote in 15 seconds or less. After that, our agents will further customize your policy so it's tailored to your specific insurance needs. Shopping for car insurance has never been so simple!
Disclaimer
Every driver is unique. Insurance premium costs are impacted by several factors; therefore, we recommend obtaining an individualized quote to find your rates. Our data is representative of quality, publicly sourced, and internal data, but should not be deciphered as bindable.