Start Your Free Auto Insurance Quote Now
TGS Insurance
»
Auto Insurance
»
Spring
Spring Auto Insurance
About 25 miles from downtown Houston, Spring, Texas, gives its residents a rural feel with many parks and outdoor activities. Spring is part of the Houston-The Woodlands-Sugar Land metropolitan area. It is known for its excellent schools and family-oriented neighborhoods, which have drawn an increasing population to the area. Increasing populations have led to increasingly more congested roads; residents now average over 30 minutes daily, which means that road safety and being protected while on the roads are more important than ever. Spring auto insurance is not only a legal obligation but an ethical and monetary necessity to protect yourself, your passengers, other drivers, and pedestrians alike.
What Does Spring Car Insurance Cover?
You love your car. It takes you most places, and you take good care of it. It is also essential to protect it if something happens to it. Texas has a minimum auto insurance limit of 30/60/25. This is required for all drivers to have. If you do not have minimum coverage, you can be ticketed, fined, and have to receive SR-22 car insurance. The minimum coverage is broken down to $30,000 in liability coverage for each injured person, $60,000 per accident, and $25,000 for property damage per accident. A minimum auto insurance policy is not enough to cover you if you get into a serious accident. You can add coverages to your policy to personalize them to your needs. In addition to bodily injury and personal property liability coverages, a full coverage auto policy also includes comprehensive and collision coverages. Beyond these four basic coverages, the most common coverages added to auto policies in Spring are: Personal Injury Protection (PIP) 75% Uninsured/Underinsured Motorist Coverage 96% Rental Reimbursement Coverage 66% Towing & Labor Coverage 56%
How Much Does Spring Car Insurance Cost?
The average cost for full coverage auto insurance in Spring is $1,054.64 among TGS Insurance Agency customers. Car insurance rates differ considerably due to several constituents, based on you, your vehicle, and your location, among many other things. These factors include, but are not limited to:
Age
Car make and model
High-risk violations
Yearly mileage
Credit history
Driving record
Zip code
Marital status
Gender
How Does Location Affect Car Insurance Rates in Spring?
Like homeowners insurance, your location is a significant facet of calculating your auto insurance rates in Spring. For example, if you live in an area of Spring with a higher population density, insurers see you as having a higher risk of getting in an accident since there are more cars on the road; consequently, you will see a higher premium than someone living in a less populated area. Insurance companies will also look at the number of uninsured motorists in your area- the higher that number is, the higher your premium will be. If you are looking for ways to reduce your premium, you can get a car with more safety features or even bundle your insurance policies. These are just a few examples of how your location plays into your car insurance premium. Below are the average annual premiums for ZIP codes in the Spring area for reference.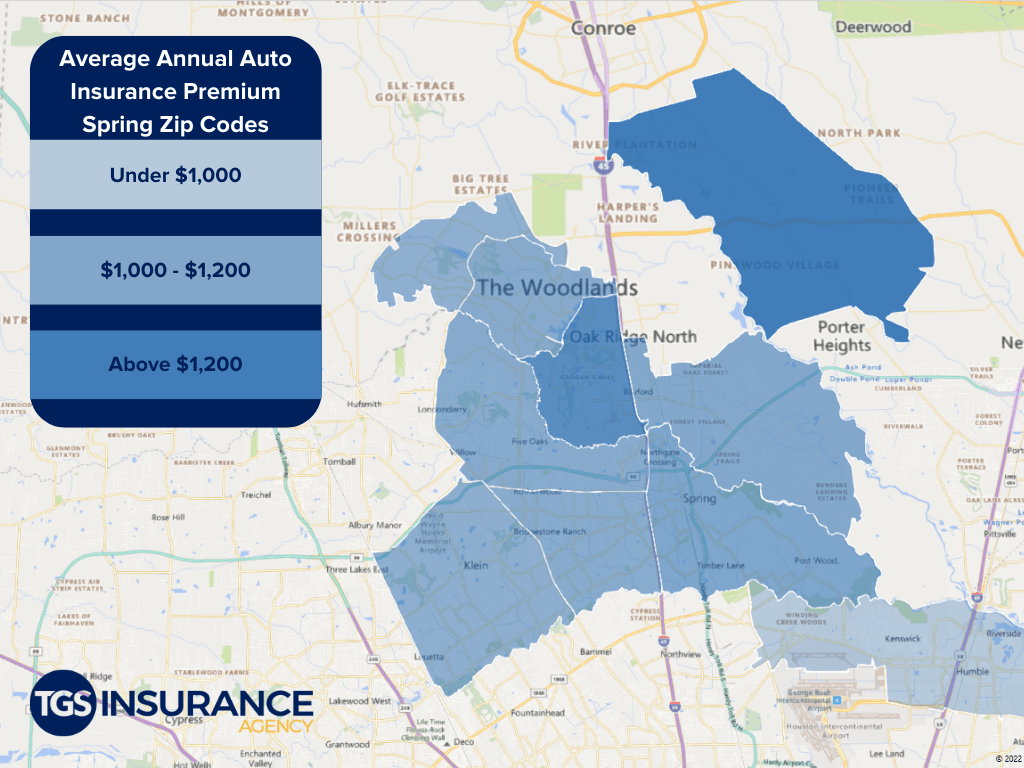 Spring Car Insurance Rates by Insurer
Choosing your car insurance provider is about more than just the price, even though we know the cost is undoubtedly a factor. Because each provider is in charge of setting their own rates, premiums can vary for the exact same coverage from carrier to carrier. The top carrier in Spring is Progressive. TGS customers in Spring pay an average of $1,035.72 when insured by Progressive. Looking at the numbers, an overwhelming number of people in your area have chosen Progressive over our next most popular carrier, Safeco. The average premium for Safeco is $1,006.24 for TGS Insurance customers. The chart below compares the average premium for drivers across some of the most popular carriers in your area.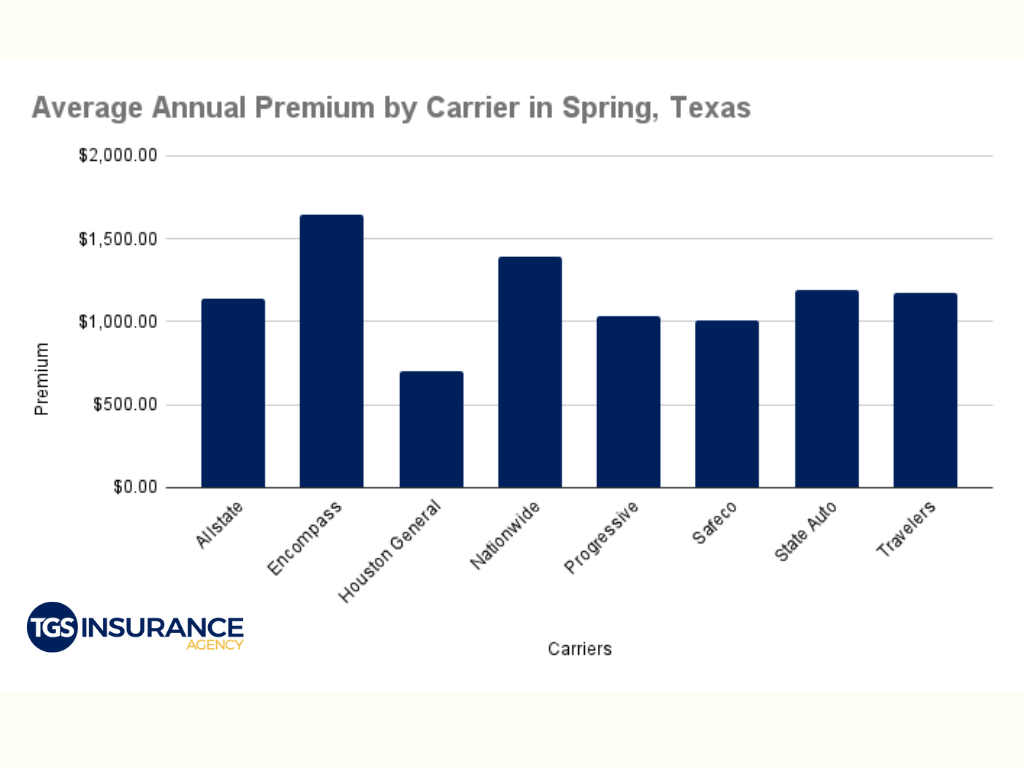 Finding Affordable Spring Auto Insurance Is Easier Than You Think.
Looking for car insurance can be tedious, boring, and overwhelming… you name it, we've heard it. And we agree! That's why TGS Insurance Agency is dedicated to doing the heavy lifting for you, instantly comparing quotes from 35+ A-rated (or better) carriers to find you the best possible price in your area without compromising coverage. We can provide you with your initial quote within 15 seconds with just your address. From there, if you would like to customize your policy, any of our dedicated independent agents are ready to work for you to create a policy that covers everything you need. We shop. You Save. Yes, it really is that easy.
Disclaimer
Every driver is unique. Insurance premium costs are impacted by several factors; therefore, we recommend obtaining an individualized quote to find your rates. Our data is representative of quality, publicly sourced, and internal data, but should not be deciphered as bindable.