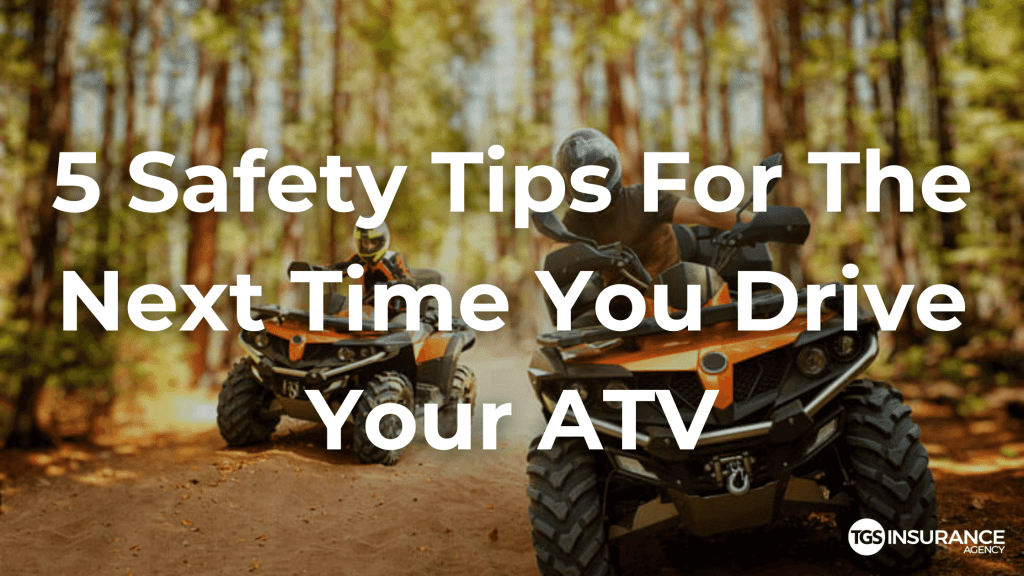 Whether you're getting ready to go off-roading in your Polaris Scrambler or preparing to do some work on your land in your Yamaha Grizzly, keep in mind that all-terrain vehicle (ATV) riding can be exciting, yet quite dangerous.
In 2016, more than 100,000 ATV riders were injured, with about 25% of the injuries involving children under the age of 16. According to the Consumer Product Safety Commission, between 1982-2017, Texas had the most ATV-related fatalities in the country, with a total of 831 deaths.
The Texas Department of Motor Vehicles considers an ATV that:
Has a seat or seats for the rider and one passenger
Has three or more tires
Is designed for off-highway use
Is not more than 50 inches wide
Is not designed by the manufacturer for farm or lawn care
First things first, before you hit the trails, you should read up on your state's laws regarding ATVs. The Texas law has a few requirements regarding ATVs.
A safety certificate is required
A child under 14 must be accompanied by a parent or guardian
Required equipment: headlights, a spark arrester, and brake and muffler system
Safety apparel required
No reckless or careless driving
A person cannot drive an ATV with a passenger unless it is manufactured to transport a passenger
Driving on a public road is prohibited
For more details on Texas laws regarding ATVs click here.
While ATVs can be used for work and play, it's important to practice safe driving and riding habits. Reckless driving or lacking the proper safety gear can lead to serious injuries, or even worse, death. Below are 5 safety tips provided by Life Lanes that every ATV driver should follow.
1. Have the Proper Safety Gear
Before you hop on your ATV, you need to make sure you're suited up with the right safety attire. Start with the basics: a helmet, closed-toe shoes, long pants, and a long-sleeved shirt. If you want additional protection, consider an outside chest protector, motocross pants, and motocross boots, but depending on how you ride, you may need more. Regardless of what you choose to wear, it's important to have these four basic items riding an ATV:
Goggles: Wear goggles while off-roading, as they can help protect your eyes from dust, dirt, rocks, or anything else that could impair your vision while driving.
Helmet: Protect your noggin at all costs! Invest in a high-quality ATV helmet that is durable and comfortable for your head shape. Your helmet should also be approved by the Department of Transportation.
Toolkit: When you go off-roading, a toolkit is essential. Your toolkit should include items like duct tape, a trail map, a Swiss Army knife, a screwdriver, a tire pressure gauge, and more. You may want to consider adding items like pliers, tires plugs, an air pump, or anything else you might need to get you back to cruising.
First-aid kit: You don't need to have the whole hospital in your kit, just keep it simple. Items to include should be Band-Aids, gauze, alcohol wipes, and antibiotic cream.
2. Never Off-Road Alone
Now, when we say "never off-road alone," we don't mean just with a passenger. Off-roading in an ATV can be unpredictable if you aren't careful, so use the buddy system when taking on the trails. Children should never ride alone and should always be supervised by an adult while operating an ATV. Riding with a group can help protect you in the event you fall off and hurt yourself, run out of gas, get a flat tire, etc. Even if you do ride in a group, you should always let someone know where you are going and when they can expect you to be back.
3. Stay Off Public Roads
ATVs were not created for public roads, so stay off public/paved roads and pay attention to trail rules and regulations. Operating an ATV on public roads makes you an easy target for other vehicles to hit you, which could lead to serious injuries. If you must cross a paved road while driving on trails, only do so where it's legal/permitted.
Be sure to follow proper trail etiquette:
Drive on the right side of the trail
Only ride on defined trails
Slow down around corners and near campgrounds
Be sure to have your paperwork, flag stickers, or ATV insurance if you have it
4. No Passengers
Unless your ATV is designed to have two riders, you should never have another passenger with you while riding an ATV, as it could put you and your passenger's safety at serious risk. Having an additional passenger can throw off the center of gravity and lead to the ATV tipping over, even more so if you're going at a faster speed.
Additionally, if your passenger were to get injured, the driver or owner of the ATV could be financially liable for their medical or legal fees. Having an ATV insurance policy can help protect you in the event you experience an accident. ATV insurance policies include liability, collision, comprehensive, uninsured/underinsured, and medical payments coverage. Although ATV insurance is not required in Texas, having a policy can protect you when you need it most. Talk to a TGS Insurance agent today for more information on how ATV insurance can not only save you a headache and keep you protected, but also save you real money!
5. Know Your Limits and Choose an ATV That Best Fits Your Needs
Understanding your skill level when it comes to handling ATV is very important. For example, if you are a beginner, you don't want to purchase a Can-Am Outlander ATV, which is made for a more experienced ATV user. You'll want to find something like a Kawasaki Brute Force or a Honda TRX250X that is more tailored to new drivers. Purchasing an ATV that you can easily handle can help for a more safe and enjoyable ride.
Be sure not to attempt any tricks that require more experience than you have- it's not worth hurting yourself! Know your limits and avoid driving in areas that are difficult to navigate. Although ATVs are designed for off-roading, we recommend riding on trails that match your skill level.
If you're not sure what ATV is best for you, check out ATV.com to view the top 10 ATVs for 2021.
Before you go exploring in your ATV, it's important to follow these safety tips so you can avoid accidents and injuries. Whether you're preparing for a hunt, zooming on the trails, shredding up some dunes, or working on your land, you always want to make sure you have the proper gear, know your capabilities, have a great ATV insurance policy, and drive cautiously.
How TGS Insurance Can Help You Save Money On ATV Insurance!
At TGS Insurance Agency, we specialize in finding each of our customers great coverage for the lowest rate on the market. Our agents can find an ATV insurance policy that not only protects you, but also saves you money!
From our bank of over 35+ best-in-class insurance providers, we'll find you ATV coverage that's customized to your needs and budget. Your TGS Insurance agent can even bundle your ATV coverage with your home or auto policies to save you even more money. Shopping for insurance is easy, stress-free, and affordable when you work with TGS Insurance. See how much you can save on ATV coverage right now!