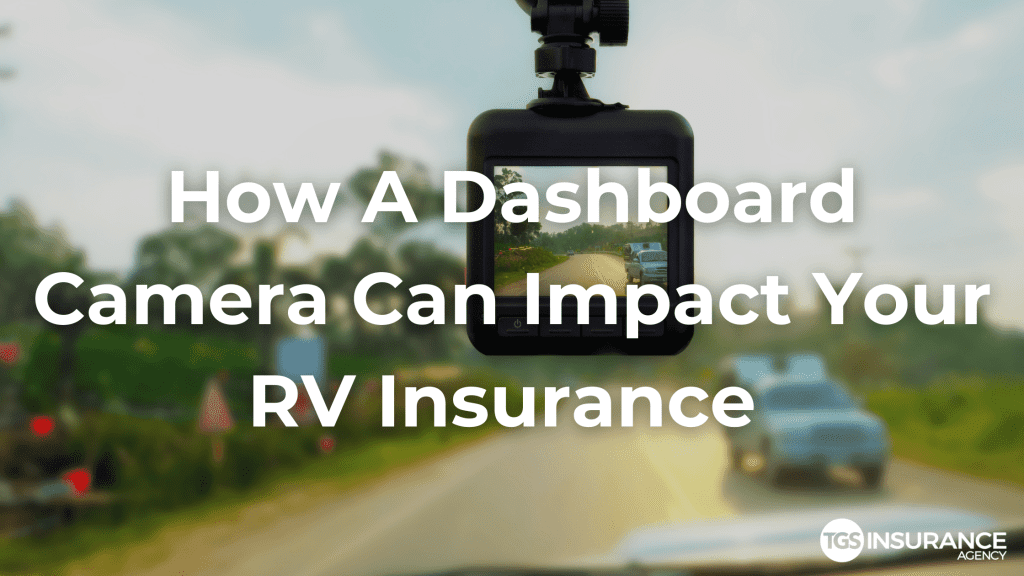 Dashboard cameras are quite popular in some parts of the world but are slowly becoming a new trend in the U.S. If you own an RV, dash cams, as they are often referred to, can be very handy in the event you are involved in an accident. They can protect you and your RV from liability and help you resolve claim settlements in a timely manner, should you have to file one. Additionally, dash cams allow you to capture breathtaking moments while hitting the open road.
There are definitely advantages to owning a dash camera, but just to get the bad news out of the way, your insurance provider won't cut you a deal on your RV premium just for having one. Here's what you can expect when looking to install a dashboard camera in your RV.
How Dash Cams Affect Your RV Insurance
Just because insurance providers don't currently offer discounts for having a dash cam doesn't mean it won't ever happen. As more RVers begin to adopt the useful technology, we may see a discount in the future.
Why RVers Should Use a Dash Camera
As an RV driver, your main purpose for a dashboard camera is probably for liability and protection reasons, but there are actually other ways you can benefit from having these little devices installed on your RV.
Provides Documentation of Your Accident
One of the main reasons you should purchase a dash camera is to protect yourself. Should you experience an accident in your RV, obstacles can arise as to solving who is actually at fault. Typically, people's memory and perceptions are often altered to what they want to be true to benefit them rather than what actually happened.
Having a dash camera shows what actually happens and acts as a reliable and unbiased witness in the event of an accident. You can use that footage to defend yourself from false accusations, whether that be an exaggerated lie or an honest mistake.
With video proof, the police can use your dash camera as evidence and determine who is at fault more precisely, and then your RV insurance provider can use that evidence to make a more accurate decision when determining who is at fault. If you have to take someone to court, you have a better chance of winning your case with video footage that clearly shows what happened.
Captures Breathtaking Moments
Although your dash cam's purpose is ultimately to protect you, it can also capture spectacular driving moments. Your dash cam not only captures all the unfortunate events that can possibly happen while road tripping in your RV, but it can also capture spectacular views and unique wildlife. You never have to worry about trying to pull out your phone to take a picture of a giant buffalo crossing the road, your dash cam is already on it, as it is always recording.
Can Help You Become a Better Driver
Learning how to drive an RV can take years to master. If you're a new RV driver or if you've had a few close calls behind the wheel, you might want to consider taking a look at your dash cam footage to see what you can do differently next time. Reviewing your driving technique can help you avoid a horrible accident in the future.
Being a safe RV driver can also help you save on RV insurance. If you can avoid accidents and traffic tickets for a few years, insurance providers like Progressive will offer you a claim-free renewal discount.
Captures Unexpected Events
Typically, most accidents happen while driving, but many incidents can happen while your RV is parked and can lead to substantial damages. If you have comprehensive coverage within your RV insurance policy, then events like theft, vandalism, falling tree branches, contact with a deer, and natural disasters are all covered.
If you experience one of these events and your dash cam captures them, then the footage should strongly help your case. Having video evidence of the incident can help speed up the claims process and quickly have your RV repaired through your insurance.
No matter where you travel in your RV, there's a strong possibility of stumbling across some wildlife. Having a dash cam to record the moment of impact can also protect your case in an insurance claim. But you must have comprehensive coverage in order to have protection.
Are Dashboard Cameras Worth It?
Although there are no discounts for having a dash cam installed, they can still benefit you in other ways during the claims process. However, the advantages of having a dash cam are only worth it if you frequently use your RV, as well as how much you invest in your dash cam. Normally, a good, reliable dash cam can range in cost from $100 to $250.
Outdoorsy recommends a few dashboard cameras perfect for RV driving that range in price and features.
Vantrue N2 Pro
High-resolution images (4K- Ultra HD)
Has a second camera that records the inside of your RV
High-quality nighttime resolution
170-degree viewing angle
Costs about $199
Great for travel bloggers
Rexing V1
LCD screen
WiFi
170-degree wide-angle
Loop recording
Mobile app
256 GB of storage
Cost $99.99
Accfly Mini
Motion sensitive parking protection
120-degree wide-angle
Loop recording
Motion detection G-sensor
32 GB of storage
Under $40
Hit Record and Hit the Road
Having a dashboard camera can benefit you during the claims process, as insurance companies typically pay out faster with video evidence. You can also capture picturesque views and unexpected moments while hitting the open road. You'll also have peace of mind knowing you are protected by your dash camera in so many different ways. So now it's time to hit record and hit the road!
Experience Major Savings on RV Insurance With TGS Insurance!
If you're in the market for a new RV insurance policy, or you're tired of seeing your premium rate increase every year, then TGS Insurance Agency is the place for you! Our agents specialize in finding each of our clients the lowest rate while still having the coverage you deserve. From our pool of over 35 highly-rated insurance providers, we can find you an RV insurance policy tailored to your needs and budget.
On top of full coverage for a low rate, our agents will provide you with the best customer service experience. We will take care of finding you bundling options, qualified discounts, and shop your policy when it's time to renew to make sure you're still maintaining a great low rate. Throughout the entire process, we will be your insurance guide and answer all of your questions. Shopping for insurance is simple, stress-free, and affordable when you go with TGS Insurance. Get an RV insurance quote today and start saving!