Argyle Homeowners Insurance Made Effortless with Quick, Accurate Quotes!
How Much is Home Insurance in Argyle?
Homeowners in Argyle, TX pay an average of around $1,154 a year on home insurance. By choosing TGS Insurance to shop for homeowners insurance, our average insurance policy costs Argyle, TX homeowners $1,429 a year for a savings of $275 a year with some clients saving even more!
Typical Home Value in Argyle, TX
The typical home in Argyle, TX is valued at $520,238 and has risen since 2011 by $160,471!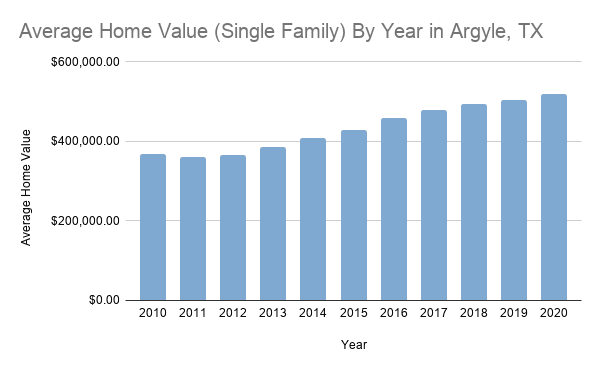 *This data is provided by Zillow.com. Zillow Home Value Index (ZHVI): A smoothed, seasonally adjusted measure of the typical home value and market changes across a given region and housing type. It reflects the typical value for homes in the 35th to 65th percentile range.
Comparing the Average Cost of Homeowners Insurance in Argyle, TX By Dwelling Coverage Limit
| Coverage Level | Average Annual Premium |
| --- | --- |
| $75k Dwelling | $1,624 |
| $150k Dwelling | $2,164 |
| $200k Dwelling | $2,512 |
| $350k Dwelling | $3,528 |
*Information used from Help Insure from the Texas Department of Insurance. We applied a methodology of a homeowner with average credit, a home between 10-34 years of age, made of brick in Argyle, TX.
What Does Home Insurance Cover?
There are many different types of home insurance policies available to homeowners in Argyle, TX. The most popular is the HO3 which allows homeowners to protect themself, their home, and their possessions from several named perils such as fire and lightning damage, sudden and accidental damage from electrical currents that are artificially generated, vandalism, rioting, accidental water or steam discharge, theft, falling objects, damage from an aircraft or automobile, and many others!
What Additional Coverage Options Are Available?
At TGS Insurance, we understand that each home is different and so are the needs of each client. We help our clients overcome their unique coverage needs by tailoring their homeowners policies through additional coverage options. Learn more about the many available add-ons TGS Insurance provides its clients:
Flood insurance: $43,000. That's how much the average flood insurance claim comes in around and without flood insurance, you'll be stuck with the bill. Tack on the fact that 20-25% of all flood claims come from homes outside of a flood zone, and the importance of flood insurance becomes clear. TGS Insurance provides our clients with the best flood insurance rate by shopping private and government-issued flood policies. This allows us to find the best coverage for the lowest price.
Windstorm coverage: Windstorms and hail can also bring costly damage and expose your home to further damage due to the elements. We recommend that our clients add windstorm/hail coverage to protect themselves against the damage tornadoes, severe thunderstorms, tropical storms, and hurricanes can bring. At TGS Insurance, we automatically write in a 2% wind/hail deductible we issue with coverages that can be customized based on your preferences. 
Water Backup Damage: Drainage backup and sewer issues leave homeowners with a disgusting mess and very costly problem. TGS Insurance offers our clients Water Back-Up/Sump Discharge Coverage to help them restore their home without having to pay for everything out of pocket. Our coverage options start with $5,000 in protection and can even reach over $25,000 depending on the policy coverage you choose.
Umbrella Policy: An umbrella liability policy protects you during a lawsuit from losing the things you've worked so hard for. Homeowners have liability protection with their home insurance, however, some homeowners with more to lose such as lavish swimming pools or luxury vehicles may find themselves as the target of a lawsuit that exceeds what their standard homeowners insurance will cover. This additional coverage helps protect homeowners should they find themselves in this unfortunate situation.
Jewelry Insurance: While your homeowners insurance policy will protect your jewelry, if the value of your pieces goes beyond your coverage limit, you'll need to purchase a separate policy to keep them protected.
Advantages of Partnering with TGS Insurance for Your Home Insurance Needs:
We find our clients the best coverage for the lowest rate on the market. How can we accomplish this feat? Because instead of working with a singular insurance brand, we work with over 35 top-rated insurance carriers to deliver our customers more coverage options. By comparison shopping, our agents are able to find the best coverage at the lowest rate for you.
From the beginning through the end, TGS Insurance is there for you. We take care of everything you need to make sure you are insured properly and that your home is protected. We will even work with your mortgage company to be sure that your enrollment is done right.
Signing up for a policy only to be hit with a rate increase down the line can really cut into the value of your protection. Luckily, TGS Insurance delivers world-class customer service to its clients and will help diminish these events. If your home insurance policy is set to increase when it is time to renew, we will shop again to find you the lowest rate while keeping your coverages, year after year.
Zip Codes in Cross Argyle, TX That We Insure:
Don't see your zip code listed? Don't worry, as long as it's in Texas, we've got you covered!