Straightforward Aubrey Home Insurance with Hassle-Free, Accurate Quotes in Seconds!
How Much is Home Insurance in Aubrey, TX?
Homeowners in Aubrey pay on average $1,563 a year on home insurance. AT TGS Insurance Agency, our average insurance policy costs Aubrey, TX homeowners $1,424 a year for an average savings of $139 a year!
 Average Home Value in Aubrey, TX
The average home in Aubrey, TX is valued at around $225,000. Since 2011, the average home value in Aubrey, TX has risen around $100,000!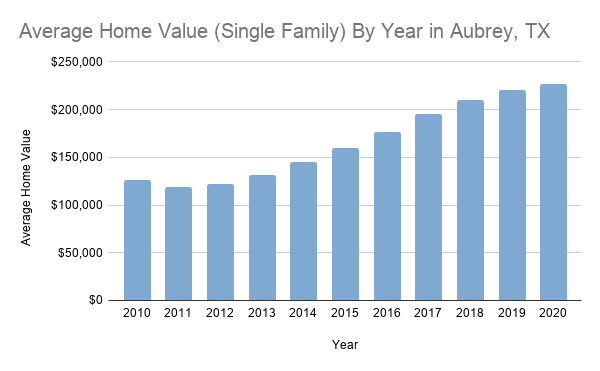 *This data is provided by Zillow.com. Zillow Home Value Index (ZHVI): A smoothed, seasonally adjusted measure of the typical home value and market changes across a given region and housing type. It reflects the typical value for homes in the 35th to 65th percentile range.
Comparing the Average Cost of Homeowners Insurance in Aubrey, TX By Dwelling Coverage Limit
| Coverage Level | Average Annual Premium |
| --- | --- |
| $75k Dwelling | $1,631 |
| $150k Dwelling | $2,177 |
| $200k Dwelling | $2,524 |
| $350k Dwelling | $3,536 |
*Information used from Help Insure from the Texas Department of Insurance. We applied a methodology of a homeowner with average credit, a home between 10-34 years of age, made of brick in Aubrey, TX.
What Does Aubrey Home Insurance Cover?
TGS Insurance offers a variety of home insurance policies to homeowners in Aubrey, TX, but, the most popular policy is the HO3. Your HO3 policy protects you, your home, and personal possessions from variously named perils including explosions/fires, vandalism/theft, damage from an automobile or aircraft, personal liability from injuries, and much more.
What Aubrey, TX Homeowners Insurance Add-Ons Are Available That Will Further Protect You?
Here at TGS Insurance, we understand that no two homes are exactly alike and that different households will need different protections. We offer our policyholders various insurance add-ons that can tailor your insurance coverage to your specific needs. Learn more about some of TGS Insurance's most popular add-ons for homeowners insurance:
Flood insurance: Homes that live within a flood zone are advised to add flood insurance to protect against flood events. These policies can even protect homes from flooding incidents involving swimming pools. Nevertheless, even if your home is outside of a flood zone, 20-25% of all flood insurance claims come from these areas. Flood insurance is important for homeowners regardless of where you live. Likewise, if you live in an area where tornadoes are common, you may want to consider windstorm/hail coverages. 
Water Backup damage: Many homeowners insurance policies will not cover property damage caused by sewer backups and drain problems. TGS Insurance offers Water Back-Up/Sump Discharge Coverage that offers a minimum of $5,000 in protection.
Jewelry Insurance: Your home insurance policy will protect a set limit of valuables such as jewelry but for more expensive pieces, you'll need to add a specific coverage option for jewelry insurance.
Umbrella Policy: A umbrella liability policy protects the things you have worked so hard for in the event you face a lawsuit. TGS Insurance can help you protect your financial future against lawsuits by adding umbrella liability.
Advantages of Securing Aubrey, TX Home Insurance with TGS Insurance:
Thinking of using a single insurance carrier? At TGS Insurance we work with more than 35 top-rated insurance brands which allow us to comparison shop for our clients and find the best possible coverage for the lowest price on the market.
Sit back and relax. TGS Insurance will handle the entire process from start to finish. Our attention to detail and customer service will provide you with a seamless experience. We can even work with your mortgage company to make sure everything is in order.
When you enroll with TGS Insurance you never have to worry about future rate increases. Our agents work with you year after year to shop for and deliver the best price for your coverage even if your rate were to increase.
Zip Codes in Aubrey, TX That We Insure:
Don't see your zip code listed? Don't worry, as long as it's in Texas, we've got you covered!