Brazoria Homeowners Insurance Made Effortless with Quick, Accurate Quotes!
Comparison Shop Home Insurance in Brazoria from Multiple Carriers in Minutes!
The average cost for home insurance in Brazoria is $1,732 for TGS Insurance Agency customers. This average is based on an average home value of $182,895 and includes windstorm coverage. Homeowners in Texas who use TGS Insurance to shop and compare their home insurance policies save on average $870 per year compared to their previous policy! All we need is your address to instantly shop your rate across 35+ A-rated (or better) carriers in 15 seconds or less. No gimmicks, just great coverage and even better savings.
Comparing the Average Cost of Homeowners Insurance in Brazoria By Home Value
Below is a comparison of the average home insurance quote from TGS Insurance Agency in Brazoria, by home value. Home value is one of many factors that influences your home insurance rate. Below, home values are rounded to the nearest $25,000 so $100,000 includes homes in the $75,000 to $125,000 range.
| Home Value | Average Annual Premium (incl. Wind Coverage) |
| --- | --- |
| $100,000 | $1,281 |
| $150,000 | $1,519 |
| $200,000 | $1,810 |
| $250,000 | $2,151 |
| $300,000 | $2,472 |
| $350,000 | $2,861 |
Average Home Value in Brazoria, TX 
The typical home value in Brazoria, TX in 2020 was $176,234, which was $48,717 more than in 2010. Brazoria, TX typical home values hit a decade low in 2012 of $117,569 but have since bounced back and increased steadily year after year.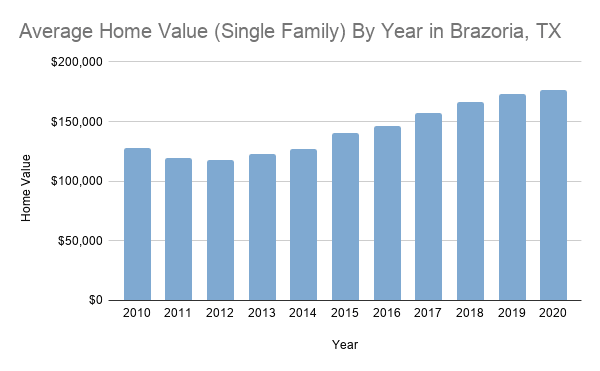 *This data is provided by Zillow.com. Zillow Home Value Index (ZHVI): A smoothed, seasonally adjusted measure of the typical home value and market changes across a given region and housing type. It reflects the typical value for homes in the 35th to 65th percentile range.
When It Comes to Brazoria Homeowners Insurance, Texas Property Owners Can Rely on TGS Insurance for Individualized Coverage.
The standard homeowners insurance policy will cover the following: 
Dwelling coverage (Your home) 

Other structures (Detached garage or fence) 

Personal property coverage (Appliances, electronics, etc.) 

Loss-of-use coverage (Ex: your home becomes unlivable due to water damage) 

Personal liability coverage (If a guest were to try and sue you after getting injured on your property) 

Medical payments coverage (Would cover medical bills if the injured guest needed medical attention) 
The standard homeowners insurance policy will typically cover you against some of the most common perils a homeowner could face, however, some things are not included. Some homeowners purchase policy add-ons to help bridge any gaps in coverage, here are a few of the most common ones: 
Flood insurance 

Water backup 

Animal liability 

Umbrella policies 

Valuable articles or a floater policy (Ex: jewelry insurance)
If you're in a coastal area or live somewhere prone to windstorms, wind and hail coverage is incredibly important to have. Some homeowners are forced to purchase a separate policy outside of their HO3 homeowners, which could be more expensive. At TGS Insurance, we want to make things easy, which is why we automatically write in a 2% wind/hail deductible into every single homeowners insurance policy we write, saving you time and money! Coverage can be easily customized based on your preference.
Bundle Your Home and Auto Insurance For Even More Savings!
One of the best and easiest ways to save on homeowners insurance is to bundle your policy with your auto insurance! On average, policyholders can save 16% a year, with some saving substantially more. 
Shopping and bundling your home and auto insurance is easy and stress-free with TGS Insurance. We'll shop your policies across 35+ A-rated carriers to find you the best-bundled deal that offers the best savings and coverage! Bundling your home and auto insurance has never been easier.
Our Agents Are Ready to Help You With Your Brazoria Homeowners Insurance:
Homeowners in Brazoria, TX all want the same thing, a great homeowners insurance policy that protects the things they love most at a fair price. At TGS Insurance, we offer an easy insurance shopping experience to all of our customers and will handle all of your insurance needs from A to Z. Get started with your free quote today!