With TGS Insurance, Finding The Right Cleburne Home Insurance Policy is as Easy as 1-2-3
How Much is Home Insurance in Cleburne, TX?
Homeowners in Cleburne pay an average of $1,557 a year on home insurance. By using TGS Insurance to shop for homeowners insurance, our average insurance policy costs Cleburne homeowners $1,240 a year for a savings of $317 a year with some clients saving even more!
 Average Home Value in Cleburne, TX
The average home in Cleburne, TX is valued at $175,562 and has risen $79,056 since 2012!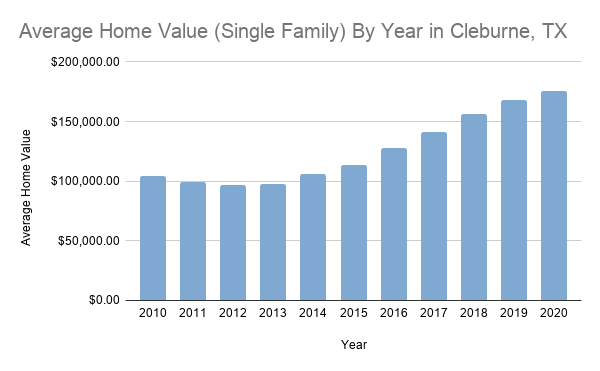 *This data is provided by Zillow.com. Zillow Home Value Index (ZHVI): A smoothed, seasonally adjusted measure of the typical home value and market changes across a given region and housing type. It reflects the typical value for homes in the 35th to 65th percentile range.
Comparing the Average Cost of Homeowners Insurance in Cleburne, TX By Dwelling Coverage Limit
| Coverage Level | Average Annual Premium |
| --- | --- |
| $75k Dwelling | $1,604 |
| $150k Dwelling | $2,139 |
| $200k Dwelling | $2,479 |
| $350k Dwelling | $3,465 |
*Information used from Help Insure from the Texas Department of Insurance. We applied a methodology of a homeowner with average credit, a home between 10-34 years of age, made of brick in Cleburne, TX.
What Does Cleburne Home Insurance Cover?
Though other types of home insurance are available, the most popular policy in Cleburne, TX,  is the HO3. This policy protects you, your home, and personal possessions from a variety of named perils including explosions, fires, vandalism, theft, rioting, falling objects, and many others.
What Homeowners Insurance Add-Ons Are Available in Cleburne That Will Further Protect You?
TGS Insurance offers our clients a range of additional coverage options that can be added depending on your needs. Each home is different and will require different coverage options to help keep them protected. We assist our customers by tailoring their policies accordingly. Learn more about some of our most popular add-ons available to homeowners:
Flood insurance: A necessary policy to protect your home from destructive flood events. Water damage caused by flooding from outside of your home will not be covered by your home insurance policy and homes in flood zones or with swimming pools can be even more susceptible to such events. Similarly, homes located in areas prone to tornadoes should also consider windstorm/hail coverage to stay protected. 
Water Backup Damage: Sewer backup and drainage issues can cause homeowners many problems and without the right coverage, you'll be stuck with a costly bill to restore what you have lost. TGS Insurance offers Water Back-Up/Sump Discharge Coverage with a minimum of $5,000 in protection against these perils.
Jewelry Insurance: Your homeowners insurance policy will protect your jewelry up to a particular limit, but more expensive pieces will require additional coverage. This add-on is necessary coverage to protect from lost, stolen or damaged jewelry.
Umbrella Policy: Homeowners with assets and valuables including things such as luxury cars and lavish swimming pools can become at risk of being sued for much more than what your standard homeowners insurance will cover. An umbrella liability policy protects homeowners involved in lawsuits from losing everything they've worked for.
Advantages of Securing Cleburne, TX Home Insurance with TGS Insurance:
TGS Insurance works with more than 35 top-rated insurance carriers to comparison shop rates and coverage options for our clients. This allows us to provide our clients with the best coverage for the lowest price available.
Signing up for home insurance doesn't have to be complicated and homeowners shouldn't have to stress over making sure their coverages are in place. We take care of everything for our clients from A to Z and can also work with your mortgage company to see to it that everything is in order.
We protect our clients from the yearly rate increases. If your policy will increase its premium, your TGS Insurance agent will help you save money by finding the lowest rate available for the same coverage all over again, year after year. 
Zip Codes in Cleburne, TX That We Insure:
Don't see your zip code listed? Don't worry, as long as it's in Texas, we've got you covered!