With TGS Insurance, Finding The Right Conroe Home Insurance Policy is as Easy as 1-2-3
Comparison Shop Home Insurance in Conroe from Multiple Carriers in Minutes!
Homeowners in Conroe, TX pay on average $1,937 per year for homeowners insurance. TGS Insurance homeowners in Conroe, TX pay $1,123 per year, which means an average annual savings of $814! We make it easy to shop and compare your homeowners insurance policy across 35+ A-rated (or better) carriers in 15 seconds or less- all with just your address. No gimmicks or B.S., just a great policy packed with savings.
When It Comes to Conroe Homeowners Insurance, Texas Property Owners Can Rely on TGS Insurance Agency for Personalized Coverage.
The standard homeowners insurance policy in Conroe, TX covers the following: 
Dwelling coverage

Other structures (A fence or detached garage) 

Personal property coverage (Appliances, furniture, jewelry, etc.)

Loss-of-use coverage (Ex: your home becomes unlivable due to a fire) 

Personal liability coverage 

Medical payments coverage 
Conroe, TX is close to the Texas coast and homeowners are all-too-aware of the perils that Mother Nature can bring inland from the Gulf of Mexico. To fill in any gaps in coverage that may not be covered by your standard homeowner insurance policy, homeowners may want to think about policy add-ons such as: 
Flood insurance 

Water backup

Animal liability (Household pet not covered by home insurance) 

Umbrella policies

Value articles or a floater policy (Ex: Jewelry insurance for extra protection) 
At TGS Insurance, we want to make getting the right protection for your home as easy and as cost-effective as possible. This is why we automatically write in a 2% wind/hail deductible into every single homeowners insurance policy we write. The coverage can be easily customized based on your personal preference.
Comparing the Average Cost of Homeowners Insurance in Conroe, TX By Dwelling Coverage Limit
| Coverage Level | Average Annual Premium (incl. wind coverage) |
| --- | --- |
| $75k Dwelling | $1,293 |
| $150k Dwelling | $1,791 |
| $200k Dwelling | $2,131 |
| $350k Dwelling | $3,097 |
*Information used from Help Insure from the Texas Department of Insurance. We applied a methodology of a homeowner with average credit, a home between 10-34 years of age, made of brick in Conroe, TX. Includes wind coverage.
Average Home Value in Conroe, TX 
In 2020, the average home value in Conroe, TX is $248,319, which is $71,623 more than the 2010 average of 176,696! Though Conroe, TX did see a home value dip in 2011, the city has steadily increased over the past decade.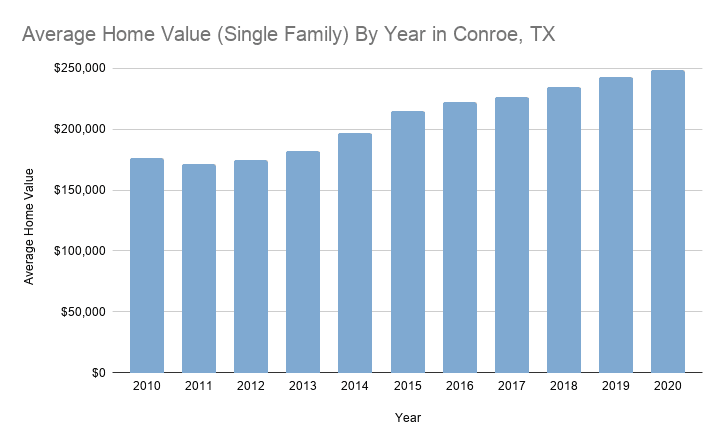 *This data is provided by Zillow.com. Zillow Home Value Index (ZHVI): A smoothed, seasonally adjusted measure of the typical home value and market changes across a given region and housing type. It reflects the typical value for homes in the 35th to 65th percentile range.
Bundle and Save Even More on Your Conroe, TX Homeowners Insurance!
Bundling your home and auto insurance policies together when possible is an easy way to save hundreds of dollars a year on your premiums. Policyholders who bundle can save an average of 16% per year! 
TGS Insurance makes it easy for Conroe, TX homeowners to bundle their policies together. We'll shop your home and auto insurance across our bank of 35+ A-rated carriers (Progressive and Allstate to name a few) and find you a winning policy packed with savings without skimping on coverage. 
Our Agents Are Ready to Help You With Your Conroe, TX Homeowners Insurance:
At TGS Insurance, we don't believe you should break the bank to get good insurance coverage and vice versa. Our team of agents is dedicated to providing you a stress-free experience to shop for homeowners insurance by making it as easy as possible. All we need is your address, we'll handle everything else. From canceling any existing policies, working with your mortgage company to getting your policy setup- we've got it all.