TGS Insurance is Your Trusted Home Insurance Partner in Corinth, TX
How Much is Home Insurance in Corinth, TX?
Homeowners in Corinth, TX pay more than $1,930 a year on home insurance. By using TGS Insurance to shop for homeowners insurance, our average insurance policy costs Corinth, TX homeowners $1,740 a year for an average savings of over $190 a year with some clients saving even more!
 Average Home Value in Corinth, TX
The average home in Corinth, TX is valued at $280,582 and has risen since 2011 by more than $100,000!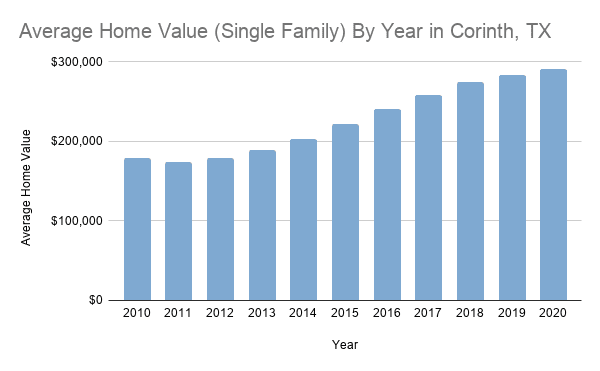 *This data is provided by Zillow.com. Zillow Home Value Index (ZHVI): A smoothed, seasonally adjusted measure of the typical home value and market changes across a given region and housing type. It reflects the typical value for homes in the 35th to 65th percentile range.
Comparing the Average Cost of Homeowners Insurance in Corinth By Dwelling Coverage Limit
| Coverage Level | Average Annual Premium |
| --- | --- |
| $75k Dwelling | $1,631 |
| $150k Dwelling | $2,177 |
| $200k Dwelling | $2,524 |
| $350k Dwelling | $3,536 |
*Information used from Help Insure from the Texas Department of Insurance. We applied a methodology of a homeowner with average credit, a home between 10-34 years of age, made of brick in Corinth, TX.
What Does Corinth Home Insurance Cover?
Homeowners in Corinth, TX, have plenty of coverage options for their home insurance needs; however, the most popular policy is the HO3. This policy protects you, your home, and personal possessions from named perils such as fires, vandalism/theft, rioting, sudden and accidental damage caused by artificially generated electrical currents, and much more.
What Homeowners Insurance Add-Ons Are Available in Corinth, TX That Will Further Protect You?
We offer our clients multiple insurance coverage options that can be added depending on your needs. Every home is different and different homes will require different coverage options to help protect them against perils. TGS Insurance helps our customers by providing a wide range of add-ons to fit their specific needs. Learn more about some of our most popular add-ons available to homeowners in your area:
Flood insurance: A great coverage option for homes within flood zones, homes outside of flood zones, and even homes with a swimming pool. 20 to 25% of all claims come from homes outside of a flood zone and this coverage is important to every home. Likewise, if you're located in an area that's prone to tornadoes, you may want to consider windstorm/hail coverages. 
Water Backup Damage: Sewer backup, sump pump failures, and drain problems can be costly and disgusting problems for homeowners to face. TGS Insurance offers Water Back-Up/Sump Discharge Coverage that offers a minimum of $5,000 in protection against these events.
Jewelry Insurance: Protect your valuable jewelry with this add-on coverage. Your standard homeowners insurance policy will protect to a degree, but will typically have low limits for items like stolen jewelry. More expensive pieces will require additional coverage.
Umbrella Policy: Homeowners who possess things such as a swimming pool or a luxury automobile can be at risk of being sued for much more than what your standard homeowners insurance can cover. An umbrella liability policy can help you protect against lawsuits and protect yourself from losing everything you've worked for in the event of a legal battle.
Advantages of Securing Corinth, TX Home Insurance with TGS Insurance:
At TGS Insurance, we work with many top-rated providers which provides our clients with more policy options than using a singular insurance brand. Our agents ensure that you get the best coverage for the lowest rate through comparison shopping among our bank of 35+ insurance carriers.
We handle your insurance policy from beginning to end. TGS Insurance ensures your home insurance process is as seamless as possible and can even work with your mortgage company through this process.
Concerned about rising rates? We understand. That's why TGS Insurance continues to save you money by monitoring your renewal and finding you the same coverage for less to protect your home and save money year after year.
Zip Codes in Corinth, TX That We Insure:
Don't see your zip code listed? Don't worry, as long as it's in Texas, we've got you covered!