Home Insurance in Cross Timber, TX Just Got A Lot Cheaper!
What Is The Average Cost of Home Insurance in Cross Timber, TX?
The average cost of home insurance in Cross Timber, TX is $2,430 per year. There are several factors that play into the cost of your home insurance such as location, age and construction of your home, condition of your room, weather risks in your area that will create variation in cost from home to home.  At TGS Insurance, our customers in Cross Timber are paying an average of $1,436 per year for their home insurance which means we are saving our customers in the area an average of $994 a year! 
 Average Home Value in Cross Timber, TX
The average home in Cross Timber, TX is valued at $298,115 as of October 2020. Home value plays an important role in your home insurance coverage because you want to make sure that you get enough coverage to cover the costs of rebuilding your home as it stands today. With home values in the area increasing substantially over the past 10 years, it is important to always stay current with your coverage.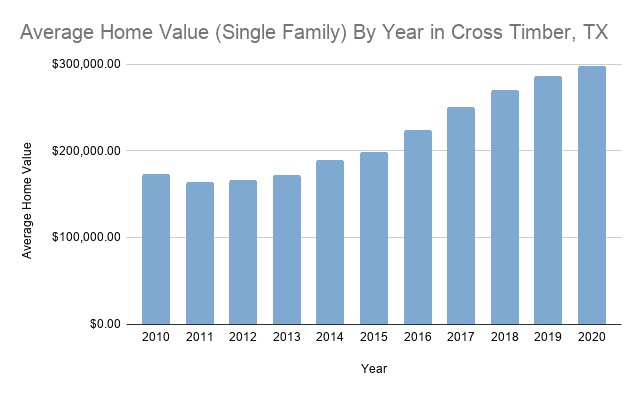 *This data is provided by Zillow.com. Zillow Home Value Index (ZHVI): A smoothed, seasonally adjusted measure of the typical home value and market changes across a given region and housing type. It reflects the typical value for homes in the 35th to 65th percentile range.
What Will A Standard Home Insurance Policy Cover?
There are many different types of home insurance policies available to homeowners in Cross Timber, TX, but the most common is an HO-3 policy. This policy allows you to protect yourself (legally), your home, and personal possessions from several named perils including fire and lightning damage, sudden and accidental damage from electrical currents that are artificially generated, vandalism, theft, falling objects, damage from an aircraft or automobile, and many more! Let's take a closer look at some of the most common coverages we mentioned a little further:
Dwelling
This covers damage to your home's structure by names perils, including any permanent air-conditioning systems, plumbing, wiring, or heating systems. Other structures on your property are also included such as detached garages, fences, and free-standing sheds. 
Personal Property
Personal Property coverage reimburses homeowners for the value of damaged, lost, or stolen belongings, including furniture, clothing, computers, and electronics. In some policies, this coverage even extends to items that are on your property such as items in a storage unit.
Liability
If you're sued and found responsible for a visitor's injuries or a neighbor's property damage, Personal Liability Coverage would pay for the claims. We should note, if the claim exceeds the limit on your policy, you will be financially responsible for that amount so it is important to take into consideration your income and assets when deciding on the level of liability coverage you need. 
Additionally, if anyone (excluding household members) injured on your property needs medical care home insurance will help with medical payments for their care. 
Supplemental Home Insurance Coverages:
Above we discussed some of the common elements of standard home insurance policies: dwelling, personal property, and liability. In all instances, it is important to discuss with your agent which perils each are covered from and to what limit each is covered to determine if you need any additional coverage. Some common supplemental coverages include (but are certainly not limited to):
Umbrella Policies for additional liability coverage
A Valuable Articles Endorsement

to cover the value of expensive jewelry or collections that exceed the limits on your standard policy

Flood Insurance 

Sewer Backup Coverage 
Zip Codes in Cross Timber, TX That We Insure:
Don't see your zip code listed? Don't worry, as long as it's in Texas, we've got you covered!