Denton Home Insurance Made Simple with Hassle-Free, Accurate Quotes!
How Much is Home Insurance in Denton, TX?
Homeowners in Denton, TX pay on average $1,581 a year for home insurance. By using TGS Insurance to shop for homeowners insurance, our average customer in Denton pays just $1,406 a year which equals an average savings of $175 a year!
Average Home Value in Denton, TX
The average home in Denton, TX is valued at $257,432 and has been steadily rising since 2011. Since 2011, the average home value in Denton has risen $108,757!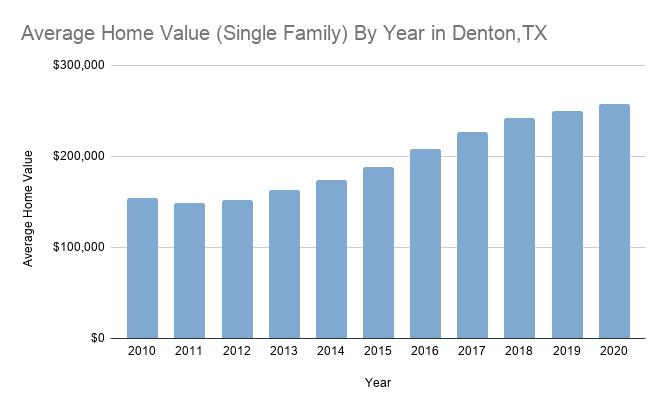 Comparing the Average Cost of Homeowners Insurance in Denton, TX By Dwelling Coverage Limit
| Coverage Level | Average Annual Premium |
| --- | --- |
| $75k Dwelling | $1,643 |
| $150k Dwelling | $2,184 |
| $200k Dwelling | $2,534 |
| $350k Dwelling | $3,561 |
*Information used from Help Insure from the Texas Department of Insurance. We applied a methodology of a homeowner with average credit, a home between 10-34 years of age, made of brick in Denton, TX.
What Does Denton Home Insurance Cover?
There are a variety of home insurance coverage options available to homeowner in Denton, TX; however, the most popular policy, the HO-3, protects you and your home, and personal possessions from named perils including fires, vandalism/theft, damage from an automobile or aircraft, liability should an injury occur on your property, smoke damage, and much more.
What Homeowners Insurance Add-Ons Are Available That Will Further Protect You?
TGS Insurance offers various insurance add-ons that are dependent upon your needs. No two homes are the same and different families require different coverage options to help protect against the burden of various perils. We help our customers by providing a wide range of add-ons to fit your specific needs. Learn more about some of our most popular homeowners insurance add-ons below:
Water-backup Damage:
Many standard policies don't cover damage to property caused by sewer backups and drain problems. TGS Insurance offers Water Back-Up/Sump Discharge Coverage that protects up to $5,000 in damages.
Jewelry Insurance:
Protect your valuables such as fine art, jewelry, or collectibles with special coverage as a standard homeowners insurance policy typically has low limits for items like stolen jewelry.
Umbrella Policy:
Umbrella liability policies help you protect your financial future against lawsuits. Homeowners who possess things such as a swimming pool or a luxury automobile can be at risk of being sued for much more than what your standard homeowners insurance can cover. By adding umbrella liability, you protect yourself from losing everything you've worked for in the event of a legal battle.
Advantages of Securing Denton Home Insurance with TGS Insurance:
Why use a single insurance carrier when you can receive more coverage options? At TGS Insurance, we work with many top-rated providers to ensure that you get the most coverage options for the lowest rate to protect your home.
TGS Insurance takes care of everything for you from start to finish to ensure your home insurance process is as seamless as possible. We even work with your mortgage company to complete the process leaving you with peace of mind.
Never worry about rate increases again. Our agents work with you year after year to deliver the best coverage for the best price even if your rate were to increase. TGS Insurance will comparison shop for your home again and find the best rate to continue saving you money.
Zip Codes in Denton, TX That We Insure:
| | | | | | |
| --- | --- | --- | --- | --- | --- |
| 75065 | 76201 | 76202 | 76203 | 76204 | 76205 |
| 76206 | 76207 | 76208 | 76209 | 76210 | 76226 |
| 76226 | 76227 | 76247 | 76249 | 76259 | |
Don't see your zip code listed? Don't worry, as long as it's in Texas, we've got you covered!