Comparison Shop Home Insurance in Friendswood, TX from Multiple Carriers in Minutes! 
Did you know more than 56% of homeowners don't shop their insurance policy when it's time for renewal? Most don't because it can be a tedious process, which is why TGS Insurance is here to help! We'll shop your policy with over 35+ A-Rated carriers to ensure you get maximum coverage at the best rate available. And when it's time for renewal, we'll shop your policy year after year. We guarantee that you'll never overpay for insurance ever again. 
How Much Does Friendswood Homeowners Insurance Cost?
The average cost for homeowners insurance in Friendswood, TX is about $1,256 per year, which is about $1,598 less than the Texas average of $2,854 per year. Our customers at TGS Insurance save on average around $870 annually when they shop their homeowners insurance policy through us! 
Calculating Premiums for Home Insurance in Friendswood, TX
Homeowners insurance is crafted to provide financial assistance to bring your home and personal items back to their original condition before the loss occurred. There are several types of factors that determine the price of your premiums.
The Amount of Coverage
How much coverage you decide to add-on to your homeowners insurance policy impacts the price of your premiums greatly. Typically, the more coverage the higher the price. But at TGS Insurance our agents search for the most coverage options for the lowest price, so you don't have to sacrifice one for the other. 
Location
If your house is located in an area that is prone to natural disasters or has high crime rates, then you can expect to pay more in premiums.
Condition, Size, Materials, and Age of Your Home
The condition of your home, the size of your home, the materials it was made out of, and how old your home is impacts the price of your premiums. Typically, insurance providers will charge higher premiums for a house that is older and poorly maintained. They view this as more of a risk, the higher the risk, the higher the price.
Ways to Lower Your Premium
Deductible Amount-

A high deductible can decrease your premium costs up to 25%.
Installing Home Protection-

Security systems, motion-sensor lights, and surveillance cameras can help lower your rates.
High Credit Score-

Having a high credit score can also help make your premium cheaper.
How Much is Flood Insurance in Friendswood?
The average cost of flood insurance in Texas is about $634 each year, but it can vary depending on where you live. Friendswood, TX is located outside of Houston where flood insurance rates are about $592 per year. At TGS Insurance, Friendswood, TX homeowners pay an average of $426 annually, which is $166 less than the Houston average! This is because we use both government and private insurance agencies to get you a great rate. 
There are a few factors that determine the price of flood insurance:
The value of your home

Where your home is located

Flood risk

The price of your deductible 
Are Floodplains Changing in Friendswood?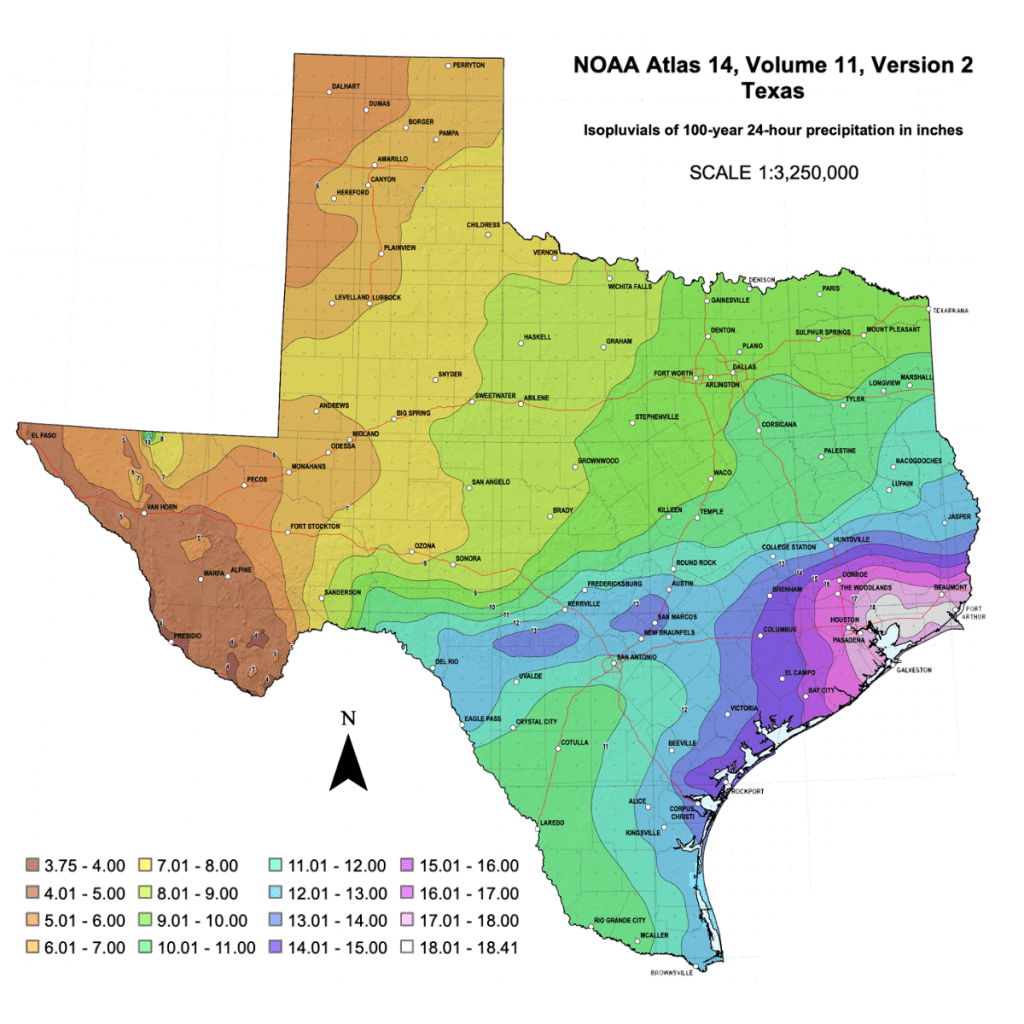 Friendswood, TX gets an average of 55 inches of rain every year, with the Texas average at 25 inches of rain per year. Friendswood, TX is located in Galveston County and was severely hit by Hurricane Harvey. About 3,000 homes were destroyed in Friendswood alone because of flooding waters. With Friendswood being an inland city, it still is greatly affected by Galveston Bay's storm surge and flooding from four major creeks in the area. The new precipitation maps (shown above) released by the NOAA have increased the threshold for a 100-year floodplain in Friendswood by 4 inches from previous data. Based on this new data, there is potential that floodplain maps could require updates to the 100-year floodplain which would likely expand the number of homes with increased home insurance rates from being in a flood plain. 
Regardless of what FEMA decides to do with this new data after further analysis, heavy rainstorms, hurricanes, and tropical storms pose an ongoing threat to the area, so purchasing flood insurance is highly recommended.
Most Popular Additional Home Coverages in Friendswood, TX:
Flood Insurance: This insurance policy protects you in the event your home and personal belongings take on water damage caused by a hurricane, tropical storm, or heavy rainfall. Even if you live outside a flood zone, it's wise to purchase a flood insurance policy to protect yourself. We've seen events like Hurricane Harvey and other storms bring unprecedented and devastating floods. 
Windstorm and Hail Coverage: Friendswood homeowners are far too familiar with how destructive wind and hail storms can be. Hail is typically included in any standard homeowners policy, but windstorm coverage is sometimes bought as a separate add-on policy. At TGS Insurance, we believe in offering Friendswood homeowners the most coverage while also saving you money which is why we include 2% of hail/windstorm deductible into each policy we write.
Water Backup: Water backup is a common optional add-on that may help Friendswood homeowners with financial protection to cover water damage resulting from a sewer backup, backed-up drain, or sump pump. It also includes protection from mold damage in your home that was caused by water backup. The average price for water backup insurance is around $30 per year and will usually cover up to $5,000 in damages. 
Our Featured Agents Are Ready to Help You With Your Friendswood  Homeowners Insurance:
Our team at TGS Insurance is here to help homeowners in Friendswood save money on their homeowners insurance policy without sacrificing protection. We work to provide an exceptional customer experience from start to finish; and will even cancel all of your existing policies and work with your mortgage provider for an easy, seamless way to buy home insurance.