Montgomery Home Insurance Made Simple with Quick, Accurate Quotes
Comparison Shop Home Insurance in Montgomery from Multiple Carriers in Minutes!
Only 44% of homeowners shop and compare their homeowners insurance policies when it's time for renewal. This is mostly because shopping and comparing policies can be a time-intensive process and a total pain! But not with TGS Insurance, we shop your policy across 35+ providers to get you the best deal and coverage available. Comparison shopping for homeowners insurance has never been easier.
How Much is Home Insurance in Montgomery, TX?
The average cost for homeowners insurance in Montgomery, TX is about $1,549 each year. At TGS Insurance our Montgomery customers pay an average of $1,396, which means they save $153 each year on homeowners insurance, with some saving substantially more!
Comparing the Average Cost of Homeowners Insurance in Montgomery By Dwelling Coverage Limit
| Coverage Level | Average Annual Premium (incl. Wind Coverage) |
| --- | --- |
| $75k Dwelling | $1,294 |
| $150k Dwelling | $1,793 |
| $200k Dwelling | $2,133 |
| $350k Dwelling | $3,099 |
*Information used from Help Insure from the Texas Department of Insurance. We applied a methodology of a homeowner with average credit, a home between 10-34 years of age, made of brick in Montgomery, TX. Includes Wind Coverage.
Are the Floodplains in Montgomery Going to Change?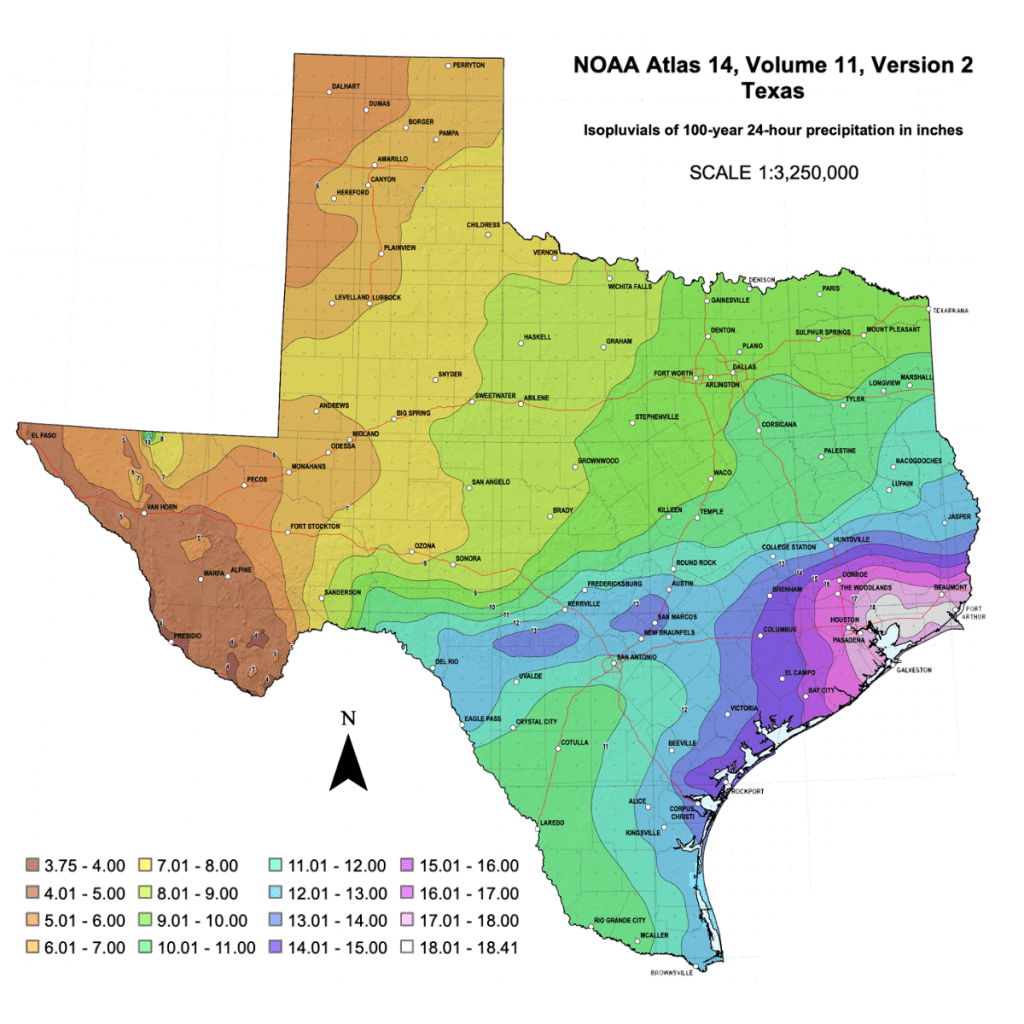 Montgomery, TX is located near Lake Conroe and some parts of this area are considered high risk for flooding. During Hurricane Harvey, the Montgomery, TX area experienced 12-14 feet of flooding and a lot of people lost their homes. Recent data collected by the NOAA has led to the creation of new precipitation maps (shown above) which reflect an increase in the threshold for a 100-year flood by 4 inches. Based on this new data, there is potential that FEMA floodplain maps could require updates to the 100-year floodplain which would likely expand the number of homes with increased home insurance rates from being in a flood plain. 
Regardless of what FEMA decides to do with this new data after further analysis, it's important to remember that over 20% of flood insurance claims from Harvey came from those living outside of a flood zone. Houstonians are no strangers to how devastating flooding can be with Hurricane Harvey, Hurricane Beta, and the Tax Day Flood being just a few examples. Having flood insurance is a must for Montgomery, TX homeowners because it protects your home and personal items from the financial repercussions of flood damages. 
Additional Home Coverages Available in Your Area:
Flood Insurance: Over 43% of homeowners think that flood damage is protected by their homeowners insurance policy and this common misconception is simply untrue. Flood insurance is a separate policy that Montgomery, TX homeowners can purchase to ensure their home and personal items are protected from flood damage.
The TGS Difference: We work with both private and government insurance providers to help protect your home and valuable items with a flood insurance policy built around your needs and budget.
Hailstorm Insurance: From 2017-2019, Texas had the most hail storms in the country and Montgomery County reported over 32 hailstorms during that time. Typically, hailstorm protection is included by your standard homeowners insurance policy but since Texas is on the Gulf Coast, some areas might not be covered. Adding on hailstorm coverage is important for Montgomery homeowners to have so you can avoid having to pay out of pocket for the damages.
The TGS Difference: We believe in providing our Montgomery, TX customers with the most protection, so that is why we include a 2% hail/windstorm deductible into every one of our homeowners insurance policies.
Windstorm Insurance: Montgomery, TX homeowners might not be covered from windstorm damage because some insurance providers do not offer coverage for cities located on a coastline, forcing some to purchase a separate windstorm insurance policy. Windstorm insurance protects your home and personal belongings from gusty events like tornadoes, hurricanes, gales, and tropical storms.
The TGS Difference: We want each of our customers to be fully protected, so that is why we include a 2% windstorm/hail deductible in every homeowners insurance policy we write.
Bundle Your Home and Auto Policies for Added Savings!
Did you know when you bundle your home and auto insurance policies together homeowners can save anywhere from 5% to 25% each year on your premiums?
TGS Insurance agents make bundling your home and auto insurance policies easy. We shop across from 35+ highly-rated insurance providers to find you the best bundling options for your premiums.
Zip Codes in Montgomery, TX That We Insure:
Don't see your zip code listed? Don't worry, as long as it's in Texas, we've got you covered!