Comparison Shop Home Insurance in Pecan Grove from Multiple Carriers in Minutes!
Pecan Grove, TX homeowners pay an average of $1,346 per year for homeowners insurance. The average TGS Insurance customer saves $870 when they shop their homeowners insurance policy with us! Easily compare your policy across 35+ A-rated (or better) carriers with just your address. No long forms, no tedious questionnaires, just a great policy packed with savings.
When It Comes to Pecan Grove Homeowners Insurance, Texas Property Owners Can Rely on TGS Insurance for Individualized Coverage.
The standard homeowners insurance policy in Pecan Grove, TX will cover: 
Dwelling coverage 

Other structures (ex: fence or a detached garage) 

Personal property coverage 

Loss-of-use coverage 

Personal liability coverage 

Medical payments coverage 
Depending on where you live or what type of coverage you want, you may want to consider additional policy add-ons to your homeowners insurance policy to cover any gaps in coverage such as: 
Flood insurance 

Water backup

Animal liability 

Umbrella policies

Value articles or a floater policy 
At TGS Insurance, we strive to make getting the right coverage at a great price, as easy as can be. This is why we automatically write in a 2% wind/hail deductible into every single homeowners insurance policy we issue to Pecan Grove, TX homeowners. This coverage can be easily customized for you!
Comparing the Average Cost of Homeowners Insurance in Pecan Grove, TX By Dwelling Coverage Limit
| Coverage Level | Average Annual Premium (incl. wind coverage) |
| --- | --- |
| $75k Dwelling | $1,657 |
| $150k Dwelling | $2,348 |
| $200k Dwelling | $2,816 |
| $350k Dwelling | $4,171 |
*Information used from Help Insure from the Texas Department of Insurance. We applied a methodology of a homeowner with average credit, a home between 10-34 years of age, made of brick in Pecan Grove, TX. Includes wind coverage.
Average Home Value in Pecan Grove, TX 
In 2020, the average home value in Pecan Grove, TX is $274,627 which is $67,276 more than the average in 2010, which was $207,351. Usually, homeowners can expect to see the yearly rate increase between 3-5%, with metro areas appreciating differently.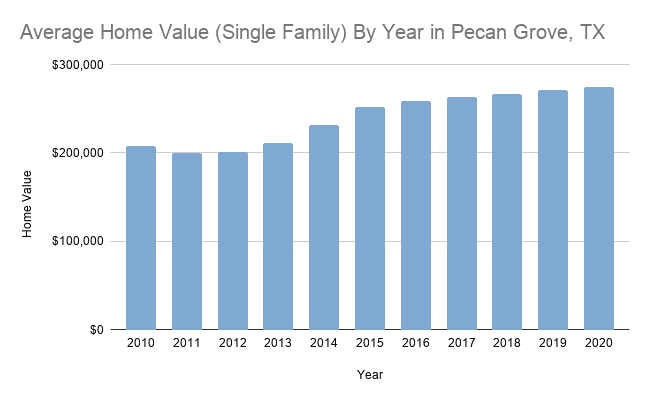 *This data is provided by Zillow.com. Zillow Home Value Index (ZHVI): A smoothed, seasonally adjusted measure of the typical home value and market changes across a given region and housing type. It reflects the typical value for homes in the 35th to 65th percentile range.
Bundle and Save Even More on Your Homeowners Insurance!
You can see massive savings when you bundle your home and auto insurance. Most people who bundle their home and auto can save about 16% annually on their premiums! 
For Pecan Grove, TX residents, TGS Insurance makes it easy to bundle your home and auto insurance. Our agents will automatically shop your policies through our bank of 35+ A-rated carriers to find you the best deal without sacrificing on coverage. 
Our Agents Are Ready to Help You With Your Pecan Grove, TX Homeowners Insurance:
Helping our customers save on homeowners insurance is at the core of what we do at TGS Insurance. Our team is dedicating to finding you the best insurance policies that offer the most protection, without breaking the bank year after year.