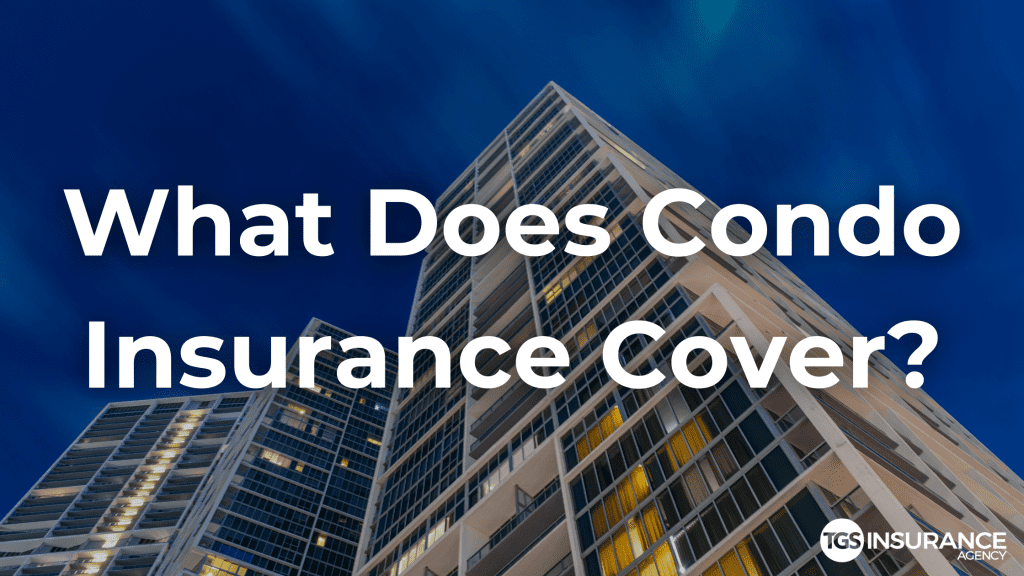 Condo insurance covers any damaged or stolen personal property, as well as liability costs if someone were to get injured in your home. Your condo insurance policy is made to protect what your condo association's master policy won't. Let's review everything you need to know about condo insurance and how it works to cover you. 
What is a Condo Insurance Policy?
Condo insurance, also known as an HO-6 insurance policy, protects the condo owner's personal property and provides liability and living expense coverage. It can also be called "walls-in" coverage because the policy is designed to protect your unit. If you're worried about things like common areas, recreation rooms, or other shared areas of the building, that's always covered by your condo association's master policy.
A condo insurance policy offers the following coverage:
Building property: your physical unit, including walls, floors, and other fixtures
Personal property: clothing, electronics, furniture, etc.
Personal liability: legal expenses for any lawsuits
Loss of use: should your home become temporarily uninhabitable, insurance will pay for any food/lodging expenses
Loss assessment: your portion of any losses shared by the HOA
A condo insurance policy acts very similarly to a standard homeowners insurance policy, and both will cover a list of 'perils' such as hail, theft, fire, or vandalism, among others. Typically, your condo insurance policy will define precisely what perils are covered, and if anything isn't "named," it's not covered and, you're financially responsible for any damages.
One of the most common misconceptions most condo owners make is that flood insurance is covered by either their condo insurance policy or through their condo association's master policy. Both are incorrect. If a condo owner wants protection against flood damage, a flood insurance policy is a must. However, you can add what's called a "Unit Owners Special Coverage A endorsement," effectively turning your condo policy into an "open peril" policy. An open peril policy will cover damage from any perils except ones expressly excluded in your policy. The most common exclusions include earthquakes, floods, and sinkholes.
What's The Difference Between My Condo Insurance Policy and the Condo Association Insurance Policy?
The master policy covers all the common areas of your condo building—such as a parking garage, recreational room, lobby, pool, etc. Depending on the policy type, the master policy could also offer some level of protection for the interior spaces of your condo. The key difference between the two is that your condo policy will protect any personal belongings inside your unit, loss of use due to a covered peril, personal liability, or any covered losses that you're responsible for by your condo's association.
Something important to know, most master policies cover replacement costs for the interior structure of your condo unit as it was once you moved in. Think flooring, cabinets, etc. Any improvements or alterations you may make will be your financial responsibility to cover if they're damaged. So, for example, if you upgrade your floors to hardwood from tile, your master policy might not help you pay for any damage incurred.
How is My Personal Property Covered Under My Condo Insurance Policy?
Condo owners, like homeowners, can choose how and how much they want to be paid out after a covered loss.
Actual cash value: pays you for the depreciated value of your damaged personal property.
Replacement cost coverage: pays for the actual cash value of your property, and you paid to replace or repair them- this coverage does not account for depreciation.
Regardless of which coverage type you choose, your condo insurance policy will come with a limit to how much your insurance carrier will pay out after you've reached your deductible. Consider an umbrella insurance policy or scheduled personal property if you want more coverage outside of what your policy will offer you.
An umbrella insurance policy is additional liability protection that picks up where your condo policy leaves off. This is an intelligent policy to carry if you own multiple homes, cars or have a considerable amount of wealth to protect.
Scheduled personal property offers protection for items whose value extends outside the limits of your personal property covered. For example, your condo insurance policy caps your jewelry limit to $2,000. Still, if you have pieces worth more than that, scheduled personal property coverage would offer additional protection for those items.
Get The Condo Insurance Policy You Need With TGS Insurance
When it comes to insuring your home, you want a condo policy that's built to protect everything without breaking the bank. At TGS Insurance, we can help. We will shop your policy through our bank of 35+ A-rated (or better) condo insurance providers to find you the best policy and price the market has to offer! Get started with your hassle-free condo insurance quote today and see why over 15,000 Texans are insured with TGS Insurance.