Finding Affordable Archdale Home Insurance Made Simple
At TGS Insurance Agency, we leverage our relationships with several top-rated carriers to find you the best coverage and prices. Our online quoting tool makes getting a home insurance quote easier and faster than ever- all we need is your address! Our agents are ready to review your quote to assure you are getting the coverage you need and not overpaying for coverage you don't.  
We shop, and you save time and money; it really is that easy.
Archdale Home Insurance Coverage
The beauty of home insurance is that it can be tailored to fit you and your situation. Typically, a standard home insurance policy covers the following:
Coverage for your home and other structures on your property, like detached garages

Coverage for your belongings inside your home, like clothes and furniture

Liability coverage for guests that may be injured on your property

It covers additional living expenses if you need temporary lodging while your home is being repaired
Cost of Home Insurance in Archdale
In Archdale, the average home insurance costs $945 per year for TGS Insurance customers. The cost of your home insurance is based on several different factors, including, but not limited to:
The value of your home.

Where your home is.

How old your home is.

The number of residents in your home.

Your credit score.
These factors set a base for your home insurance, and then you can customize your coverage. The more coverage you choose to have, the more your yearly premium will be. TGS Insurance is here to help you find the best price without sacrificing any coverage you want.
Average Cost of Archdale Home Insurance by Dwelling Coverage Amount
Typical home insurance includes dwelling coverage which covers the costs of repairing or rebuilding your home if it sustains damage or is destroyed due to a covered event. The limit of your dwelling coverage should match the rebuilding cost of your home, and the higher the limit, the more substantial the impact on home insurance premiums since the insurance company bears more risk. For TGS customers with a $200,000 dwelling coverage limit, their premium averages at $1,015 per year. 
| Dwelling Coverage Limits | Average Annual Premium (incl. Windstorm & Hail Coverage) |
| --- | --- |
| $100,000.00 - $199,999.00 | $697.46 |
| $200,000.00 - $299,999.00 | $1,015.17 |
| $300,000.00 - $399,999.00 | $1,278.85 |
| $400,000.00 - $499,999.00 | $1,520.16 |
| $500,000.00-$599,999.00 | $1,707.60 |
Archdale Home Insurance Quotes and Your Home's Age
Many factors go into calculating your home insurance premium, including your home's age. Typically, older homes are more expensive to insure because their structure and other components tend to be outdated (Ex. using galvanized piping instead of PEX) and experienced years of all-around wear and tear. 
Age is not the only influencing factor for your home insurance premium. Carriers look at a variety of other things, including: 
Attractive nuisances 

Pet breeds

Claims history

Credit score

Crime rate 

Location

Marital status

Size

Replacement cost

And much more!
Cheapest Archdale Home Insurance Carrier
Homeowners in Archdale, North Carolina, all want the same thing- an excellent home insurance policy that doesn't break the bank. Cost is one of the most influential things people look at when purchasing insurance, next to the amount of coverage. This is why homeowners must compare and shop their policies across multiple carriers! Insurance carriers set their rates, so your premium could vary across multiple carriers with the same coverage. Our two most affordable (and popular) insurance providers in Archdale, North Carolina, are SageSure and SafePort. On average, TGS Insurance customers in Archdale, North Carolina, pay $737 for SageSure annually and $740 for SafePort.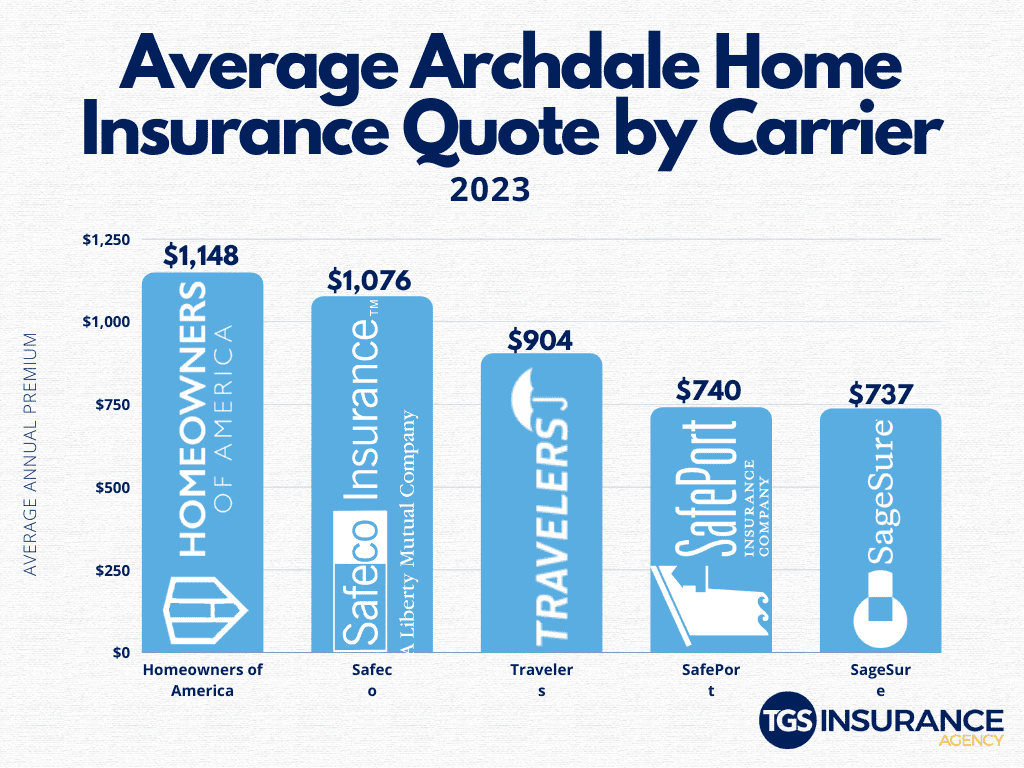 Archdale Zip Codes TGS Insurance Agency Covers
If your zip code is not listed, fret not! We have access to amazing rates for homeowners all across North Carolina. Simply enter your address above to get started with a free instant quote.