Getting a Belmont Home Insurance Quote Has Never Been Easier!
Finding the right Belmont homeowners insurance can be confusing and time-consuming. TGS Insurance Agency is here to change that. Our expert home insurance agents do the hard work for you, making your home insurance shopping experience easy and stress-free. Starting is simple; enter your address for a free, no-obligation instant quote, and our helpful team will take it from there!    
What Does Belmont Home Insurance Cover?
Don't let unexpected losses threaten your home and personal belongings. With home insurance in Belmont, you can have peace of mind knowing you're covered against various risks. A standard policy typically covers your home's structure, personal belongings, liability, and additional living expenses. But not all policies are created equal, so it's important to work with an agent who can help you customize your coverage to fit your unique needs. Whether you need more protection for your high-value items or want to add coverage for specific risks like earthquakes or floods, we've got you covered. 
What is the Cost of Home Insurance in Belmont, North Carolina?
Your home insurance policy is crafted to fit your needs as a homeowner and protect your home. Your specific policy will look different from anybody else's since it is built to protect your home and belongings. Look at how Belmont compares to other averages. 
National Average: $1,477
North Carolina Average: $1,215
Belmont, North Carolina Average: $1,054
Your home insurance premium can vary from these averages, but it is always good to compare. If your current homeowners insurance policy is much less expensive than the city average, you may not have enough coverage and be underinsured. If you pay much more than these averages, you could simply be overpaying for home insurance. 
Average Homeowners Insurance Cost by Coverage Level in Belmont
The cost to replace your home is essential to determine the dwelling coverage you need on your home insurance policy; this limit directly impacts your home insurance premium. On top of affecting your average annual costs, having an accurate replacement cost can prevent you from underinsurance if a loss takes your entire house. These are the average annual home insurance costs in Belmont, North Carolina, based on dwelling coverage limits associated with the policy. 
| Dwelling Coverage Limits | Average Annual Premium (incl. Windstorm & Hail Coverage) |
| --- | --- |
| $100,000.00 - $199,999.00 | $690.51 |
| $200,000.00 - $299,999.00 | $922.40 |
| $300,000.00 - $399,999.00 | $1,066.06 |
| $400,000.00 - $499,999.00 | $1,278.23 |
| $500,000.00-$599,999.00 | $1,665.08 |
| $600,000.00-$699,999.00 | $1,855.38 |
How the Size of Your Belmont Home Affects the Cost of Insurance
Another thing that will affect the cost of your Belmont home insurance is the size of your home. Insurance carriers look at the square footage of your home to determine the replacement cost.  If you have a larger house, your replacement cost will be higher. Because of the higher replacement cost, your home insurance premium will be higher than that of smaller houses. Some other factors that affect your replacement cost are:
Building materials used to build your home

Features in your home like fireplaces or a jetted tub

The age of your home
In Belmont, houses that are over 2,500 square feet cost $1,390 per year. Houses under 2,500 square feet have an average annual premium of $874.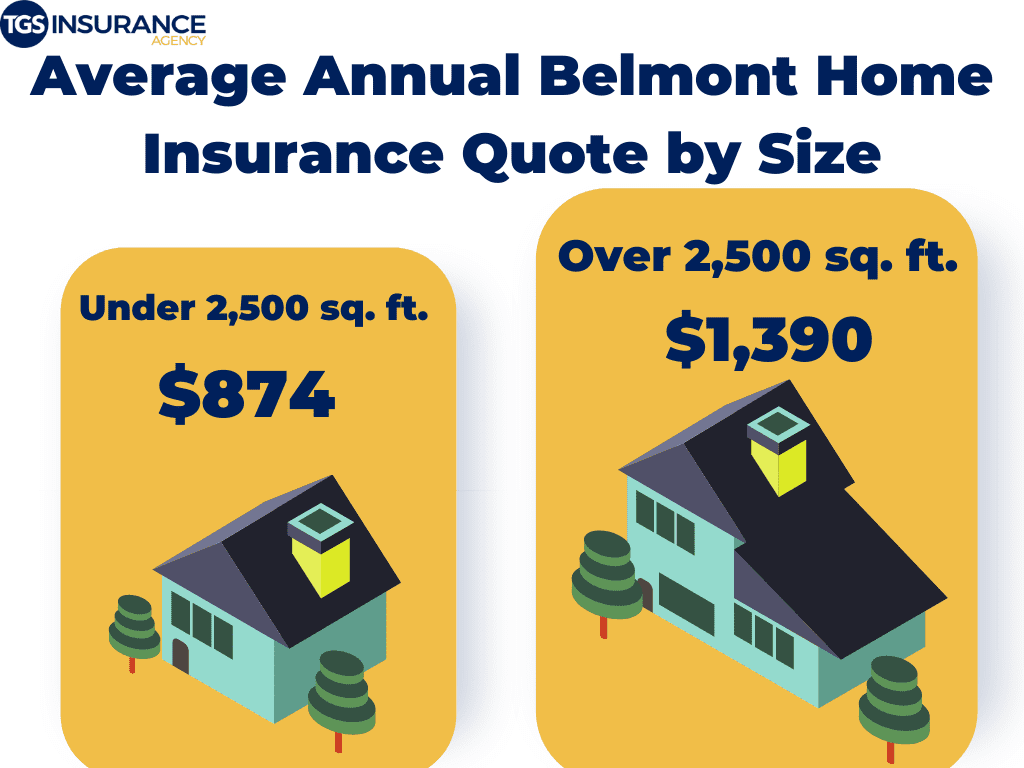 Who is the Most Popular Home Insurance Carrier in Belmont, North Carolina?
We want you to find the perfect homeowners insurance in Belmont, North Carolina. Knowing what the best insurance carriers in your area charge for home insurance is a great way to know if your policy is competitive. We pulled together some data from TGS customers in your area and found that Travelers is the most popular in Belmont. People with Travelers pay an average of $968 annually. Another popular carrier in Belmont is Safeco. Safeco's rates differ slightly from Travelers, having an average cost of $1,184 a year. Check out our data below for the five most popular carriers in Belmont and their average annual home insurance premiums.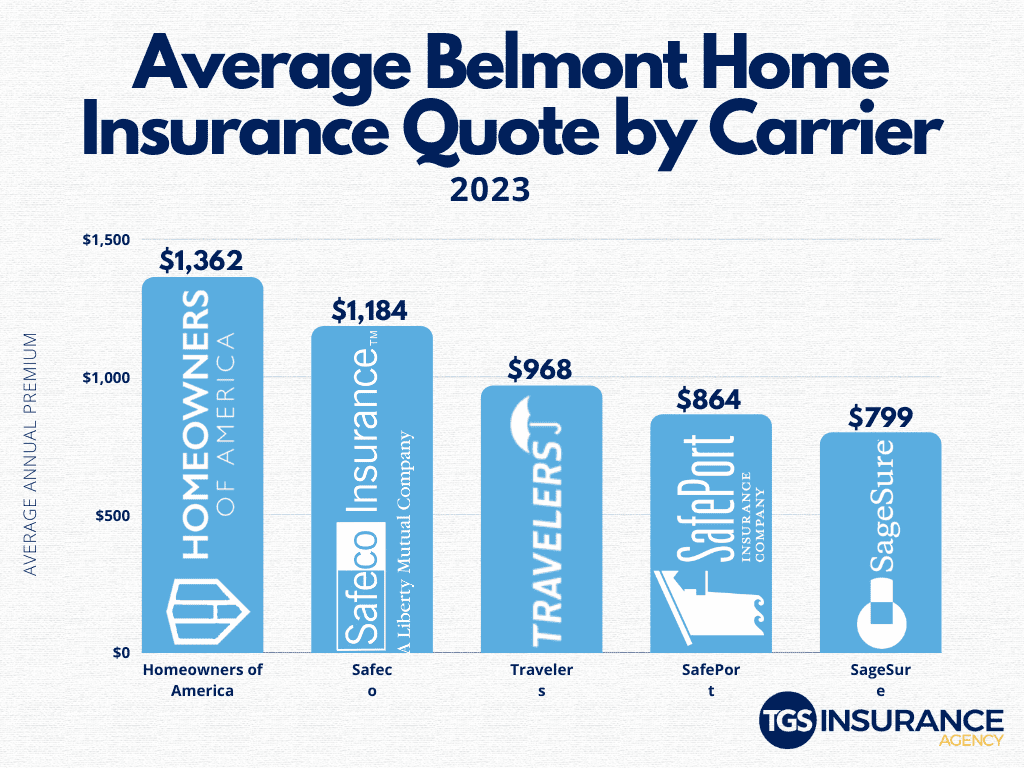 Zip Codes in Belmont TGS Insurance Covers
Don't see your zip code? You'll have coverage with us!! We make shopping for the best home insurance easy and hassle-free for all residents throughout North Carolina. Start today with a free, instant quote!