Shopping For Cheap Carrboro Home Insurance Is Easier Than You Think
As an independent agency, we represent 55+ top-rated insurance carriers, which allows us to offer comprehensive insurance options to meet your every need. The best part? Our highly qualified homeowners insurance agents do the hard work for you, making your home insurance shopping process easy and stress-free. Your savings start with an instant, free quote. Our agents are ready to help you further customize your quote and find any discounts you might qualify for! 
We shop. You Save. Yes, it really is that easy.
What is Included in Carrboro Home Insurance?
There are a few standard forms of home insurance that offer different levels of protection. This varies from different perils coverage and how much protection you want. Most of these forms include coverage- at some level- for:
Dwelling

Other Structures

Personal Property 

Loss of Use

Personal Liability

Medical Payments
Having these coverages at the base of every standard home policy allows everyone to be somewhat protected. You can choose whether or not you have more coverage in one area compared to another. All of this is based on your unique lifestyle in Carrboro.
What Does Home Insurance Cost in Carrboro?
Homeowners insurance in Carrboro costs $1,162 a year, or $96.83 a month, for TGS customers. The cost of your home insurance premium will vary based on a few different things. This can be from your credit, location, value of your home, and what year your home was built. It is normal for your home insurance to vary from this average and other numbers you see online. The great thing about it is that you can completely customize your coverage. TGS has helped over 15,000 customers save on their home insurance premiums. To lock in your savings, type your address above for an instant quote! 
Average Homeowners Insurance Cost by Coverage Level in Carrboro
The cost to replace your home is essential to determine the dwelling coverage you need on your home insurance policy; this limit directly impacts your home insurance premium. On top of affecting your average annual costs, having an accurate replacement cost can prevent you from being underinsured if a covered loss takes your entire house. These are the average annual home insurance costs in Carrboro, North Carolina, based on dwelling coverage limits associated with the policy. 
| Dwelling Coverage Limits | Average Annual Premium (incl. Windstorm & Hail Coverage) |
| --- | --- |
| $100,000.00-$199,999.00 | $740.72 |
| $200,000.00-$299,999.00 | $1,081.55 |
| $300,000.00-$399,999.00 | $1,352.10 |
| $400,000.00-$499,999.00 | $1,606.54 |
| $500,000.00-$599,999.00 | $1,865.20 |
How the Age of Your Carrboro Home Affects Your Insurance
The main difference between older and newer houses is that older homes pose a larger risk to insurance carriers. Older homes are more susceptible to fires and issues with plumbing and roofing. It would also be more expensive for carriers to repair older homes, so your premium will be higher. To avoid high premiums on older homes, keep up with home maintenance. If you update your home systems, your insurance carrier will not see them as a big risk. 
Best Carrboro Home Insurance Carriers
Knowing who will give you a competitive premium in your area is a big part of choosing your home insurance. Among TGS customers, the most popular carrier in Carrboro is SageSure. The average annual premium with SageSure is $806. Other popular carriers are Travelers and Safeco. Choosing a carrier is more than just the price; however, here at TGS Insurance Agency, we know that price is one of the more important factors. Check out the table below to see the average price for Carrboro based on the insurance provider.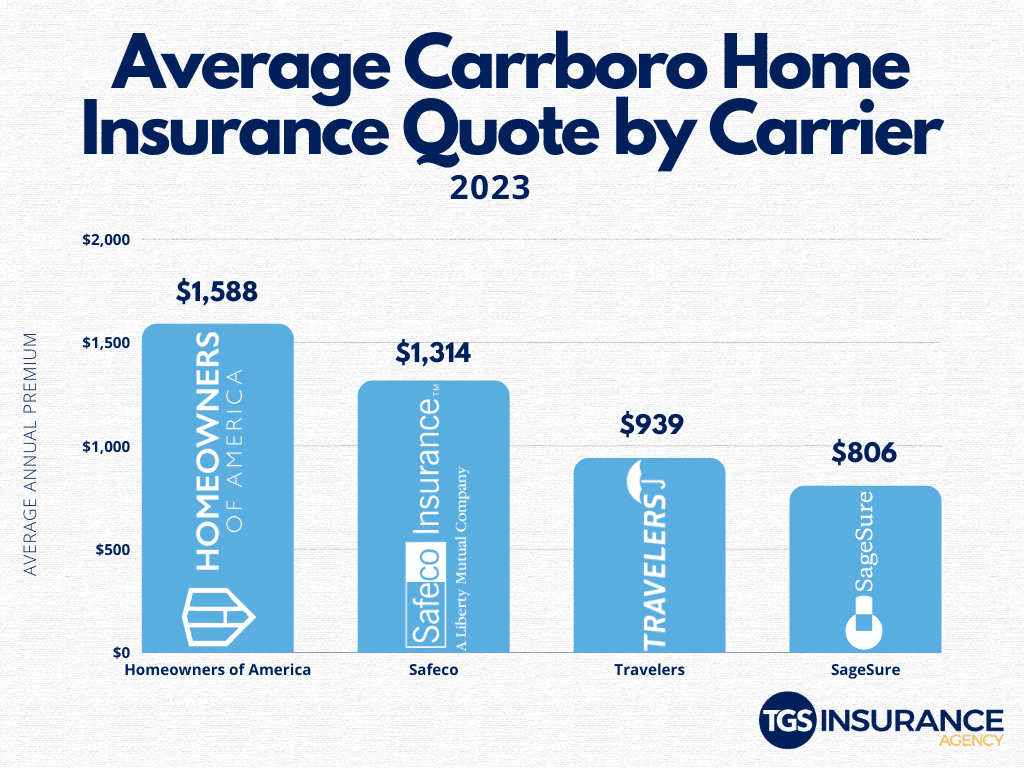 Carrboro Zip Codes TGS Insurance Agency Insures
Don't worry if you don't see your zip code above! We can find incredible rates for homeowners throughout North Carolina.  Enter your address above for a free instant home insurance quote.