Getting a Cornelius Home Insurance Quote Has Never Been Easier!
Finding the right Cornelius homeowners insurance can be confusing and time-consuming. TGS Insurance Agency is here to change that. Our expert home insurance agents do the hard work for you, making your home insurance shopping experience easy and stress-free. Getting started is simple; enter your address for a free, no-obligation instant quote, and our helpful team will take it from there!    
Cornelius Home Insurance Coverage
The beauty of home insurance is that it can be tailored to fit you and your situation. Typically, a standard home insurance policy covers the following:
Coverage for your home and other structures on your property, like detached garages

Coverage for your belongings inside your home, like clothes and furniture

Liability coverage for guests that may be injured on your property

It covers additional living expenses if you need temporary lodging while your home is being repaired
How Much Does Cornelius Home Insurance Cost?
On average, a TGS customer in Cornelius would pay $1,200 per year for home insurance. Home insurance rates vary based on several factors, including your home's age, value, and location, as well as your credit score and desired coverage levels. This average is based on policies with an average home value of $326,014 and includes windstorm and hail coverage with a 2% deductible. TGS Insurance Agency offers customizable options to all our customers so you can find the right policy and pay what you want. Get started with a free instant home insurance quote by providing your address above.
Average Cornelius Home Insurance Cost By Dwelling Coverage Limits
Dwelling coverage is the component of home insurance that protects the physical structure of your home from covered perils. It is designed to cover the cost of repairing or rebuilding your home if it is damaged or destroyed by a covered event. The amount of dwelling coverage you need will depend on the cost of rebuilding your home. Your home insurance policy typically provides coverage up to a specified dollar amount, known as the policy limit. It's important to ensure that your dwelling coverage limit is high enough to cover the cost of rebuilding your home in the event of a total loss. Dwelling coverage limits can have a significant impact on home insurance premiums. In general, the higher the dwelling coverage limit, the higher the premium since the insurance company will take on more risk.
In Cornelius, North Carolina, if you need $200,000 in dwelling coverage, you'll pay an average of $1,056 per year. However, if your home is worth more, you'll want more coverage, so homeowners wanting $400,000 in dwelling coverage will pay an average of $1,482 in Cornelius, North Carolina.
| Dwelling Coverage Limits | Average Annual Premium (incl. Windstorm & Hail Coverage) |
| --- | --- |
| $100,000.00 - $199,999.00 | $718.77 |
| $200,000.00 - $299,999.00 | $1,056.12 |
| $300,000.00 - $399,999.00 | $1,277.33 |
| $400,000.00 - $499,999.00 | $1,482.24 |
| $500,000.00-$599,999.00 | $1,784.14 |
| $600,000.00-$699,999.00 | $1,805.61 |
Cornelius Home Insurance Quotes and Your Home's Age
Many factors go into calculating your home insurance premium, including your home's age. Typically, older homes are more expensive to insure because their structure and other components tend to be outdated (Ex. using galvanized piping instead of PEX) and experienced years of all-around wear and tear. 
Age is not the only influencing factor for your home insurance premium. Carriers look at a variety of other things, including: 
Attractive nuisances 

Pet breeds

Claims history

Credit score

Crime rate 

Location

Marital status

Size

Replacement cost

And much more!
Compare Cornelius Home Insurance Premiums By Carrier
The price is often the most influential factor when considering a home insurance policy. Because each carrier sets its rates, sometimes the same type of coverage can vary in price among different carriers. Two of our most popular carriers in Cornelius are SageSure and Travelers. Home insurance quotes from TGS Insurance for SageSure average $852 annually. Home insurance quotes for Travelers run more expensive at $1,072 per year. 
When picking the right home insurance carrier, many factors are involved. You want to make sure the carrier you choose is right for you! Here are some questions to ask yourself when picking a home insurance carrier. 
What is their price for the coverage I want?

What are the company's history and reputation?

Have you heard anything about the company?

Do they offer the coverage I am looking for? 

Are there discounts available?

Is it easy and convenient to work with them?
At TGS Insurance Agency, we work with over 55+ 'A-rated' home insurance carriers to help you make the right decision for your home. Use these questions and call one of our agents to find the right fit for you.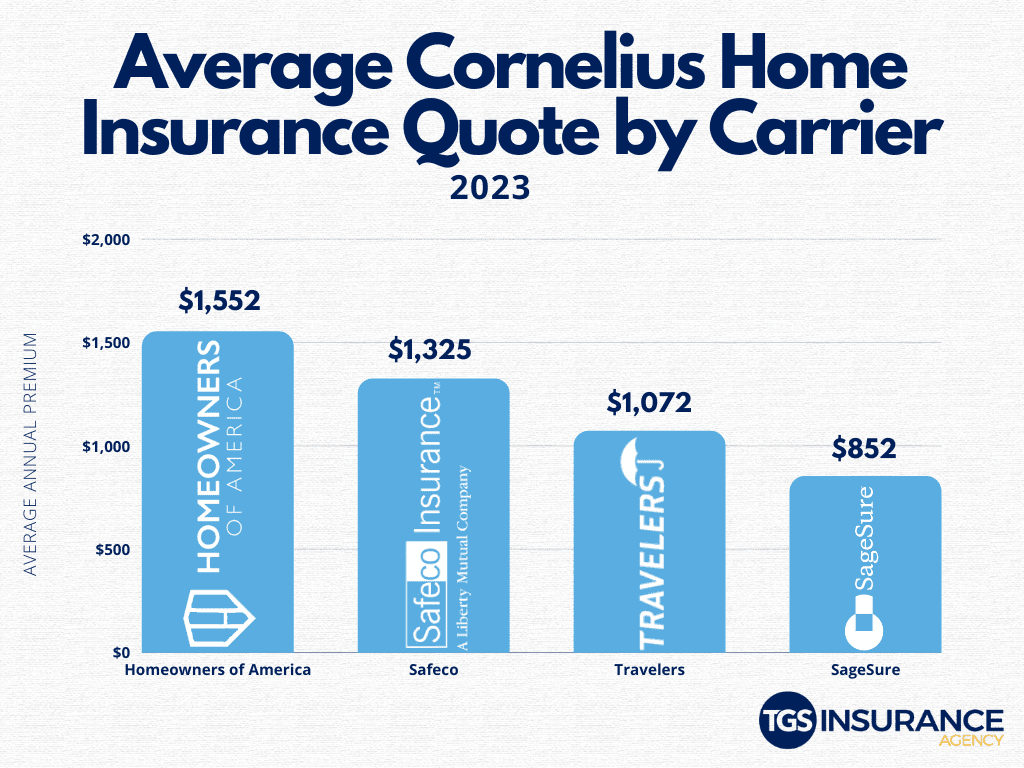 Zip Codes in Cornelius We Insure
Don't see your zip code? Not a problem! We can help homeowners throughout North Carolina find the best home coverage for their needs. Get started with a free instant quote by providing your address above.