Getting a Garner Home Insurance Quote is as Easy as 1-2-3!
Getting the best homeowner's insurance in Garner is easy when you use TGS Insurance's proprietary online quoting tool for a free, no-obligation quote. Did we mention it only takes 15 seconds?
Enter your address

View your quote 

Customize your coverage with the guidance of one of our expert independent agents.
What is Covered in Garner Home Insurance?
Don't let unexpected losses threaten your home and personal belongings. With home insurance in Garner, you can have peace of mind knowing you're covered against various risks. A standard policy typically covers your home's structure, personal belongings, liability, and additional living expenses. But not all policies are created equal, so it's important to work with an agent who can help you customize your coverage to fit your unique needs. Whether you need more protection for your high-value items or want to add coverage for specific risks like earthquakes or floods, we've got you covered. 
What Does Home Insurance Cost in Garner?
Homeowners insurance in Garner costs $1,268 a year, or $105.67 a month, for TGS customers. The cost of your home insurance premium will vary based on a few different things. This can be from your credit, location, value of your home, and what year your home was built. It is normal for your home insurance to vary from this average and other numbers you see online. The great thing about it is that you can completely customize your coverage.TGS has helped over 15,000 customers save on their home insurance premiums. To lock in your savings, type your address above for an instant quote! 
Home Insurance in Garner Cost by Dwelling Coverage Limit
Dwelling coverage limits are one of the key factors that insurers consider when setting premiums. You'll generally pay a higher premium if you choose a high dwelling coverage limit. However, it's important to ensure adequate coverage to protect your home during a loss. If you have a mortgage on your home, your lender may require you to have a certain amount of dwelling coverage to protect your investment.
In Garner, North Carolina, a policy with $200,000-$299,999 in dwelling coverage costs an average of $1,166 per year. However, if your home is worth more, you'll want more coverage, so homeowners wanting $400,000-$499,999 in dwelling coverage will pay an average of $1,558 in Garner, North Carolina.
| Dwelling Coverage Limits | Average Annual Premium (incl. Windstorm & Hail Coverage) |
| --- | --- |
| $100,000.00 - $199,999.00 | $804.10 |
| $200,000.00 - $299,999.00 | $1,166.03 |
| $300,000.00 - $399,999.00 | $1,367.91 |
| $400,000.00 - $499,999.00 | $1,558.06 |
| $500,000.00 - $599,999.00 | $1,853.98 |
How the Age of Your Garner Home Affects Your Insurance
The age of your home can affect your insurance in many ways. Older homes are more at risk of electrical, plumbing, and heating/cooling complications. These issues increase the risk of fire and water damage in homes. Also, older homes can be less structurally sound than newer homes. This could lead to more damage when natural disasters-like hurricanes- come through. All of these can result in higher insurance premiums. In contrast, newer homes may be immune to these issues, making them cheaper to insure. 
How Square Footage Affects Your Garner Home Insurance
When you initially chat with your insurance agent about your quote, they will want to know the square footage of every part of your home. They do this because the more square footage you have, the more your house will inevitably cost to rebuild if you lose it due to a covered loss. Rebuild costs- known as replacement cost in the insurance world- are a big part of determining how much you will pay in insurance premiums. Below we have a breakdown of average annual premiums in Garner, Noth Carolina, based on the size of your home.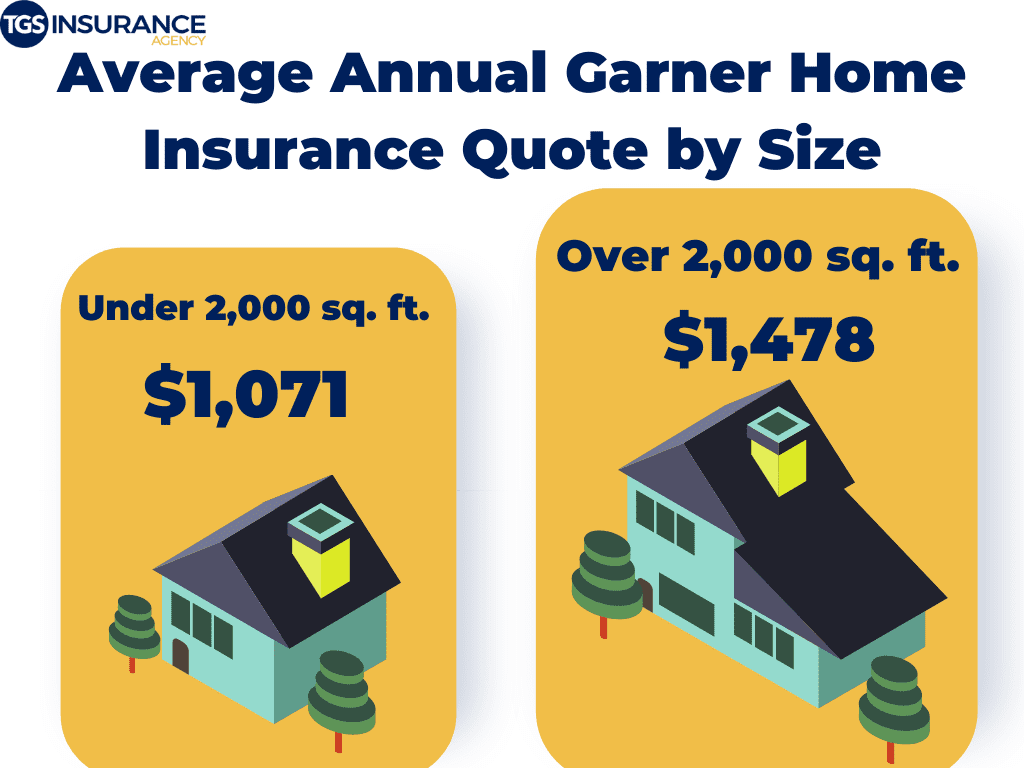 Garner Home Insurance Rates By Company
Choosing your home insurance provider is about more than the price, even though we know the cost is undoubtedly a factor. Because each provider sets their rates, the same coverage can vary between carriers. The top carrier in Garner is SageSure. TGS customers in Garner pay an average of $974 when insured by SageSure. The next most popular carrier is Travelers. The average premium for Travelers is $1,133 for TGS Insurance customers. Here is a breakdown of the different carriers used in Garner.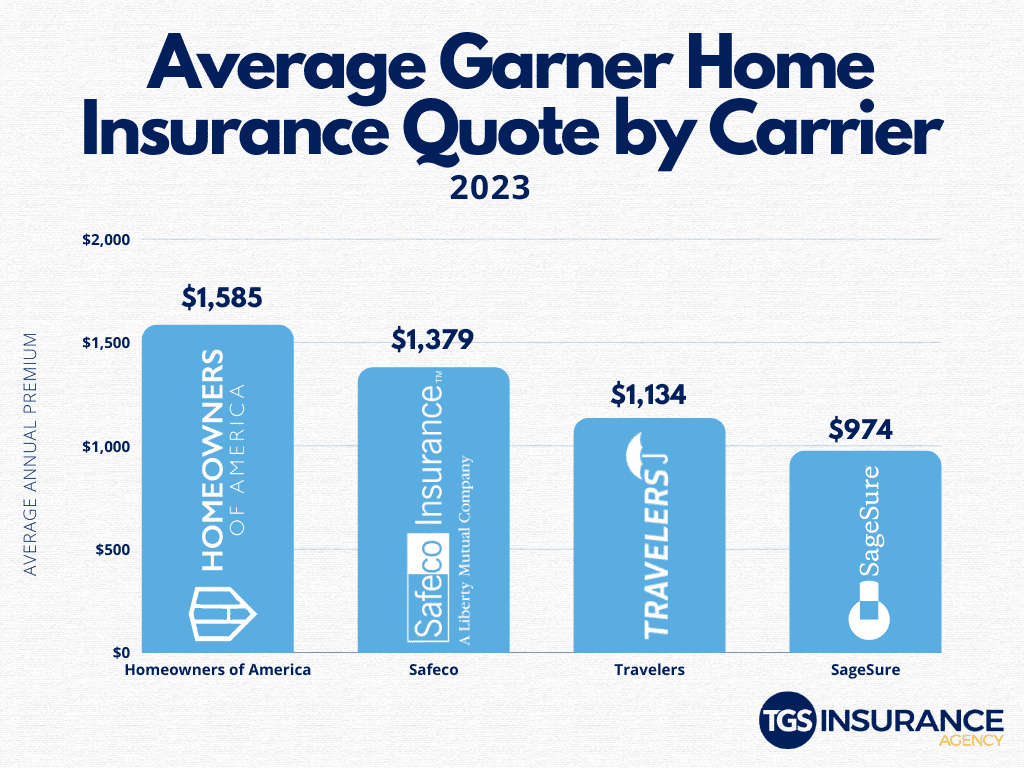 Garner Zip Codes We Insure
Don't see your zip code? It's okay! At TGS Insurance Agency, we have access to a wide range of insurance carriers and products to help homeowners throughout North Carolina save money on their home insurance. Get a free, instant quote today and protect yourself, your family, and your home from the unexpected.