Getting a Gastonia Home Insurance Quote Has Never Been Easier!
Finding the right Gastonia homeowners insurance can be confusing and time-consuming. TGS Insurance Agency is here to change that. Our expert home insurance agents do the hard work for you, making your home insurance shopping experience easy and stress-free. Getting started is simple; enter your address for a free, no-obligation instant quote, and our helpful team will take it from there!    
What is Included in Gastonia Home Insurance?
There are a few standard forms of home insurance that offer different levels of protection. This varies from different perils coverage and how much protection you want. Most of these forms include coverage- at some level- for:
Dwelling

Other Structures

Personal Property 

Loss of Use

Personal Liability

Medical Payments
Having these coverages at the base of every standard home policy allows everyone to be somewhat protected. You can choose whether or not you have more coverage in one area compared to another, and your specific coverage choices can come from your lifestyle in Gastonia.
What is the Average Cost of Home Insurance in Gastonia?
In Gastonia, the average cost of home insurance for TGS Insurance customers is $1,049 per year. While the cost of your policy will depend on several factors, such as the value and age of your home, your location, and your credit score, our agents can help you find the coverage you need at a price you can afford. We'll work with you to customize your coverage and ensure you're not sacrificing anything important to save money.
Average Cost of Gastonia Home Insurance by Dwelling Coverage Amount
Typical home insurance includes dwelling coverage which covers the costs of repairing or rebuilding your home if it sustains damages due to a covered event. The limit of your dwelling coverage should match the rebuilding cost of your home, and the higher the limit, the more substantial the impact on home insurance premiums since the insurance company bears more risk. For TGS customers with a $200,000 dwelling coverage limit, their premium averages at $1,021 per year. 
| Dwelling Coverage Limits | Average Annual Premium (incl. Windstorm & Hail Coverage) |
| --- | --- |
| $100,000.00 - $199,999.00 | $718.89 |
| $200,000.00 - $299,999.00 | $1,020.54 |
| $300,000.00 - $399,999.00 | $1,228.55 |
| $400,000.00 - $499,999.00 | $1,421.39 |
| $500,000.00 - $599,999.00 | $1,796.74 |
Gastonia Home Insurance Cost By Home Age
The age of your home is also a factor considered when carriers determine your home insurance premium. The age matters because older homes might be more expensive to rebuild after a total covered loss, especially if they must bring them up to modern safety and building codes. If you have an older home and you are looking for ways to keep your premiums low, be sure to stay up to date on home maintenance and replace older systems in your home.
How Does My ZIP Code Affect My Home Insurance?
While some factors regarding your location, such as the probability of severe weather, are calculated at the city or county level. Some factors are analyzed as specifically as your zip code or neighborhood. Since the size and build of your home are usually consistent within neighborhoods, the location of your home plays a significant role in determining your risk of covered perils. In Gastonia, the ZIP code 28052 is the area with the lowest premium of $941 for TGS customers. The ZIP code with the highest premium is 28056, costing TGS customers an average of $1,105 annually.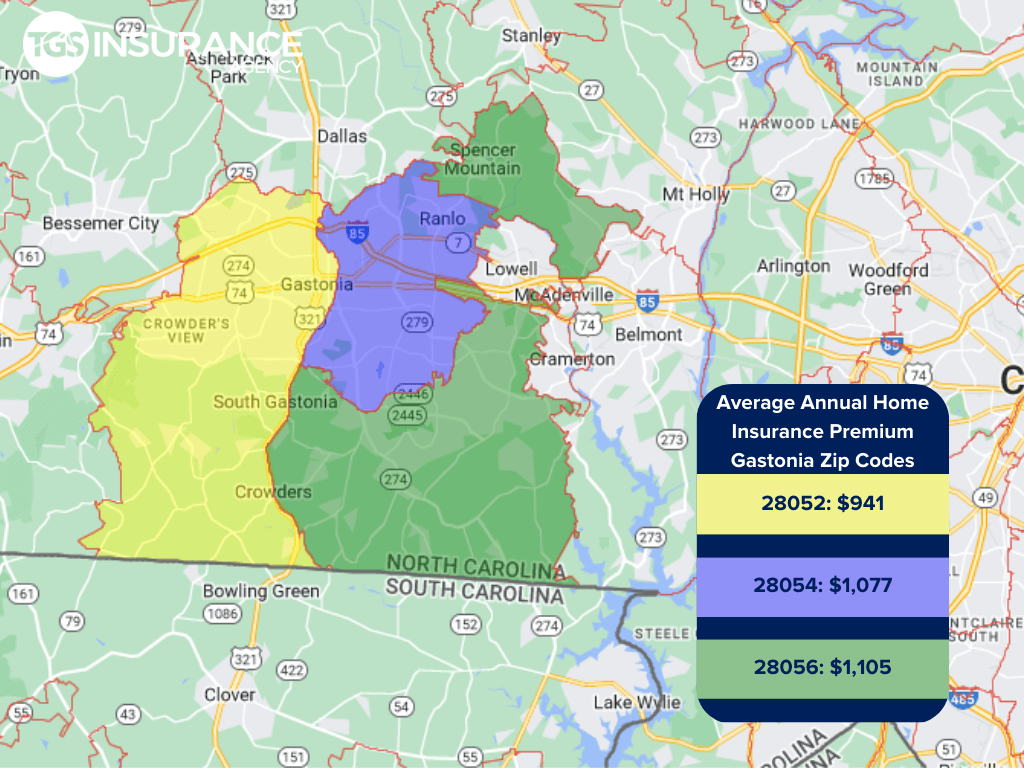 How Different Insurance Carriers in Gastonia Differ in Price
When searching for a new home insurance policy, you want to ensure it fits your needs and is within your budget. The carrier you decide to use is one of the biggest factors affecting your premium cost. Carrier rates differ because they have different ways of determining your risk to them. Say your house is a bit older- one carrier may see that as not a huge deal, but another will take that seriously and charge you more for your premium. In Gastonia, the least expensive carrier is SageSure; on average, Gastonia residents pay $768 a year. Here is a breakdown of the 4 most popular carriers in Gastonia and how their averages differ.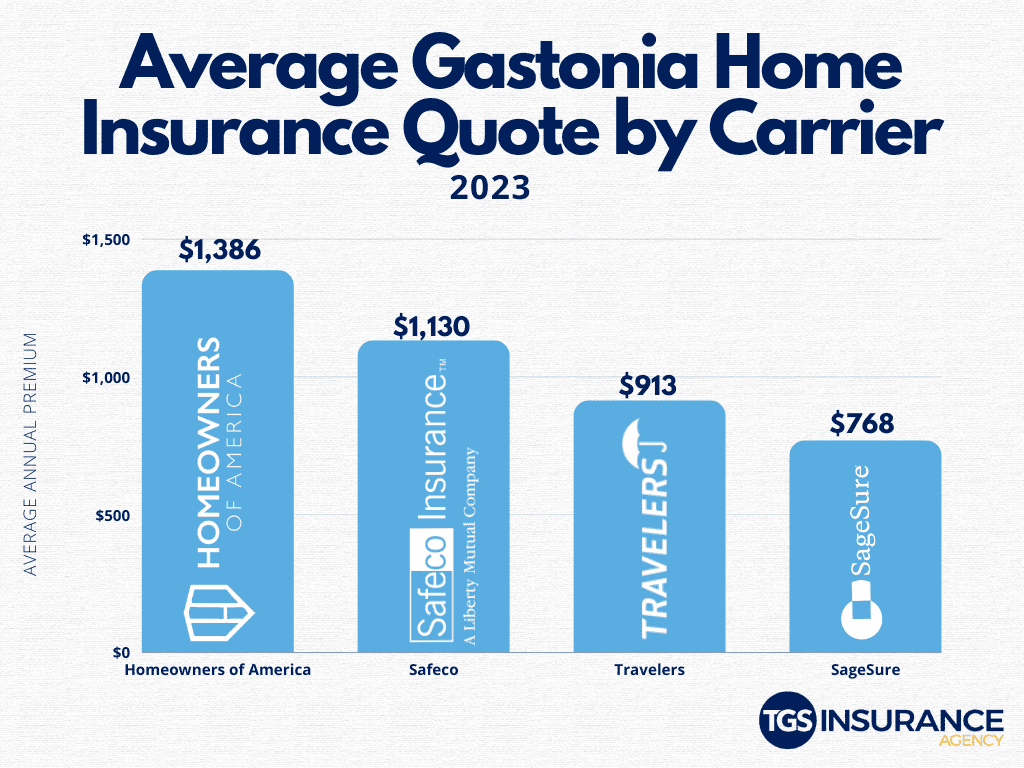 When picking which carrier is right for you, the cheapest may not always be the best. But there is no need for endless days of researching, quoting, and aggravation. At TGS, we shop around for you. You get all the prices and coverages given to you. Then you can decide which is your perfect match!
Gastonia Zip Codes We Insure
Zip code not listed? Don't worry! We can help homeowners throughout North Carolina save money on their home insurance. Get started with a free instant quote by providing your address above.