Getting a Hendersonville Home Insurance Quote Has Never Been Easier!
Finding the right Hendersonville homeowners insurance can be confusing and time-consuming. TGS Insurance Agency is here to change that. Our expert home insurance agents do the hard work for you, making your home insurance shopping experience easy and stress-free. Getting started is simple; enter your address for a free, no-obligation instant quote, and our helpful team will take it from there!    
What is Covered in Hendersonville Home Insurance?
Don't let unexpected losses threaten your home and personal belongings. With home insurance in Hendersonville, you can have peace of mind knowing you're covered against various risks. A standard policy typically covers your home's structure, personal belongings, liability, and additional living expenses. But not all policies are created equal, so it's important to work with an agent who can help you customize your coverage to fit your unique needs. Whether you need more protection for your high-value items or want to add coverage for specific risks like earthquakes or floods, we've got you covered. 
What is the Cost of Home Insurance in Hendersonville, North Carolina?
Your home insurance policy is crafted to fit your needs as a homeowner and protect your home. Your specific policy will look different from anybody else's since it is built to protect your home and belongings. Look at how Hendersonville compares to other averages. 
National Average: $1,477
North Carolina Average: $1,215
Hendersonville, North Carolina Average: $923
Your home insurance premium can vary from these averages, but it is always good to compare. If your current homeowners insurance policy is much less expensive than the city average, you may not have enough coverage and be underinsured. If you pay much more than these averages, you could simply be overpaying for home insurance. 
Average Hendersonville Home Insurance Cost By Dwelling Coverage Limits
Dwelling coverage is the component of home insurance that protects the physical structure of your home from covered perils. It is designed to cover the cost of repairing or rebuilding your home if it is damaged or destroyed by a covered event. The amount of dwelling coverage you need will depend on the cost of rebuilding your home. Your home insurance policy typically provides coverage up to a specified dollar amount, known as the policy limit. It's important to ensure that your dwelling coverage limit is high enough to cover the cost of rebuilding your home in the event of a total loss. Dwelling coverage limits can have a significant impact on home insurance premiums. In general, the higher the dwelling coverage limit, the higher the premium since the insurance company will take on more risk.
In Hendersonville, North Carolina, if you need $200,000 in dwelling coverage, you'll pay an average of $859 per year. However, if your home is worth more, you'll want more coverage, so homeowners wanting $400,000 in dwelling coverage will pay an average of $1,269 in Hendersonville, North Carolina.
| Dwelling Coverage Limits | Average Annual Premium (incl. Windstorm & Hail Coverage) |
| --- | --- |
| $100,000.00 - $199,999.00 | $607.53 |
| $200,000.00 - $299,999.00 | $858.57 |
| $300,000.00 - $399,999.00 | $1,085.28 |
| $400,000.00 - $499,999.00 | $1,269.25 |
| $500,000.00-$599,999.00 | $1,498.89 |
Hendersonville Home Insurance Quotes and Your Home's Age
Many factors go into calculating your home insurance premium, including your home's age. Typically, older homes are more expensive to insure because their structure and other components tend to be outdated (Ex. using galvanized piping instead of PEX) and experienced years of all-around wear and tear. 
Age is not the only influencing factor for your home insurance premium. Carriers look at a variety of other things, including: 
Attractive nuisances 

Pet breeds

Claims history

Credit score

Crime rate 

Location

Marital status

Size

Replacement cost

And much more!
How Does Your Location in Hendersonville Affect Your Home Insurance?
Where you live is one of the biggest factors that affect your home insurance premium. This gets so specific that carriers look at ZIP codes and neighborhoods. If your neighborhood has a higher theft rate than another neighborhood a few blocks down, your rates will be higher. Because carriers are very particular with risk evaluations, rates vary greatly-even within the same city. Below is a breakdown of the average annual premium for home insurance in Hendersonville: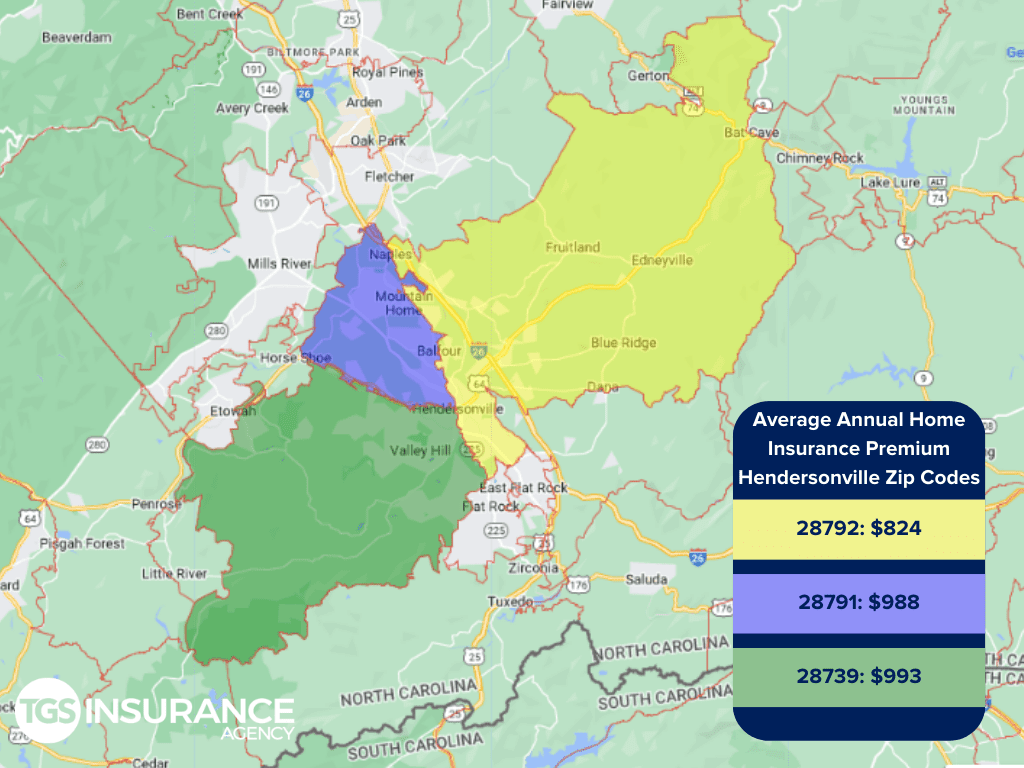 Cheapest Hendersonville Home Insurance Carrier
Homeowners in Hendersonville, North Carolina, want the same thing- an excellent home insurance policy that doesn't break the bank. Cost is one of the most influential things people look at when purchasing insurance, next to the amount of coverage. This is why homeowners must compare and shop their policies across multiple carriers! Insurance carriers set their rates, so your premium could vary across multiple carriers with the same coverage. Our two most affordable (and popular) insurance providers in Hendersonville, North Carolina, are SageSure and SafePort. On average, TGS Insurance customers in Hendersonville, North Carolina, pay $662 for SageSure annually and $688 for SafePort.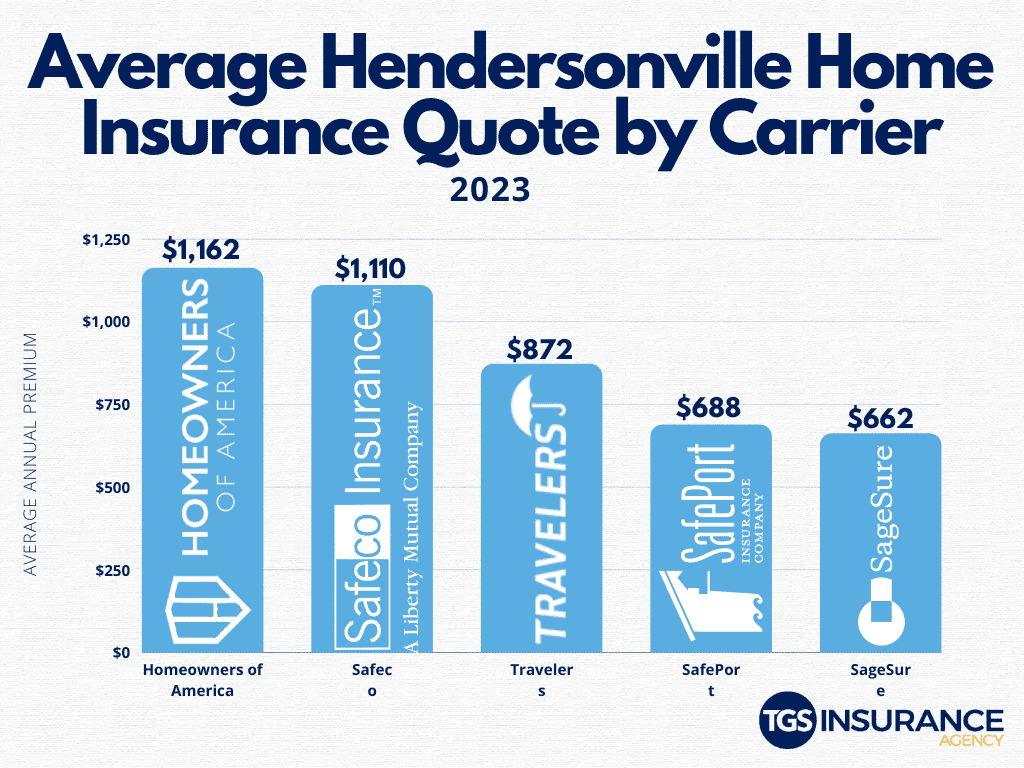 Zip Codes in Hendersonville TGS Insurance Covers
Don't see your zip code? You still have coverage! We make shopping for the best home insurance easy and hassle-free for all residents throughout North Carolina. Start today with a free, instant quote!