Getting a Hope Mills Home Insurance Quote Has Never Been Easier!
Finding the right Hope Mills homeowners insurance can be confusing and time-consuming. TGS Insurance Agency is here to change that. Our expert home insurance agents do the hard work for you, making your home insurance shopping experience easy and stress-free. To start is simple; enter your address for a free, no-obligation instant quote, and our helpful team will take it from there!    
Hope Mills Home Insurance Coverage: The Basics
If you're like most homeowners in Hope Mills, your home is your most valuable asset, and you should protect it as such. It's important to understand that when you create your home insurance policy, it should meet your individual needs. Insurance companies offer different levels of coverage, endorsements, and protections with varying conditions and limitations that enable policies to be customized. With that in mind, the most common types of coverage you will see on a homeowners insurance policy include: 
Dwelling coverage for the structure of your home.

Other structures coverage for structures not attached to your home, like detached garages, sheds, and fences.

Personal property coverage for replacing and repairing furniture, electronics, clothing, etc.

Loss of use coverage for additional living expenses if you need to stay somewhere else while your home is being repaired.

Personal liability coverage for legal bills if someone gets injured on your property or you cause damage and get sued.

Medical payment coverage helps cover medical expenses for nonhousehold members injured on your property.
How Much is Home Insurance in Hope Mills, North Carolina?
Hope Mills home insurance costs an average of $1,529 per year for TGS Insurance customers. This average is factored with policies with a 2% wind and hail coverage deductible and an average home value of $269,245. The cost of your home insurance premium will vary based on a few different things. This can be your credit, where you live, how much your house is worth, and the age of your home. Our instant home quote tool shops for you to find the best rates with just your address. After your instant quote, connect with one of our agents to further customize your coverage!
Average Homeowners Insurance Cost by Coverage Level in Hope Mills
The cost to replace your home is essential to determine the dwelling coverage you need on your home insurance policy; this limit directly impacts your home insurance premium. On top of affecting your average annual costs, having an accurate replacement cost can prevent you from being underinsured if a covered loss takes your entire house. These are the average annual home insurance costs in Hope Mills, North Carolina, based on dwelling coverage limits associated with the policy. 
| Dwelling Coverage Limits | Average Annual Premium (incl. Windstorm & Hail Coverage) |
| --- | --- |
| $100,000.00 - $199,999.00 | $1,080.89 |
| $200,000.00 - $299,999.00 | $1,525.02 |
| $300,000.00 - $399,999.00 | $1,801.23 |
| $400,000.00 - $499,999.00 | $2,060.39 |
| $500,000.00-$599,999.00 | $2,317.41 |
Hope Mills Home Insurance Cost By Home Age
The age of your home is also taken into consideration when carriers determine your home insurance premium. The age matters because older homes might be more expensive to rebuild after a total covered loss, especially if they must bring them up to modern safety and building codes. If you have an older home and you are looking for ways to keep your premiums low, be sure to stay up to date on home maintenance and replace older systems in your home. 
Who is the Most Popular Home Insurance Carrier in Hope Mills, North Carolina?
We want you to find the perfect homeowners insurance in Hope Mills, North Carolina. Knowing what the best insurance carriers in your area charge for home insurance is a great way to know if your policy is competitive. We pulled together some data from TGS customers in your area and found that SageSure is the most popular in Hope Mills. People with SageSure pay an average of $1,115 annually. Another popular carrier in Hope Mills is SafePort. SafePort's rates differ slightly from SageSure, having an average cost of $1,173 a year. Check out our data below for the four most popular carriers in Hope Mills and their average annual home insurance premiums.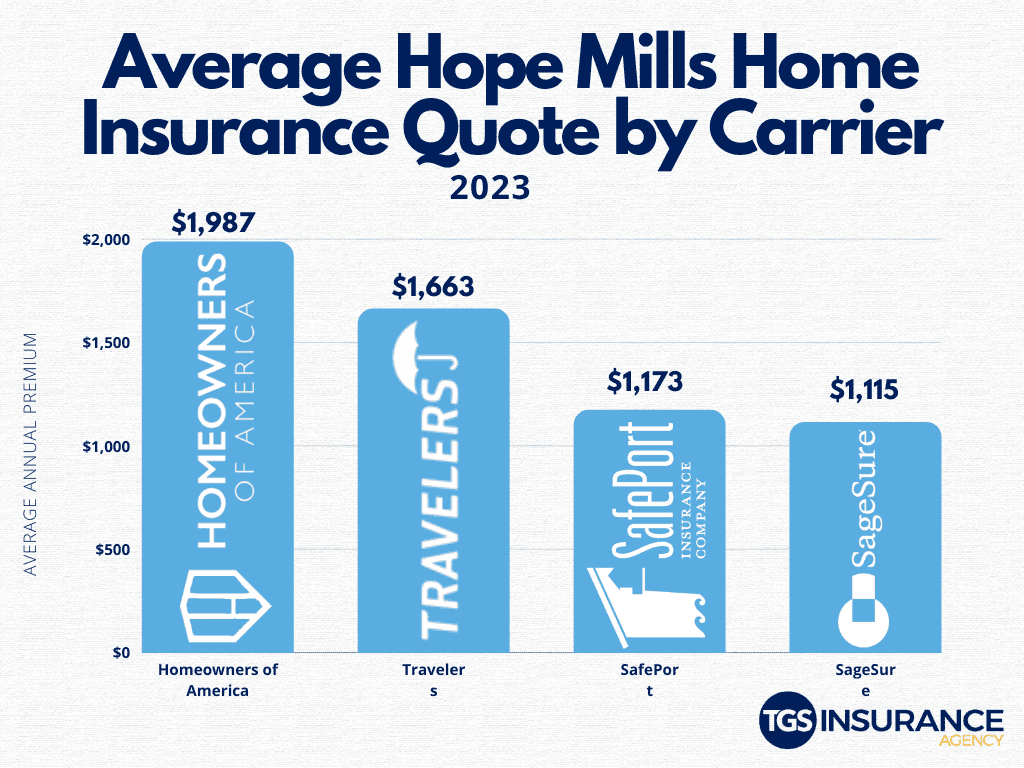 Zip Codes in Hope Mills We Insure
Don't see your zip code? Not a problem! We can help homeowners throughout North Carolina find the best home coverage for their needs. Start with a free instant quote by providing your address above.