Comparison Shop Home Insurance in Jacksonville from Multiple Carriers Instantly!
Being an independent insurance agency means we shop and compare the best Jacksonville homeowners insurance options on your behalf to find you the best combination of cost and coverage. If you want an easier insurance experience, you'll love doing business with us. How do you get started? Easy! All we need is your address; you'll get an instant quote in 15 seconds or less. After that, our agents will tailor and further customize your policy to fit your specific insurance needs. Did we mention we re-shop your policy renewal to ensure you are still getting the best deal year after year?
You're one click away from never worrying about home insurance again! 
What Does Jacksonville Home Insurance Cover?
Don't let unexpected losses threaten your home and personal belongings. With home insurance in Jacksonville, you can know you're covered against various risks. A standard policy typically covers your home's structure, personal belongings, liability, and additional living expenses. But not all policies are equal, so it's important to work with an agent who can help you customize your coverage to fit your unique needs. Whether you need more protection for your high-value items or want to add coverage for specific risks like earthquakes or floods, we've got you covered.
What is the Average Cost of Home Insurance in Jacksonville?
In Jacksonville, the average cost of home insurance for TGS Insurance customers is $2,467 per year. While the cost of your policy will depend on several factors, such as the value and age of your home, your location, and your credit score, our agents can help you find the coverage you need at a price you can afford. We'll work with you to customize your coverage and ensure you're not sacrificing anything important to save money.
Average Cost of Jacksonville Home Insurance by Dwelling Coverage Amount
Typical home insurance includes dwelling coverage which covers the costs of repairing or rebuilding your home if it sustains damage or is destroyed due to a covered event. The limit of your dwelling coverage should match the rebuilding cost of your home, and the higher the limit, the more substantial the impact on home insurance premiums since the insurance company bears more risk. For TGS customers with a $200,000 dwelling coverage limit, their premium averages at $2,577 per year. 
| Dwelling Coverage Limits | Average Annual Premium (incl. Windstorm & Hail Coverage) |
| --- | --- |
| $100,000.00 - $199,999.00 | $2,377.40 |
| $200,000.00 - $299,999.00 | $3,049.74 |
| $300,000.00 - $399,999.00 | $3,803.28 |
| $400,000.00 - $499,999.00 | $4,552.72 |
| $500,000.00-$599,999.00 | $5,254.23 |
How Does My ZIP Code Affect My Home Insurance?
Some factors regarding your location, such as the probability of severe weather, are calculated at the city or county level. Some factors are analyzed as specifically as your zip code or neighborhood. Since the size and build of your home are usually consistent within neighborhoods, the location of your home plays a significant role in determining your risk of covered perils. In Jacksonville, the ZIP code 28544 has the lowest premium of $2,873 for TGS customers. The ZIP code with the highest premium is 28546 , costing TGS customers an average of $3,136 a year.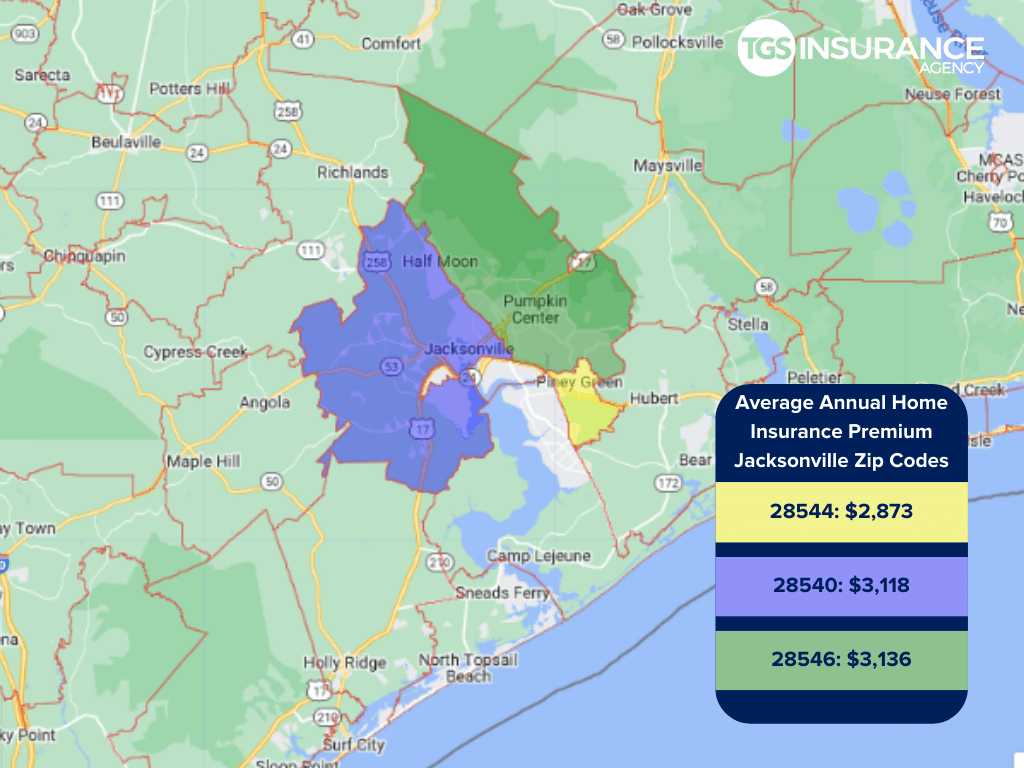 How Square Footage Affects Your Jacksonville Home Insurance
When you initially chat with your insurance agent about your quote, they will want to know the square footage of every part of your home. They do this because the more square footage you have, the more your house will inevitably cost to rebuild if you lose it due to a covered loss. Rebuild costs- known as replacement costs in the insurance world- are a big part of determining how much you will pay in insurance premiums. Below we have a breakdown of average annual premiums in Jacksonville, Noth Carolina, based on the size of your home.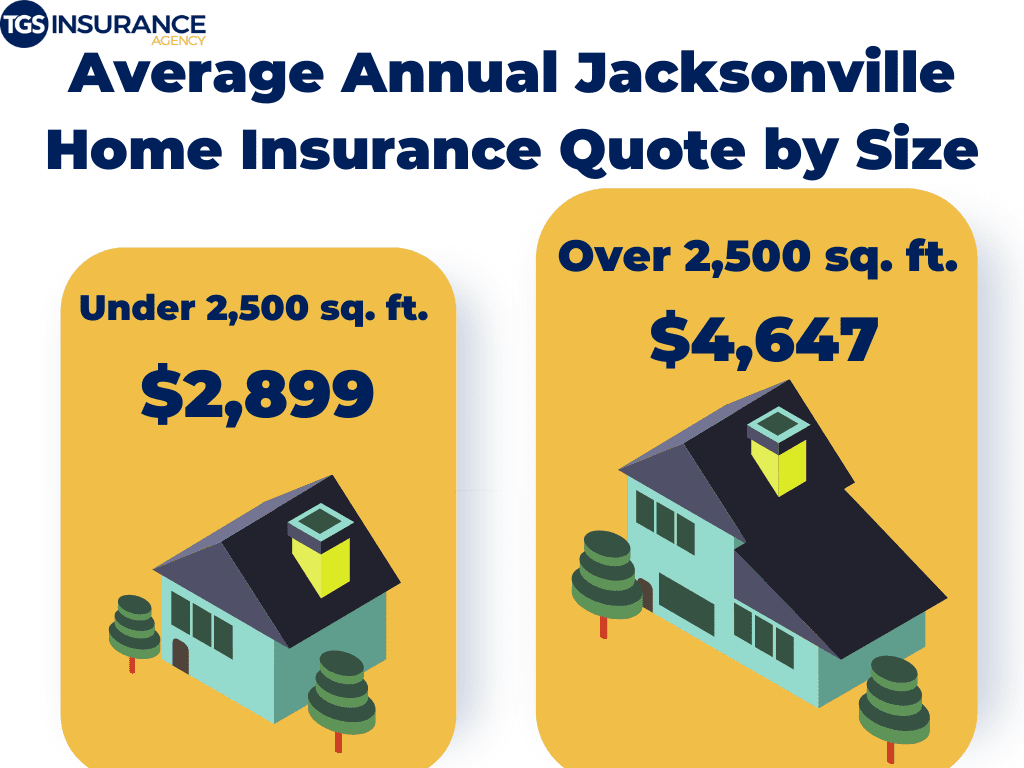 Cheapest Jacksonville Home Insurance Carrier
Homeowners in Jacksonville, North Carolina, want the same thing- an excellent home insurance policy that doesn't break the bank. Cost is one of the most influential things people look at when purchasing insurance, next to the amount of coverage. This is why homeowners must compare and shop their policies across multiple carriers! Insurance carriers set their rates, so your premium could vary across multiple carriers with the same coverage. Our two most affordable (and popular) insurance providers in Jacksonville, North Carolina, are Hippo and Homeowners of America. On average, TGS Insurance customers in Jacksonville, North Carolina, pay $2,517 for Hippo annually and $3,738 for Homeowners of America.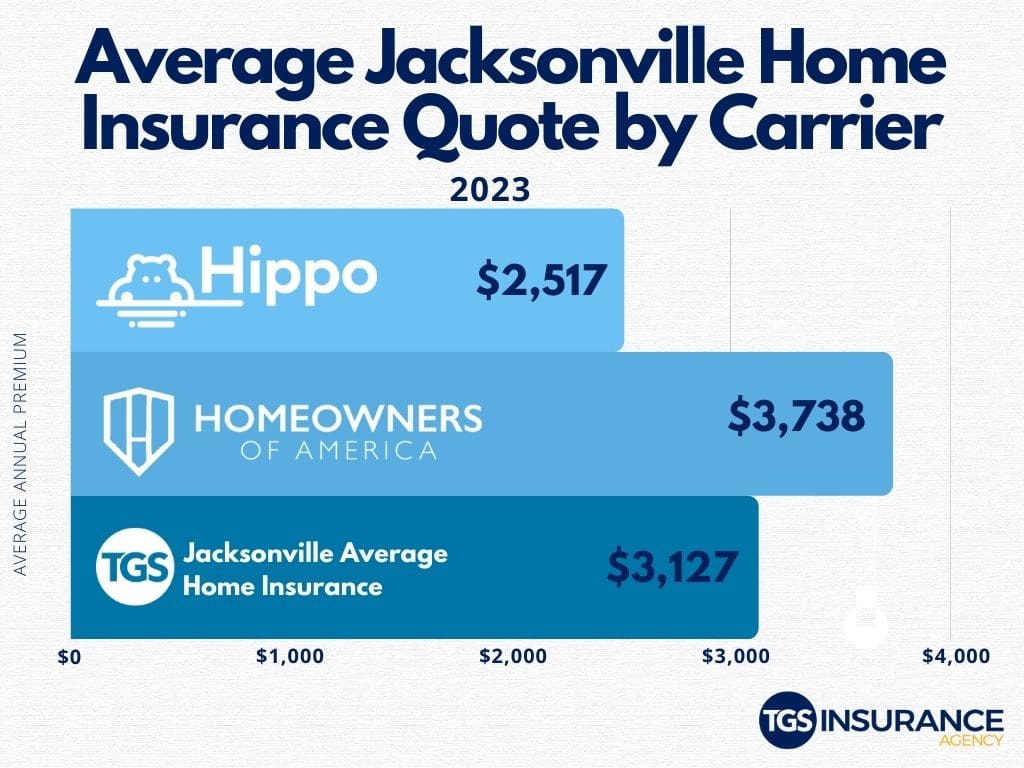 Jacksonville Zip Codes TGS Insurance Agency Covers
If your zip code is not here, fret not! We have access to amazing rates for homeowners all across North Carolina. Simply enter your address above to get start with a free instant quote.