Finding Affordable Kannapolis Home Insurance Made Simple
At TGS Insurance Agency, we leverage our relationships with several top-rated carriers to find you the best coverage and prices. Our online quoting tool makes getting a home insurance quote easier and faster than ever- all we need is your address! Our agents are ready to review your quote to assure you are getting the coverage you need and not overpaying for coverage you don't.  
We shop, and you save time and money; it really is that easy.
What Does Kannapolis Home Insurance Cover?=
Most home insurance policies include some level of the following types of coverage. 
| | |
| --- | --- |
| Coverage A | covers damages to your home |
| Coverage B | covers damages to additional structures on your property such as detached garages, sheds, or fences |
| Coverage C | covers damage to personal property such as furniture, electronics, and clothes |
| Coverage D | covers additional living expenses if your home becomes uninhabitable due to a covered loss |
| Coverage E | covers personal liability including coverage for claims arising from accidents on your property |
| Coverage F | covers medical expenses for injuries occurring on your property for those outside of your household |
When it comes to home insurance in Kannapolis, there's no shortage of options. A standard policy typically covers a variety of losses, including damage caused by weather, theft, and accidents. But not all policies are created equal. That's why it's important to work with a knowledgeable agent who can help you navigate the complexities of home insurance and tailor your coverage to fit your needs. Whether you need more protection for your personal belongings or additional liability coverage, we've got you covered.
What is the Cost of Home Insurance in Kannapolis, North Carolina?
Your home insurance policy is crafted to fit your needs as a homeowner and protect your home. Your specific policy will look different from anybody else's since it is built to protect your home and belongings. Look at how Kannapolis compares to other averages. 
National Average: $1,477
North Carolina Average: $1,215
Kannapolis, North Carolina Average: $947
Your home insurance premium can vary from these averages, but it is always good to compare. If your current homeowners insurance policy is much less expensive than the city average, you may not have enough coverage and be underinsured. If you pay much more than these averages, you could simply be overpaying for home insurance. 
Average Home Insurance Quotes in Kannapolis by Coverage Level
Dwelling coverage is a critical aspect of home insurance that protects your home's physical structure from covered hazards. Typically, your home insurance policy provides coverage up to a specified dollar amount, known as the policy limit. Ensuring that your dwelling coverage limit is sufficient to rebuild your home in the event of a total loss is critical. Since the insurance company assumes more risk, dwelling coverage limits may significantly impact home insurance premiums, with higher limits resulting in higher premiums. Below is a breakdown of the average home insurance premium based on dwelling coverage limits.
| Dwelling Coverage Limits | Average Annual Premium (incl. Windstorm & Hail Coverage) |
| --- | --- |
| $100,000.00 - $199,999.00 | $735.60 |
| $200,000.00 - $299,999.00 | $1,071.22 |
| $300,000.00 - $399,999.00 | $1,282.05 |
| $400,000.00 - $499,999.00 | $1,447.96 |
| $500,000.00 - $599,999.00 | $1,631.10 |
Kannapolis Home Insurance Cost By Home Age
The age of your home is also a factor considered when carriers determine your home insurance premium. The age matters because older homes might be more expensive to rebuild after a total covered loss, especially if they must bring them up to modern safety and building codes. If you have an older home and you are looking for ways to keep your premiums low, be sure to stay up to date on home maintenance and replace older systems in your home. 
Does My ZIP Code Affect Home Insurance Premiums in Kannapolis?
Insurance carriers look at more than your home state when pricing your premium- they can get as specific as your ZIP Code. For example, in North Carolina, when you are closer to the coast, you may experience higher annual premiums because of your risks of perils like flooding and hurricanes. In Kannapolis, the ZIP code 28023 is the area with the lowest premium of $758 for TGS customers. The ZIP code with the highest premium is 28081, costing TGS customers an average of $962 a year.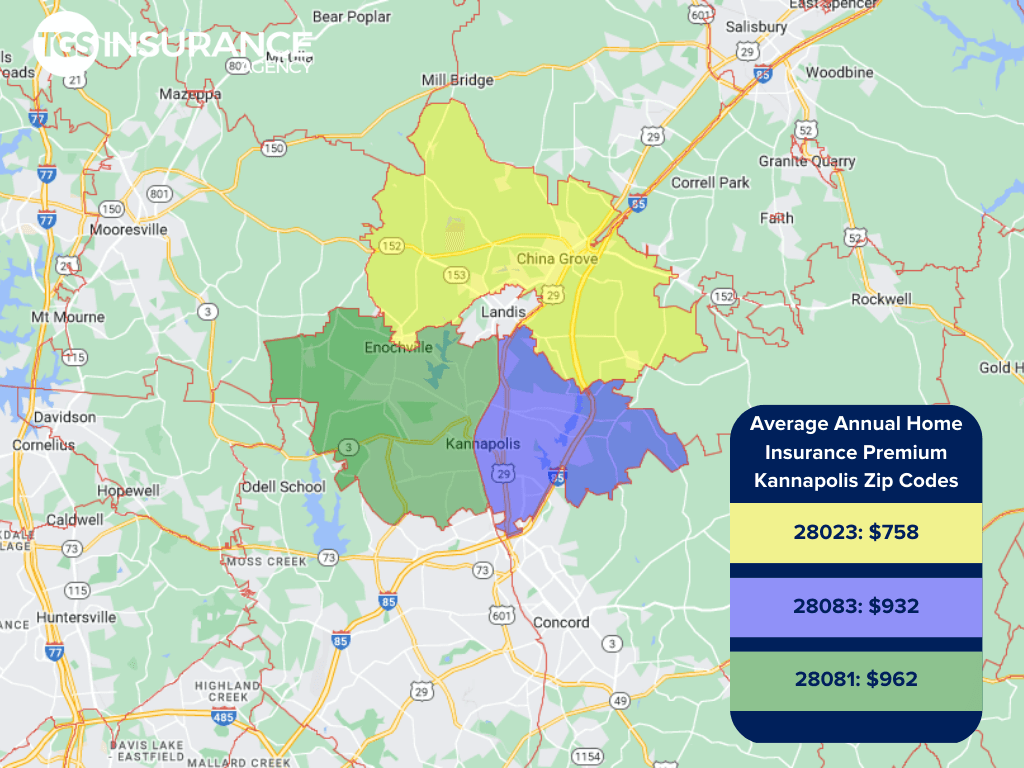 Kannapolis Home Insurance Rates By Company
Choosing your home insurance provider is about more than the price, even though we know the cost is undoubtedly a factor. Because each provider sets their rates, the same coverage can vary between carriers. The top carrier in Kannapolis is SageSure. TGS customers in Kannapolis pay an average of $747 when insured by SageSure. Looking at the numbers, an overwhelming number of people in your area have chosen SageSure over our next most popular carrier, Travelers. The average premium for Travelers is $877 for TGS Insurance customers. Here is a breakdown of the different carriers used in Kannapolis.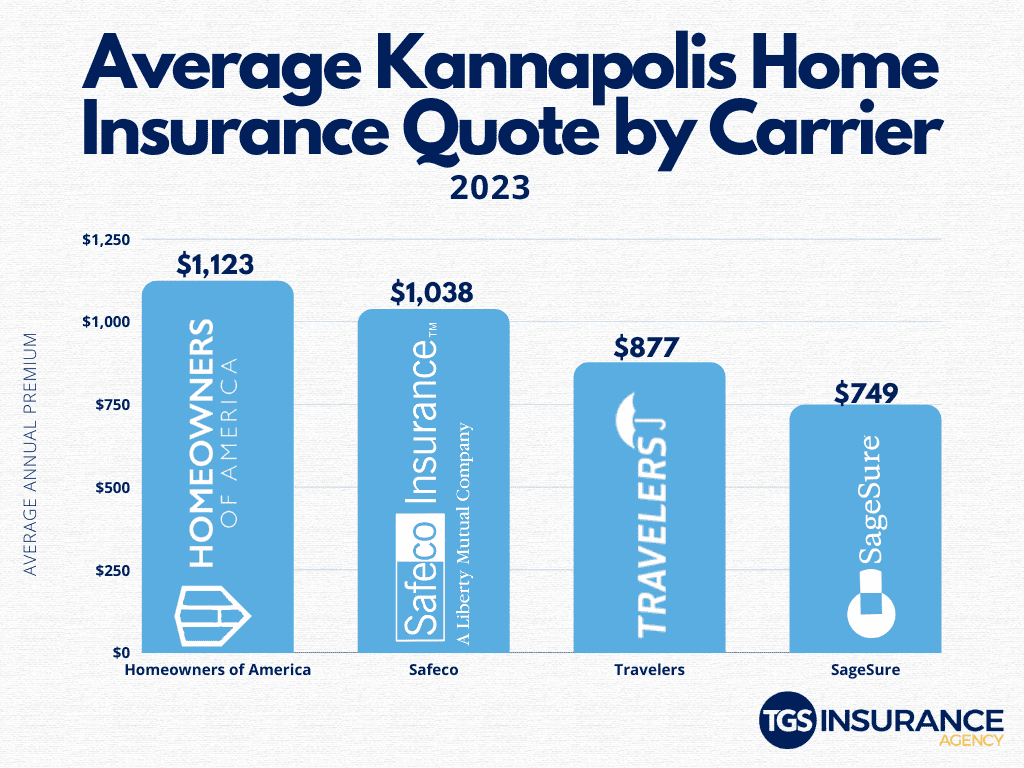 Zip Codes in Kannapolis We Insure
Don't see your zip code? Not a problem! We can help homeowners throughout North Carolina find the best home coverage for their needs. Get started with a free instant quote by providing your address above.