Finding Affordable Kill Devil Hills Home Insurance Made Simple
At TGS Insurance Agency, we leverage our relationships with several top-rated carriers to find you the best coverage and prices. Our online quoting tool makes getting a home insurance quote easier and faster than ever- all we need is your address! Our agents are ready to review your quote to assure you are getting the coverage you need and not overpaying for coverage you don't.  
We shop, and you save time and money; it really is that easy.
Kill Devil Hills Home Insurance Coverage: The Basics
If you're like most homeowners in Kill Devil Hills, your home is your most valuable asset, and you should protect it as such. It's important to understand that when you create your home insurance policy, it should meet your individual needs. Insurance companies offer different levels of coverage, endorsements, and protections with varying conditions and limitations that enable policies to be customized. With that in mind, the most common types of coverage you will see on a homeowners insurance policy include: 
Dwelling coverage for the structure of your home.

Other structures coverage for structures not attached to your home, like detached garages, sheds, and fences.

Personal property coverage for replacing and repairing furniture, electronics, clothing, etc.

Loss of use coverage for additional living expenses if you need to stay somewhere else while your home is being repaired.

Personal liability coverage for legal bills if someone gets injured on your property or you cause damage and get sued.
Medical payment coverage helps cover medical expenses for nonhousehold members injured on your property.
How Much Does Kill Devil Hills Home Insurance Cost?
On average, a TGS customer in Kill Devil Hills would pay $3,100 per year for home insurance. Home insurance rates vary based on several factors, including your home's age, value, and location, as well as your credit score and desired coverage levels. This average is based on policies with an average home value of $257,530 and includes windstorm and hail coverage with a 2% deductible. TGS Insurance Agency offers customizable options to all our customers so you can find the right policy and pay what you want. Get started with a free instant home insurance quote by providing your address above.
Average Home Insurance Quotes in Kill Devil Hills by Coverage Level
Dwelling coverage is a critical aspect of home insurance that protects your home's physical structure from covered hazards. Your home insurance policy typically provides coverage up to a specified dollar amount, known as the policy limit. Ensuring that your dwelling coverage limit is sufficient to rebuild your home in the event of a total loss is critical. Since the insurance company assumes more risk, dwelling coverage limits may significantly impact home insurance premiums, with higher limits resulting in higher premiums. Below is a breakdown of the average home insurance premium based on dwelling coverage limits.
| Dwelling Coverage Limits | Average Annual Premium (incl. Windstorm & Hail Coverage) |
| --- | --- |
| $100,000.00 - $199,999.00 | $2,400.72 |
| $200,000.00 - $299,999.00 | $3,027.04 |
| $300,000.00 - $399,999.00 | $3,827.77 |
| $400,000.00 - $499,999.00 | $4,702.54 |
| $500,000.00-$599,999.00 | $5,468.81 |
How the Age of Your Kill Devil Hills Home Affects Your Insurance
The age of your home can affect your insurance in many ways. Older homes are more at risk of electrical, plumbing, and heating/cooling complications. These issues increase the risk of fire and water damage in homes. Also, older homes can be less structurally sound than newer homes. This could lead to more damage when natural disasters-like hurricanes- come through. All of these can result in higher insurance premiums. In contrast, newer homes may be immune to these issues, making them cheaper to insure. 
Best Kill Devil Hills Home Insurance Carriers
Knowing who will give you a competitive premium in your area is a big part of choosing your home insurance. Among TGS customers, the most popular carrier in Kill Devil Hills is Hippo. The average annual premium with Hippo is $2,644. Another popular carrier is Homeowners of America. Choosing a carrier is more than just the price; however, here at TGS Insurance Agency, we know that price is one of the more important factors. Check out the table below for the average price for Kill Devil Hills based on the insurance provider.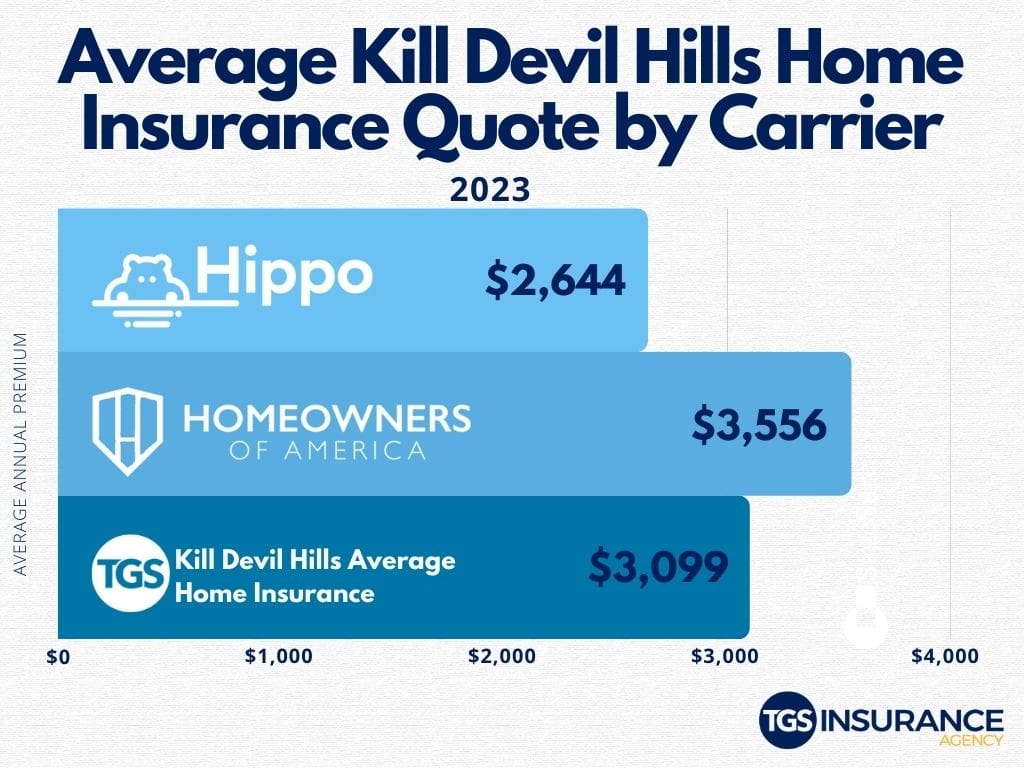 Kill Devil Hills Zip Codes We Insure
Don't see your zip code? It's okay! At TGS Insurance Agency, we have access to a wide range of insurance carriers and products to help homeowners throughout North Carolina save money on their home insurance. Get a free, instant quote today and protect yourself, your family, and your home from the unexpected.