Getting a Kings Mountain Home Insurance Quote Has Never Been Easier!
Finding the right Kings Mountain homeowners insurance can be confusing and time-consuming. TGS Insurance Agency is here to change that. Our expert home insurance agents do the hard work for you, making your home insurance shopping experience easy and stress-free. Getting started is simple; enter your address for a free, no-obligation instant quote, and our helpful team will take it from there! 
Kings Mountain Home Insurance Coverage: The Basics
If you're like most homeowners in Kings Mountain, your home is your most valuable asset, and you should protect it as such. It's important to understand that when you create your home insurance policy, it should meet your individual needs. Insurance companies offer different levels of coverage, endorsements, and protections with varying conditions and limitations that enable policies to be customized. With that in mind, the most common types of coverage you will see on a homeowners insurance policy include: 
Dwelling coverage for the structure of your home.

Other structures coverage for structures not attached to your home, like detached garages, sheds, and fences.

Personal property coverage for replacing and repairing furniture, electronics, clothing, etc.

Loss of use coverage for additional living expenses if you need to stay somewhere else while your home is being repaired.

Personal liability coverage for legal bills if someone gets injured on your property or you cause damage and get sued.

Medical payment coverage helps cover medical expenses for nonhousehold members injured on your property.
What is the Average Cost of Home Insurance in Kings Mountain?
In Kings Mountain, the average cost of home insurance for TGS Insurance customers is $962 per year. While the cost of your policy will depend on several factors, such as the value and age of your home, your location, and your credit score, our agents can help you find the coverage you need at a price you can afford. We'll work with you to customize your coverage and ensure you're not sacrificing anything important to save money.
Home Insurance in Kings Mountain Cost by Dwelling Coverage Limit
Dwelling coverage limits are one of the key factors that insurers consider when setting premiums. You'll generally pay a higher premium if you choose a high dwelling coverage limit. However, it's important to ensure adequate coverage to protect your home during a loss. If you have a mortgage on your home, your lender may require you to have a certain amount of dwelling coverage to protect your investment.
In Kings Mountain, North Carolina, a policy with $200,000-$299,999 in dwelling coverage costs an average of $994 per year. However, if your home is worth more, you'll want more coverage, so homeowners wanting $400,000-$499,999 in dwelling coverage will pay an average of $1,589 in Kings Mountain, North Carolina.
| Dwelling Coverage Limits | Average Annual Premium (incl. Windstorm & Hail Coverage) |
| --- | --- |
| $100,000.00 - $199,999.00 | $722.94 |
| $200,000.00 - $299,999.00 | $994.17 |
| $300,000.00 - $399,999.00 | $1,265.96 |
| $400,000.00 - $499,999.00 | $1,588.50 |
| $500,000.00-$599,999.00 | $1,702.05 |
Kings Mountain Home Insurance Quotes and Your Home's Age
Many factors go into calculating your home insurance premium, including your home's age. Typically, older homes are more expensive to insure because their structure and other components tend to be outdated (Ex. using galvanized piping instead of PEX) and experienced years of all-around wear and tear. 
Age is not the only influencing factor for your home insurance premium. Carriers look at a variety of other things, including: 
Attractive nuisances 

Pet breeds

Claims history

Credit score

Crime rate 

Location

Marital status

Size

Replacement cost

And much more!
Who is the Most Popular Home Insurance Carrier in Kings Mountain, North Carolina?
We want you to find the perfect homeowners insurance in Kings Mountain, North Carolina. Knowing what the best insurance carriers in your area charge for home insurance is a great way to know if your policy is competitive. We pulled together some data from TGS customers in your area and found that SafePort is the most popular in Kings Mountain. People with SafePort pay an average of $704 annually. Another popular carrier in Kings Mountain is SageSure. SageSure's rates differ slightly from SafePort, having an average cost of $711 a year. Check out our data below for the five most popular carriers in Kings Mountain and their average annual home insurance premiums.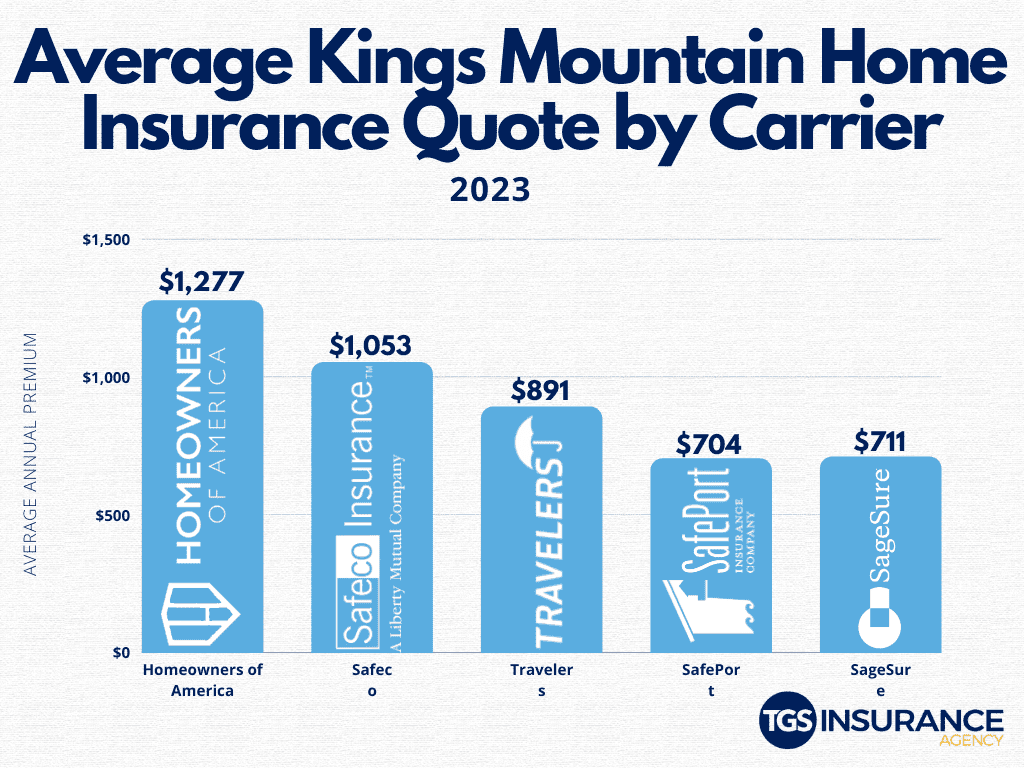 Kings Mountain Zip Codes TGS Insurance Agency Covers
If your zip code is not listed, fret not! We have access to amazing rates for homeowners all across North Carolina. Simply enter your address above to start with a free instant quote.