Shopping For Cheap Lexington Home Insurance Is Easier Than You Think
As an independent agency, we represent 55+ top-rated insurance carriers, which allows us to offer comprehensive insurance options to meet your every need. The best part? Our highly qualified homeowners insurance agents do the hard work for you, making your home insurance shopping process easy and stress-free. Your savings start with an instant, free quote. Our agents are ready to help you further customize your quote and find any discounts you might qualify for! 
We shop. You Save. Yes, it really is that easy.
What Does Lexington Home Insurance Cover?
Most home insurance policies include some level of the following types of coverage. 
| | |
| --- | --- |
| Coverage A | covers damages to your home |
| Coverage B | covers damages to additional structures on your property such as detached garages, sheds, or fences |
| Coverage C | covers damage to personal property such as furniture, electronics, and clothes |
| Coverage D | covers additional living expenses if your home becomes uninhabitable due to a covered loss |
| Coverage E | covers personal liability including coverage for claims arising from accidents on your property |
| Coverage F | covers medical expenses for injuries occurring on your property for those outside of your household |
When it comes to home insurance in Lexington, there's no shortage of options. A standard policy typically covers a variety of losses, including damage caused by weather, theft, and accidents. But not all policies are created equal. That's why it's important to work with a knowledgeable agent who can help you navigate the complexities of home insurance and tailor your coverage to fit your needs. Whether you need more protection for your personal belongings or additional liability coverage, we've got you covered.
What Does Home Insurance Cost in Lexington?
Homeowners insurance in Lexington costs $1,281 a year, or $106.75 a month, for TGS customers. The cost of your home insurance premium will vary based on a few different things. This can be from your credit, location, value of your home, and what year your home was built. It is normal for your home insurance to vary from this average and other numbers you see online. The great thing about it is that you can completely customize your coverage. TGS has helped over 15,000 customers save on their home insurance premiums. To lock in your savings, type your address above for an instant quote! 
Average Lexington Home Insurance Cost By Coverage Level
Dwelling coverage is a fundamental element of home insurance that protects the physical structure of your home against covered hazards. The intention is to cover the expenses of repairing or rebuilding your home if it is damaged or destroyed due to a covered event. The amount of dwelling coverage needed depends on the cost of rebuilding your home. Your home insurance covers the policy limit- which is coverage for up to a specified dollar amount. It is critical to ensure that your dwelling coverage limit is sufficient to cover the cost of rebuilding your home in case of a complete loss. Dwelling coverage limits can significantly impact home insurance premiums, with higher limits resulting in higher premiums since the insurance company is assuming more risk.
In Lexington, North Carolina, if you need $200,000 in dwelling coverage, you'll pay an average of $1,052 per year. However, if your home is worth more, you'll want more coverage, so homeowners wanting $400,000 in dwelling coverage will pay an average of $1,559 in Lexington, North Carolina. 
How Lexington Home Insurance is Affected By the Size of Your Home
When it comes to determining the cost of your home insurance, there's a lot that goes into it. Carriers will look at your home's age, location, and size- among other things. The size of your home is a factor because it affects your replacement cost. 
If you have a house with higher square footage, your home will be more expensive to rebuild if a total covered loss damages it. If you think about it, a larger house requires more building materials, time, and manpower to rebuild from the ground up. It goes the other way for smaller homes. If you have less house to rebuild, your home insurance premium will be lower. 
Looking at the numbers, houses in Lexington, North Carolina, that are over 2,000 square feet average about $1,530 per year to insure. In contrast, houses that are under 2,000 square feet cost $962 to insure a year.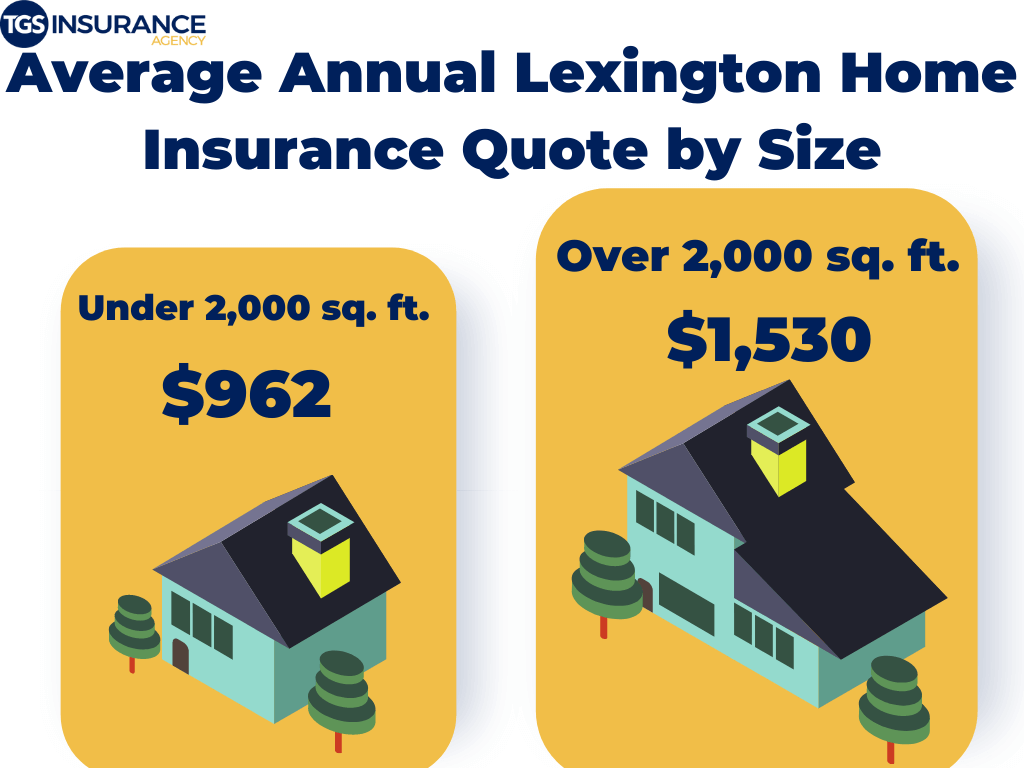 How Does My ZIP Code Affect My Home Insurance?
While some factors regarding your location, such as the probability of severe weather, are calculated at the city or county level. Some factors are analyzed as specifically as your zip code or neighborhood. Since the size and build of your home are usually consistent within neighborhoods, the location of your home plays a significant role in determining your risk of covered perils. In Lexington, the ZIP code 27292 is the area with the lowest premium of $1,246 for TGS customers. The ZIP code with the highest premium is 27295, costing TGS customers an average of $1,315 a year.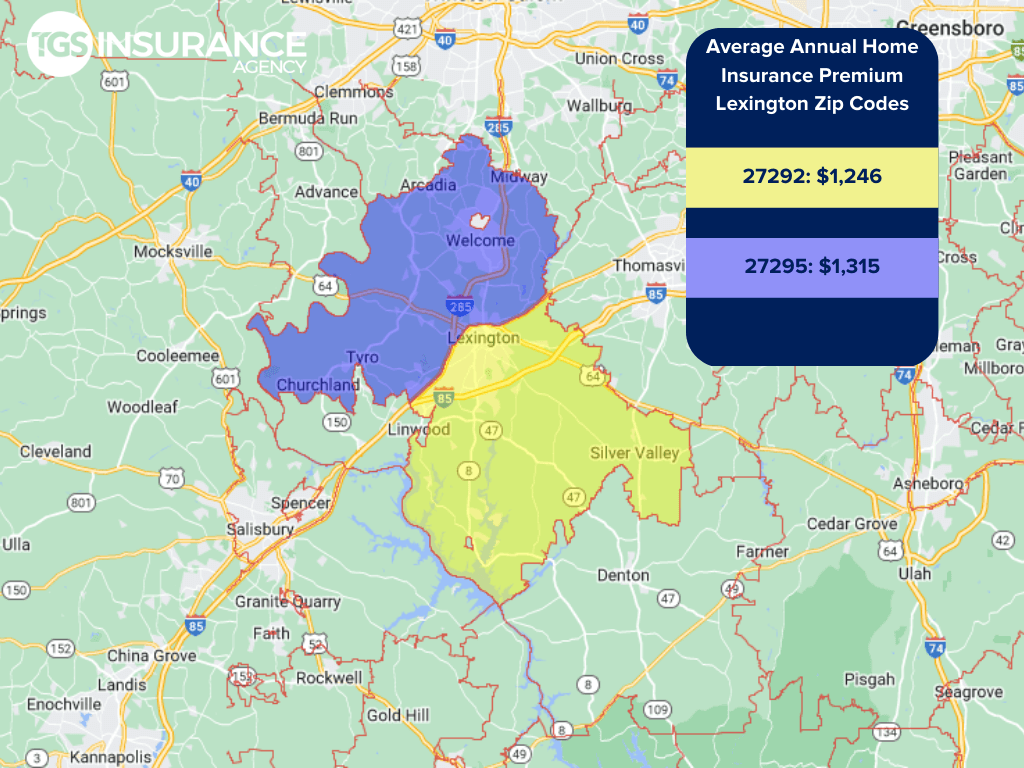 Best Lexington Home Insurance Carriers
Knowing who will give you a competitive premium in your area is a big part of choosing your home insurance. Among TGS customers, the most popular carrier in Lexington is SageSure. The average annual premium with SageSure is $954. Other popular carriers are Travelers and Safeco. Choosing a carrier is more than just the price; however, here at TGS Insurance Agency, we know that price is one of the more important factors. Check out the table below to see the average price for Lexington based on the insurance provider.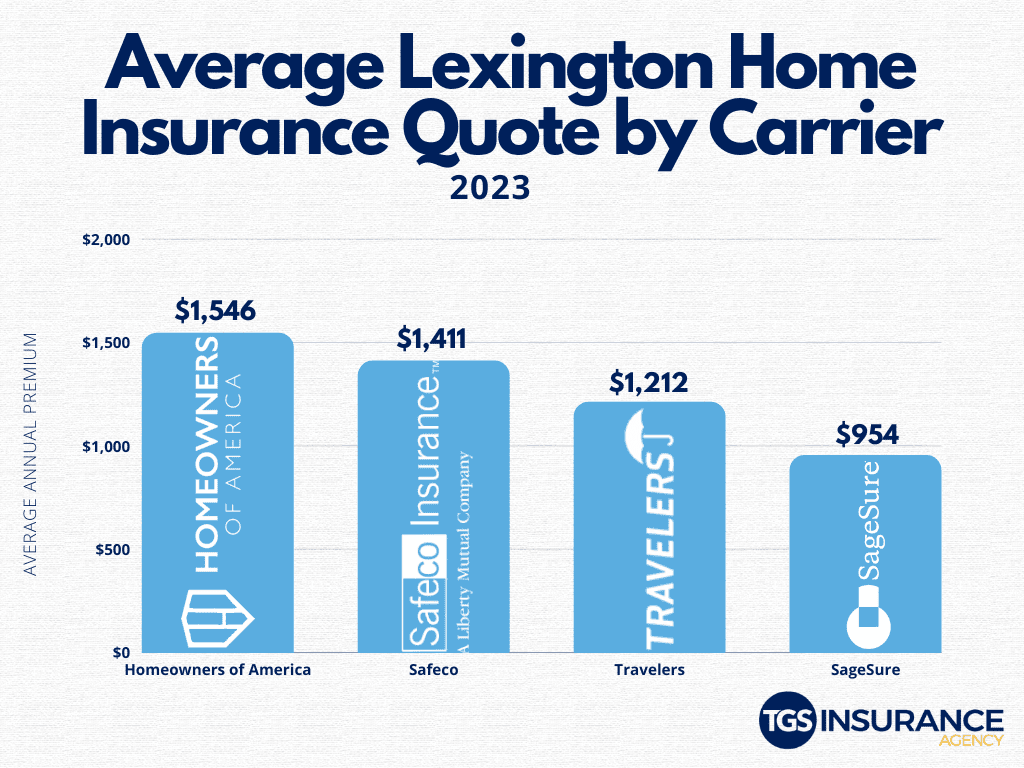 Zip Codes in Lexington TGS Insurance Covers
Don't see your zip code? We've got you covered! We make shopping for the best home insurance easy and hassle-free for all residents throughout North Carolina. Get started today with a free, instant quote!