Shopping For Cheap Matthews Home Insurance Is Easier Than You Think
As an independent agency, we represent 55+ top-rated insurance carriers, which allows us to offer comprehensive insurance options to meet your every need. The best part? Our highly qualified homeowners insurance agents do the hard work for you, making your home insurance shopping process easy and stress-free. Your savings start with an instant, free quote. Our agents are ready to help you further customize your quote and find any discounts you might qualify for! 
We shop. You Save. Yes, it really is that easy.
Matthews Home Insurance Coverage
The beauty of home insurance is that it can be tailored to fit you and your situation. Typically, a standard home insurance policy covers the following:
Coverage for your home and other structures on your property, like detached garages

Coverage for your belongings inside your home, like clothes and furniture

Liability coverage for guests that may be injured on your property

It covers additional living expenses if you need temporary lodging while your home is being repaired
How Much is Home Insurance in Matthews, North Carolina?
Matthews' home insurance costs an average of $1,265 per year for TGS Insurance customers. This average is factored with policies with a 2% wind and hail coverage deductible and an average home value of $352,594. The cost of your home insurance premium will vary based on a few different things. This can be your credit, where you live, how much your house is worth, and the age of your home. Our instant home quote tool shops for you to find the best rates with just your address. After your instant quote, connect with one of our agents to further customize your coverage!
Home Insurance in Matthews Cost by Dwelling Coverage Limit
Dwelling coverage limits are one of the key factors that insurers consider when setting premiums. You'll generally pay a higher premium if you choose a high dwelling coverage limit. However, ensuring adequate coverage to protect your home during a loss is important. If you have a mortgage on your home, your lender may require you to have a certain amount of dwelling coverage to protect your investment.
In Matthews, North Carolina, a policy with $200,000-$299,999 in dwelling coverage costs an average of $1,052 per year. However, if your home is worth more, you'll want more coverage, so homeowners wanting $400,000-$499,999 in dwelling coverage will pay an average of $1,492 in Matthews, North Carolina.
| Dwelling Coverage Limits | Average Annual Premium (incl. Windstorm & Hail Coverage) |
| --- | --- |
| $100,000.00 - $199,999.00 | $726.75 |
| $200,000.00 - $299,999.00 | $1,051.90 |
| $300,000.00 - $399,999.00 | $1,269.61 |
| $400,000.00 - $499,999.00 | $1,491.90 |
| $500,000.00-$599,999.00 | $1,712.79 |
| $600,000.00-$699,999.00 | $1,951.17 |
How Square Footage Affects Your Matthews Home Insurance
When you initially chat with your insurance agent about your quote, they will want to know the square footage of every part of your home. They do this because the more square footage you have, the more your house will inevitably cost to rebuild if you lose it due to a covered loss. Rebuild costs- known as replacement cost in the insurance world- are a big part of determining how much you will pay in insurance premiums. Below we have a breakdown of average annual premiums in Matthews, Noth Carolina, based on the size of your home.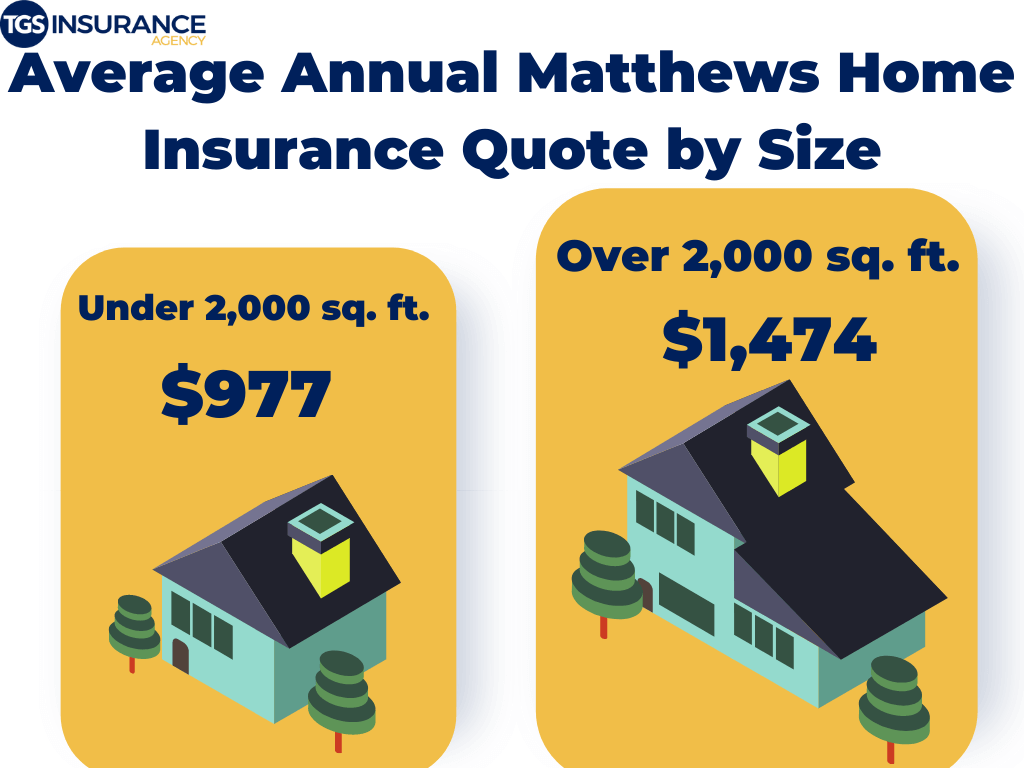 How Does My ZIP Code Affect My Home Insurance?
While some factors regarding your location, such as the probability of severe weather, are calculated at the city or county level. Some factors are analyzed as specifically as your zip code or neighborhood. Since the size and build of your home are usually consistent within neighborhoods, the location of your home plays a significant role in determining your risk of covered perils. In Matthews, the ZIP code 28105 is the area with the lowest premium of $1,215 for TGS customers. The ZIP code with the highest premium is 28104, costing TGS customers an average of $1,340 a year.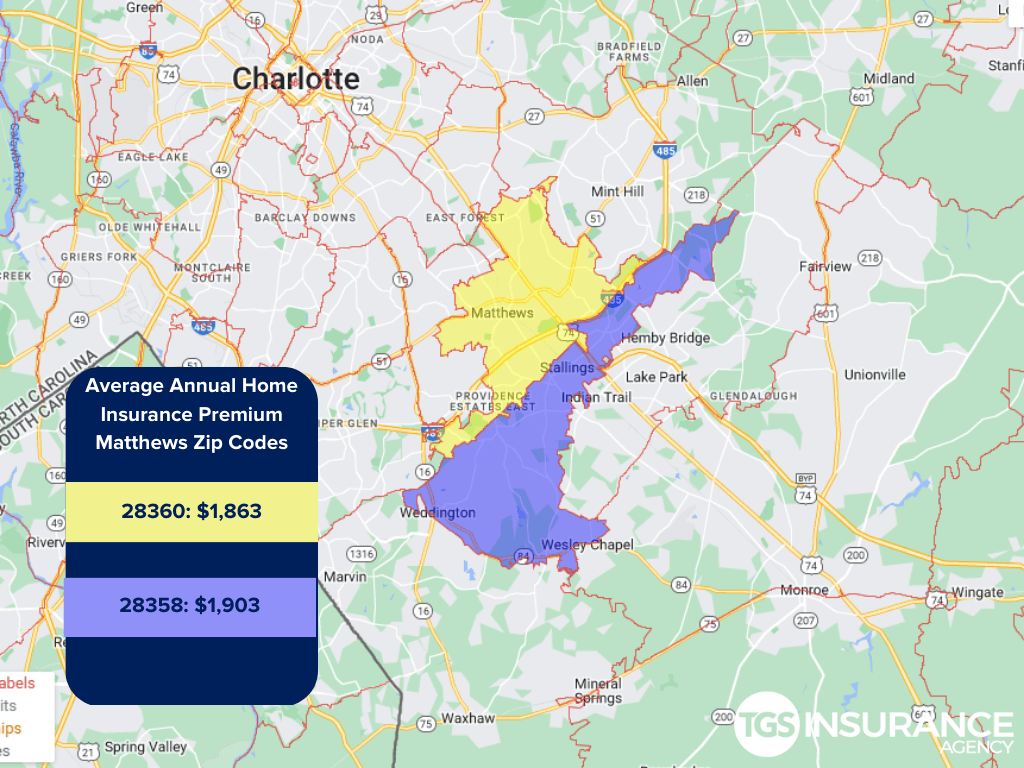 Cheapest Matthews Home Insurance Carrier
Homeowners in Matthews, North Carolina, all want the same thing- an excellent home insurance policy that doesn't break the bank. Cost is one of the most influential things people look at when purchasing insurance, next to the amount of coverage. This is why homeowners must compare and shop their policies across multiple carriers! Insurance carriers set their rates, so your premium could vary across multiple carriers with the same coverage. Our two most affordable (and popular) insurance providers in Matthews, North Carolina, are SageSure and Travelers. On average, TGS Insurance customers in Matthews, North Carolina, pay $898 for SageSure annually and $1,142 for Travelers.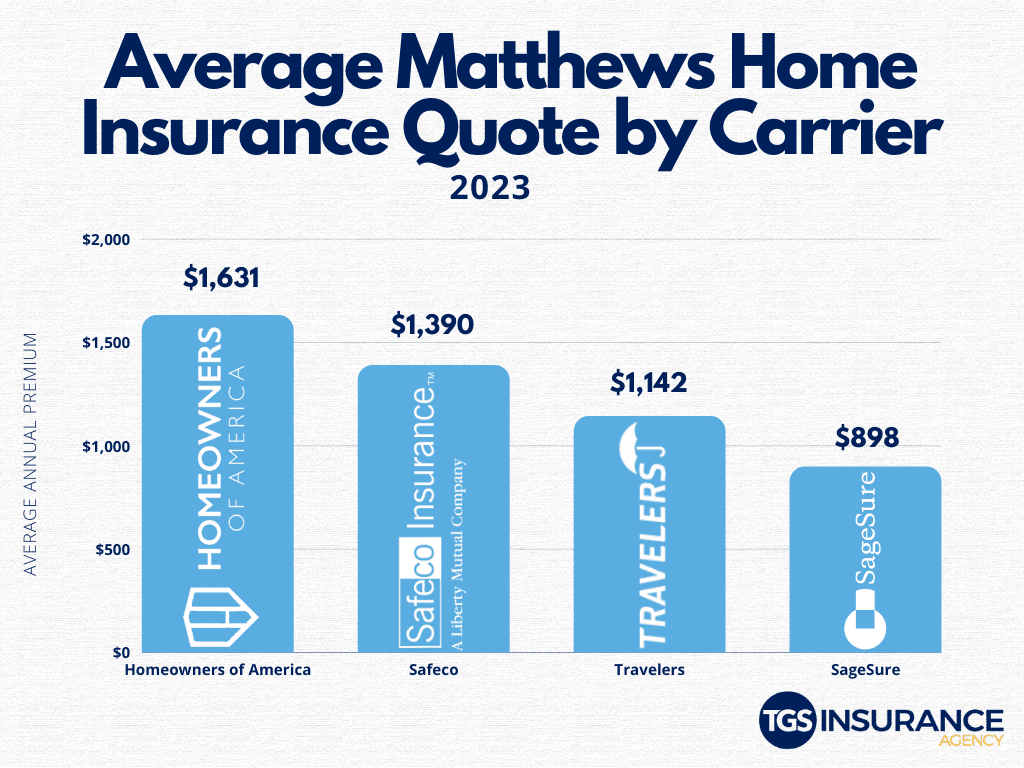 Zip Codes in Matthews We Insure
Don't see your zip code? Not a problem! We can help homeowners throughout North Carolina find the best home coverage for their needs. Get started with a free instant quote by providing your address above.