Finding Affordable Mount Airy Home Insurance Made Simple
At TGS Insurance Agency, we leverage our relationships with several top-rated carriers to find you the best coverage and prices. Our online quoting tool makes getting a home insurance quote easier and faster than ever- all we need is your address! Our agents are ready to review your quote to assure you are getting the coverage you need and not overpaying for coverage you don't.  
We shop, and you save time and money; it really is that easy.
Mount Airy Home Insurance Coverage
The beauty of home insurance is that it can be tailored to fit you and your situation. Typically, a standard home insurance policy covers the following:
Coverage for your home and other structures on your property, like detached garages

Coverage for your belongings inside your home, like clothes and furniture

Liability coverage for guests that may be injured on your property

It covers additional living expenses if you need temporary lodging while your home is being repaired
What is the Average Cost of Home Insurance in Mount Airy?
In Mount Airy, the average cost of home insurance for TGS Insurance customers is $910 per year. While the cost of your policy will depend on several factors, such as the value and age of your home, your location, and your credit score, our agents can help you find the coverage you need at a price you can afford. We'll work with you to customize your coverage and ensure you're not sacrificing anything important to save money.
Average Mount Airy Home Insurance Cost By Coverage Level
Dwelling coverage is a fundamental element of home insurance that protects the physical structure of your home against covered hazards. The intention is to cover the expenses of repairing or rebuilding your home if it is damaged or destroyed due to a covered event. The amount of dwelling coverage needed depends on the cost of rebuilding your home. Your home insurance covers the policy limit- which is coverage for up to a specified dollar amount. It is critical to ensure that your dwelling coverage limit is sufficient to cover the cost of rebuilding your home in case of a complete loss. Dwelling coverage limits can significantly impact home insurance premiums, with higher limits resulting in higher premiums since the insurance company is assuming more risk.
In Mount Airy, North Carolina, if you need $200,000 in dwelling coverage, you'll pay an average of $940 per year. However, if your home is worth more, you'll want more coverage, so homeowners wanting $400,000 in dwelling coverage will pay an average of $1,381 in Mount Airy, North Carolina. 
| Dwelling Coverage Limits | Average Annual Premium (incl. Windstorm & Hail Coverage) |
| --- | --- |
| $100,000.00 - $199,999.00 | $661.44 |
| $200,000.00 - $299,999.00 | $939.95 |
| $300,000.00 - $399,999.00 | $1,186.12 |
| $400,000.00 - $499,999.00 | $1,380.90 |
| $500,000.00-$599,999.00 | $1,536.45 |
How Square Footage Affects Your Mount Airy Home Insurance
When you initially chat with your insurance agent about your quote, they will want to know the square footage of every part of your home. They do this because the more square footage you have, the more your house will inevitably cost to rebuild if you lose it due to a covered loss. Rebuild costs- known as replacement cost in the insurance world- are a big part of determining how much you will pay in insurance premiums. Below we have a breakdown of average annual premiums in Mount Airy, Noth Carolina, based on the size of your home.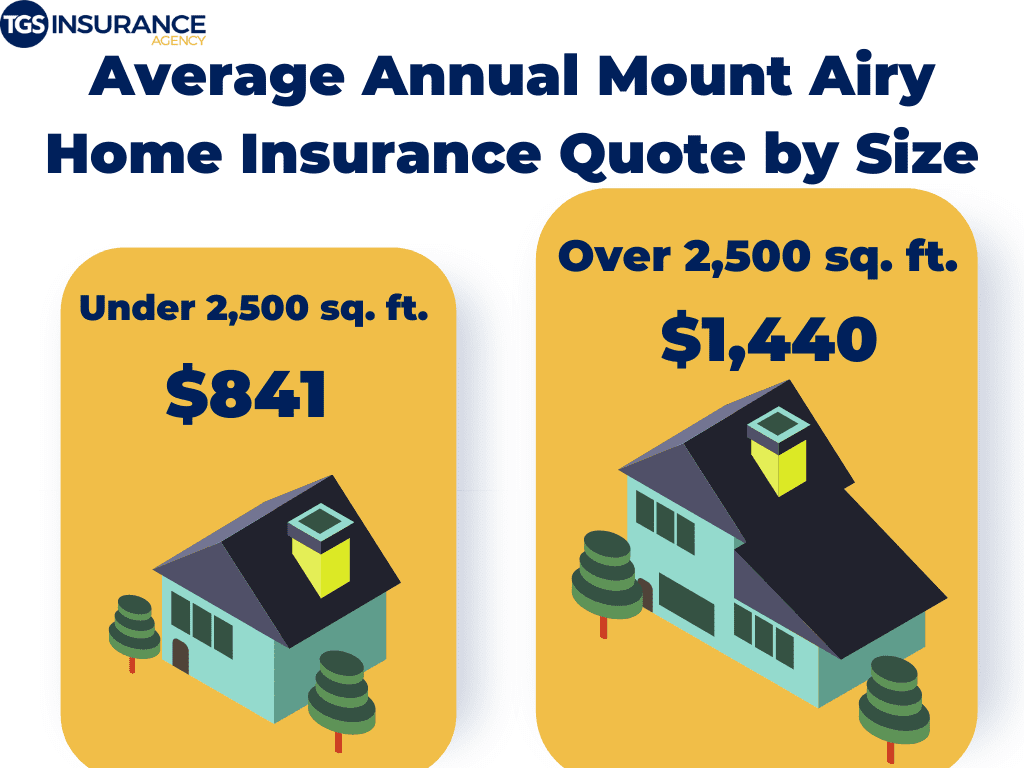 Who is the Most Popular Home Insurance Carrier in Mount Airy, North Carolina?
We want you to find the perfect homeowners insurance in Mount Airy, North Carolina. Knowing what the best insurance carriers in your area charge for home insurance is a great way to know if your policy is competitive. We pulled together some data from TGS customers in your area and found that SageSure is the most popular in Mount Airy. People with SageSure pay an average of $699 annually. Another popular carrier in Mount Airy is SafePort. SafePort's rates differ slightly from SageSure, having an average cost of $720 a year. Check out our data below for the five most popular carriers in Mount Airy and their average annual home insurance premiums.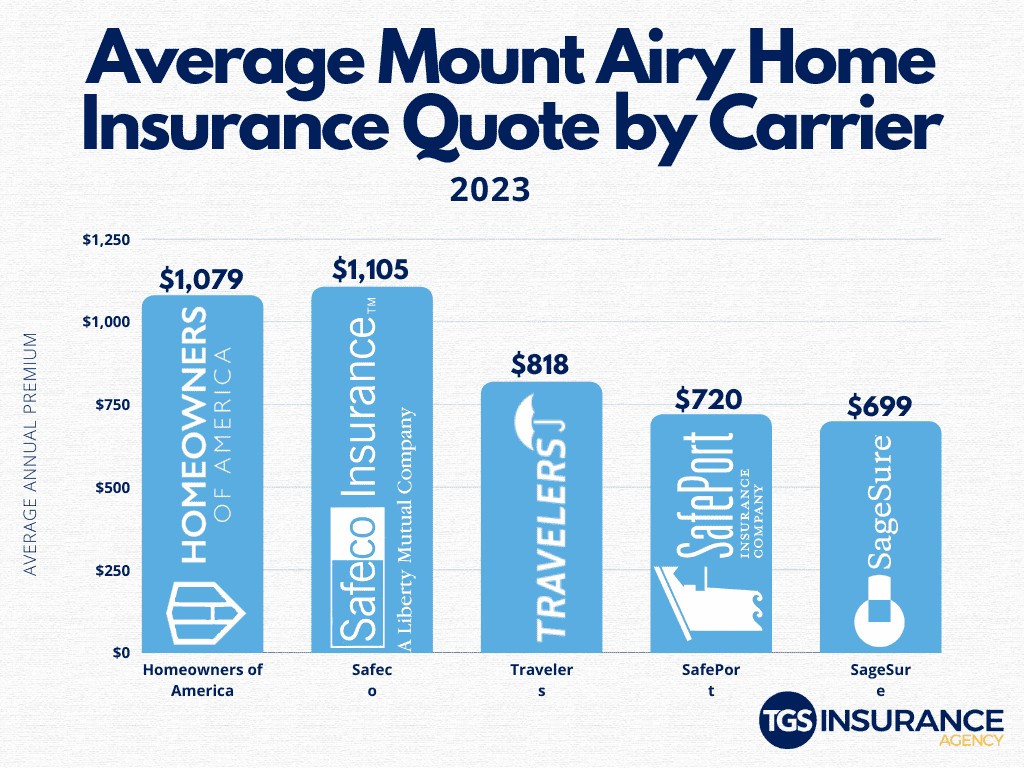 Zip Codes in Mount Airy We Insure
Don't see your zip code? Not a problem! We can help homeowners throughout North Carolina find the best home coverage for their needs. Get started with a free instant quote by providing your address above.