Shopping For Cheap Newton Home Insurance Is Easier Than You Think
As an independent agency, we represent 55+ top-rated insurance carriers, which allows us to offer comprehensive insurance options to meet your every need. The best part? Our highly qualified homeowners insurance agents do the hard work for you, making your home insurance shopping process easy and stress-free. Your savings start with an instant, free quote. Our agents are ready to help you further customize your quote and find any discounts you might qualify for! 
We shop. You Save. Yes, it really is that easy.
What is Included in Newton Home Insurance?
There are a few standard forms of home insurance that offer different levels of protection. This varies from different perils coverage and how much protection you want. Most of these forms include coverage- at some level- for:
Dwelling

Other Structures

Personal Property 

Loss of Use

Personal Liability

Medical Payments
Having these coverages at the base of every standard home policy allows everyone to be somewhat protected. You can choose whether or not you have more coverage in one area compared to another. All of this is based on your unique lifestyle in Newton.
What is the Average Cost of Home Insurance in Newton?
In Newton, the average cost of home insurance for TGS Insurance customers is $839 per year. While the cost of your policy will depend on several factors, such as the value and age of your home, your location, and your credit score, our agents can help you find the coverage you need at a price you can afford. We'll work with you to customize your coverage and ensure you're not sacrificing anything important to save money.
Average Newton Home Insurance Cost By Dwelling Coverage Limits
Dwelling coverage is the component of home insurance that protects the physical structure of your home from covered perils. It is designed to cover the cost of repairing or rebuilding your home if it is damaged or destroyed by a covered event. The amount of dwelling coverage you need will depend on the cost of rebuilding your home. Your home insurance policy typically provides coverage up to a specified dollar amount, known as the policy limit. It's important to ensure that your dwelling coverage limit is high enough to cover the cost of rebuilding your home in the event of a total loss. Dwelling coverage limits can have a significant impact on home insurance premiums. In general, the higher the dwelling coverage limit, the higher the premium since the insurance company will take on more risk.
In Newton, North Carolina, if you need $200,000 in dwelling coverage, you'll pay an average of $872 per year. However, if your home is worth more, you'll want more coverage, so homeowners wanting $400,000 in dwelling coverage will pay an average of $1,320 in Newton, North Carolina.
| Dwelling Coverage Limits | Average Annual Premium (incl. Windstorm & Hail Coverage) |
| --- | --- |
| $100,000.00 - $199,999.00 | $618.41 |
| $200,000.00 - $299,999.00 | $872.01 |
| $300,000.00 - $399,999.00 | $1,091.23 |
| $400,000.00 - $499,999.00 | $1,320.22 |
| $500,000.00-$599,999.00 | $1,556.16 |
Does the Size of My Newton Home Affect My Insurance Rates?
The size of your home is a factor in your home insurance cost. Larger homes with more square footage often have more belonging inside, which is inherently more expensive to replace if they were to be destroyed by a covered peril. Also, your home's size directly correlates to your home's replacement cost, severely influencing the amount you will pay in homeowners insurance. 
In Newton, North Carolina, houses that are over 2,500 square feet will cost you an average of $1,365 per year. Houses that are under 2,500 square feet have an average annual premium of $776 per year.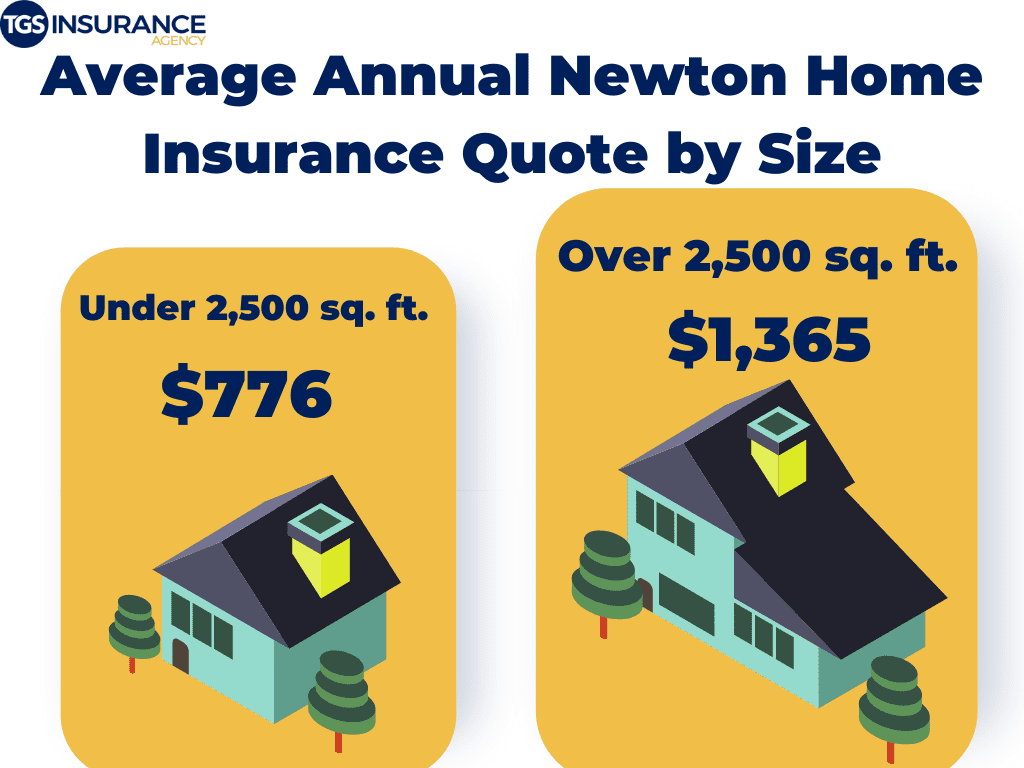 Cheapest Newton Home Insurance Carrier
Homeowners in Newton, North Carolina, want the same thing- an excellent home insurance policy that doesn't break the bank. Cost is one of the most influential things people look at when purchasing insurance, next to the amount of coverage. This is why homeowners must compare and shop their policies across multiple carriers! Insurance carriers set their rates, so your premium could vary across multiple carriers with the same coverage. Our two most affordable (and popular) insurance providers in Newton, North Carolina, are SageSure and SafePort. On average, TGS Insurance customers in Newton, North Carolina, pay $611 for SageSure annually and $640 for SafePort.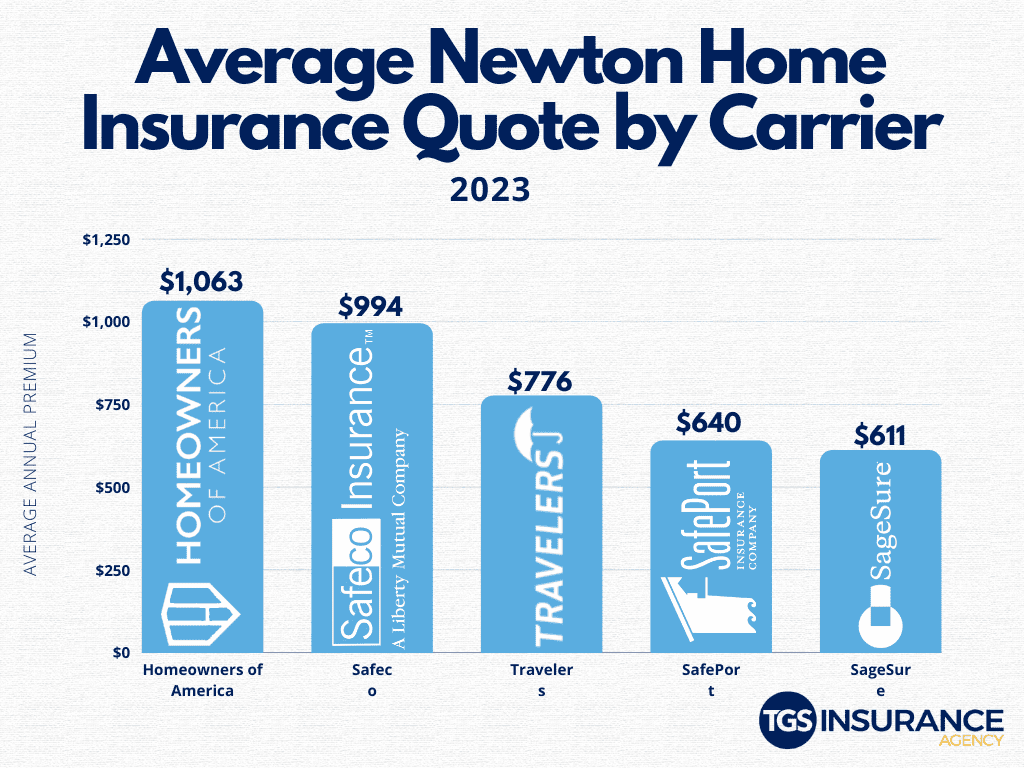 Newton Zip Codes We Insure
Zip code not listed? Don't worry! We can help homeowners throughout North Carolina save money on their home insurance. Get started with a free instant quote by providing your address above.