Shopping For Cheap Rocky Mount Home Insurance Is Easier Than You Think
As an independent agency, we represent 55+ top-rated insurance carriers, which allows us to offer comprehensive insurance options to meet your every need. The best part? Our highly qualified homeowners insurance agents do the hard work for you, making your home insurance shopping process easy and stress-free. Your savings start with an instant, free quote. Our agents are ready to help you further customize your quote and find any discounts you might qualify for! 
We shop. You Save. Yes, it really is that easy.
What Does Rocky Mount Home Insurance Cover?
Most home insurance policies include some level of the following types of coverage. 
| | |
| --- | --- |
| Coverage A | covers damages to your home |
| Coverage B | covers damages to additional structures on your property such as detached garages, sheds, or fences |
| Coverage C | covers damage to personal property such as furniture, electronics, and clothes |
| Coverage D | covers additional living expenses if your home becomes uninhabitable due to a covered loss |
| Coverage E | covers personal liability including coverage for claims arising from accidents on your property |
| Coverage F | covers medical expenses for injuries occurring on your property for those outside of your household |
When it comes to home insurance in Rocky Mount, there's no shortage of options. A standard policy typically covers a variety of losses, including damage caused by weather, theft, and accidents. But not all policies are created equal. That's why it's important to work with a knowledgeable agent who can help you navigate the complexities of home insurance and tailor your coverage to fit your needs. Whether you need more protection for your personal belongings or additional liability coverage, we've got you covered.
How Much Does Rocky Mount Home Insurance Cost?
On average, a TGS customer in Rocky Mount would pay $1,345 per year for home insurance. Home insurance rates vary based on several factors, including your home's age, value, and location, as well as your credit score and desired coverage levels. This average is based on policies with an average home value of $250,764 and includes windstorm and hail coverage with a 2% deductible. TGS Insurance Agency offers customizable options to all our customers so you can find the right policy and pay what you want. Get started with a free instant home insurance quote by providing your address above.
Home Insurance in Rocky Mount Cost by Dwelling Coverage Limit
Dwelling coverage limits are one of the key factors that insurers consider when setting premiums. You'll generally pay a higher premium if you choose a high dwelling coverage limit. However, ensuring adequate coverage to protect your home during a loss is important. If you have a mortgage on your home, your lender may require you to have a certain amount of dwelling coverage to protect your investment.
In Rocky Mount, North Carolina, a policy with $200,000-$299,999 in dwelling coverage costs an average of $1,392 per year. However, if your home is worth more, you'll want more coverage, so homeowners wanting $400,000-$499,999 in dwelling coverage will pay an average of $2,027 in Rocky Mount, North Carolina.
| Dwelling Coverage Limits | Average Annual Premium (incl. Windstorm & Hail Coverage) |
| --- | --- |
| $100,000.00 - $199,999.00 | $980.95 |
| $200,000.00 - $299,999.00 | $1,392.20 |
| $300,000.00 - $399,999.00 | $1,693.32 |
| $400,000.00 - $499,999.00 | $2,026.86 |
| $500,000.00 - $599,999.00 | $2,443.79 |
How the Age of Your Rocky Mount Home Affects Your Insurance
The age of your home can affect your insurance in many ways. Older homes are more at risk of electrical, plumbing, and heating/cooling complications. These issues increase the risk of fire and water damage in homes. Also, older homes can be less structurally sound than newer homes. This could lead to more damage when natural disasters-like hurricanes- come through. All of these can result in higher insurance premiums. In contrast, newer homes may be immune to these issues, making them cheaper to insure. 
How Does Your Location in Rocky Mount Affect Your Home Insurance?
Where you live is one of the biggest factors that affect your home insurance premium. This gets so specific that carriers look at ZIP codes and neighborhoods. If your neighborhood has a higher theft rate than another neighborhood a few blocks down, your rates will be higher. Because carriers are very particular with risk evaluations, rates vary greatly-even within the same city. Below is a breakdown of the average annual premium for home insurance in Rocky Mount: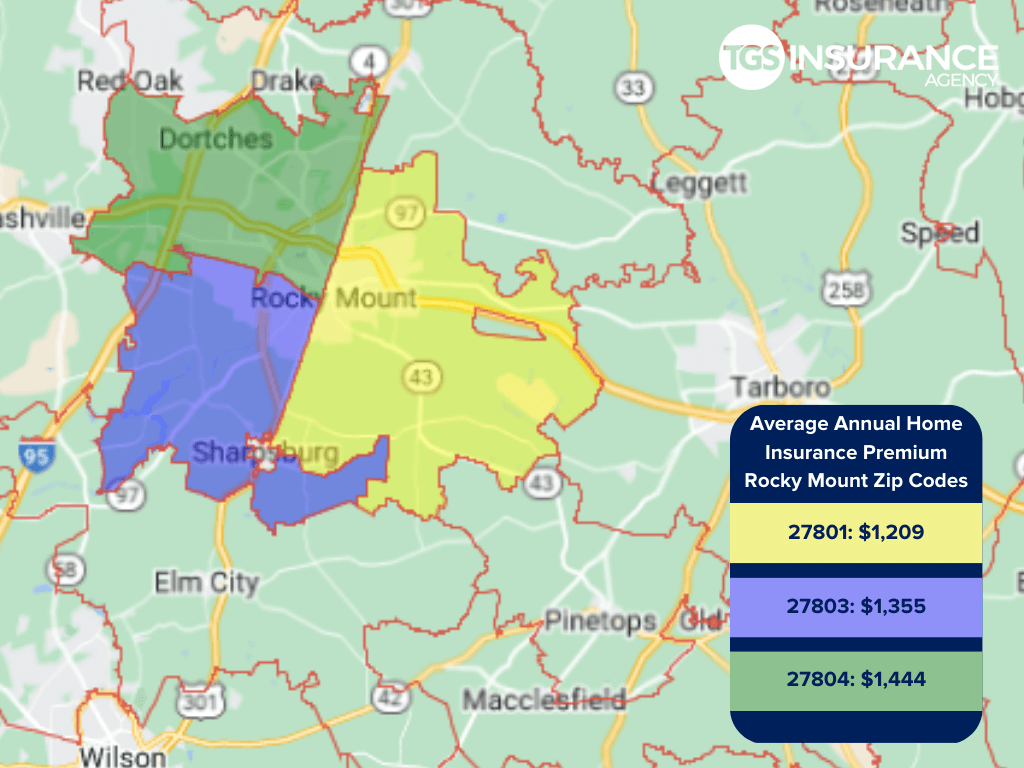 Compare Rocky Mount Home Insurance Premiums By Carrier
The price is often the most influential factor when considering a home insurance policy. Because each carrier sets its rates, sometimes the same type of coverage can vary in price among different carriers. Two of our most popular carriers in Rocky Mount are SageSure and Travelers. Home insurance quotes from TGS Insurance for SageSure average $1,025 annually. Home insurance quotes for Travelers run more expensive at $1,146 per year. 
When picking the right home insurance carrier, many factors are involved. You want to make sure the carrier you choose is right for you! Here are some questions to ask yourself when picking a home insurance carrier. 
What is their price for the coverage I want?

What are the company's history and reputation?

Have you heard anything about the company?

Do they offer the coverage I am looking for? 

Are there discounts available?

Is it easy and convenient to work with them?
At TGS Insurance Agency, we work with over 55+ 'A-rated' home insurance carriers to help you make the right decision for your home. Use these questions and call one of our agents to find the right fit for you.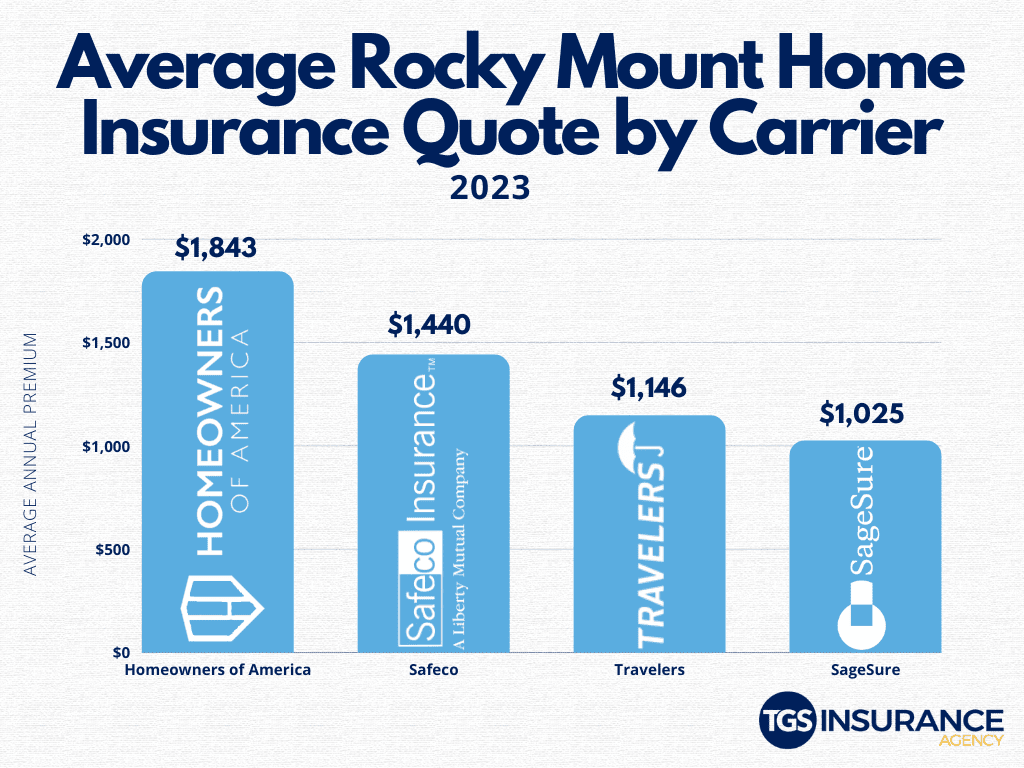 Rocky Mount Zip Codes TGS Insurance Agency Covers
If your zip code is not listed, fret not! We have access to amazing rates for homeowners all across North Carolina. Simply enter your address above to get started with a free instant quote.