Comparison Shop Home Insurance in Smithfield from Multiple Carriers Instantly!
Being an independent insurance agency means we shop and compare the best Smithfield homeowners insurance options on your behalf to find you the best combination of cost and coverage. You'll love doing business with us if you want an easier insurance experience. How do you get started? Easy! All we need is your address; you'll get an instant quote in 15 seconds or less. After that, our agents will tailor and further customize your policy to fit your specific insurance needs. Did we mention we re-shop your policy renewal to ensure you are still getting the best deal year after year?
You're one click away from never worrying about home insurance again! 
Smithfield Home Insurance Coverage
The beauty of home insurance is that it can be tailored to fit you and your situation. Typically, a standard home insurance policy covers the following:
Coverage for your home and other structures on your property, like detached garages

Coverage for your belongings inside your home, like clothes and furniture

Liability coverage for guests that may be injured on your property

It covers additional living expenses if you need temporary lodging while your home is being repaired
What is the Average Cost of Home Insurance in Smithfield?
In Smithfield, the average cost of home insurance for TGS Insurance customers is $1,303 per year. While the cost of your policy will depend on several factors, such as the value and age of your home, your location, and your credit score, our agents can help you find the coverage you need at a price you can afford. We'll work with you to customize your coverage and ensure you're not sacrificing anything important to save money.
Average Smithfield Home Insurance Cost By Coverage Level
Dwelling coverage is a fundamental element of home insurance that protects the physical structure of your home against covered hazards. The intention is to cover the expenses of repairing or rebuilding your home if it is damaged or destroyed due to a covered event. The amount of dwelling coverage needed depends on the cost of rebuilding your home. Your home insurance covers the policy limit- which is coverage for up to a specified dollar amount. It is critical to ensure that your dwelling coverage limit is sufficient to cover the cost of rebuilding your home in case of a complete loss. Dwelling coverage limits can significantly impact home insurance premiums, with higher limits resulting in higher premiums since the insurance company is assuming more risk.
In Smithfield, North Carolina, if you need $200,000 in dwelling coverage, you'll pay an average of $1,283 per year. However, if your home is worth more, you'll want more coverage, so homeowners wanting $400,000 in dwelling coverage will pay an average of $1,801 in Smithfield, North Carolina. 
| Dwelling Coverage Limits | Average Annual Premium (incl. Windstorm & Hail Coverage) |
| --- | --- |
| $100,000.00 - $199,999.00 | $921.73 |
| $200,000.00 - $299,999.00 | $1,283.11 |
| $300,000.00 - $399,999.00 | $1,586.80 |
| $400,000.00 - $499,999.00 | $1,800.87 |
| $500,000.00-$599,999.00 | $2,377.98 |
How the Size of Your Smithfield Home Affects the Cost of Insurance
Another thing that will affect the cost of your Smithfield home insurance is the size of your home. Insurance carriers look at the square footage of your home to determine the replacement cost.  If you have a larger house, your replacement cost will be higher. Because of the higher replacement cost, your home insurance premium will be higher than that of smaller houses. Some other factors that affect your replacement cost are:
Building materials used to build your home

Features in your home like fireplaces or a jetted tub

The age of your home
In Smithfield, houses that are over 2,500 square feet cost $2,020 per year. Houses under 2,500 square feet have an average annual premium of $1,273.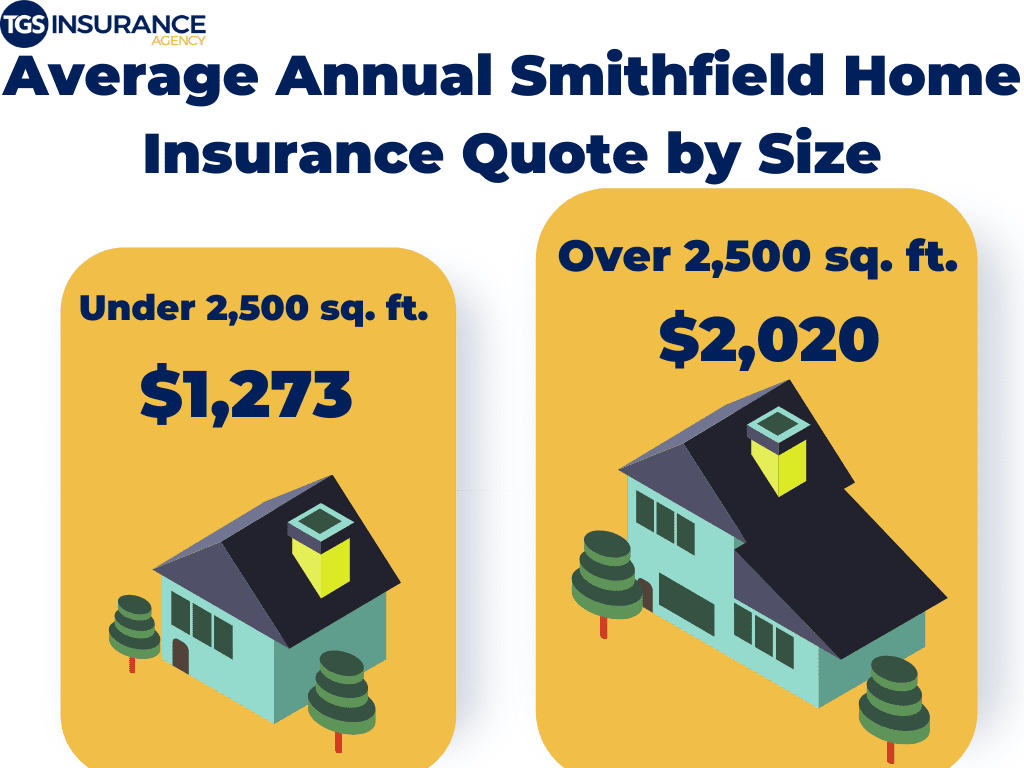 Smithfield Home Insurance Rates By Company
Choosing your home insurance provider is about more than the price, even though we know the cost is undoubtedly a factor. Because each provider sets their rates, the same coverage can vary between carriers. The top carrier in Smithfield is SageSure. TGS customers in Smithfield pay an average of $1,006 when insured by SageSure. Looking at the numbers, an overwhelming number of people in your area have chosen SageSure over our next most popular carrier, SafePort. The average premium for SafePort is $1,002 for TGS Insurance customers. Here is a breakdown of the different carriers used in Smithfield.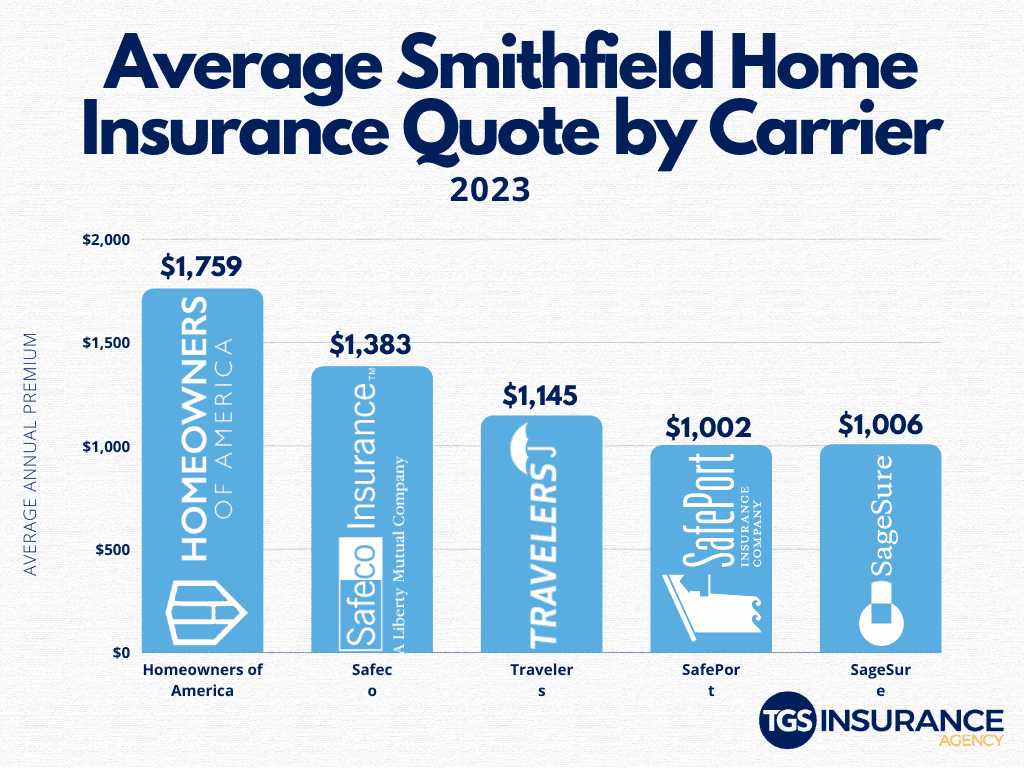 Zip Codes in Smithfield TGS Insurance Covers
Don't see your zip code? You'll have coverage! We make shopping for the best home insurance easy and hassle-free for all residents throughout North Carolina. Start today with a free, instant quote!