Finding Affordable Southern Pines Home Insurance Made Simple
At TGS Insurance Agency, we leverage our relationships with several top-rated carriers to find you the best coverage and prices. Our online quoting tool makes getting a home insurance quote easier and faster than ever- all we need is your address! Our agents are ready to review your quote to assure you are getting the coverage you need and not overpaying for coverage you don't.  
We shop, and you save time and money; it really is that easy.
What Does Southern Pines Home Insurance Cover?
Don't let unexpected losses threaten your home and personal belongings. With home insurance in Southern Pines, you can have peace of mind knowing you're covered against various risks. A standard policy typically covers your home's structure, personal belongings, liability, and additional living expenses. But not all policies are created equal, so it's important to work with an agent who can help you customize your coverage to fit your unique needs. Whether you need more protection for your high-value items or want to add coverage for specific risks like earthquakes or floods, we've got you covered. 
What is the Average Cost of Home Insurance in Southern Pines?
In Southern Pines, the average cost of home insurance for TGS Insurance customers is $1,417 per year. While the cost of your policy will depend on several factors, such as the value and age of your home, your location, and your credit score, our agents can help you find the coverage you need at a price you can afford. We'll work with you to customize your coverage and ensure you're not sacrificing anything important to save money.
Home Insurance in Southern Pines Cost by Dwelling Coverage Limit
Dwelling coverage limits are one of the key factors that insurers consider when setting premiums. You'll generally pay a higher premium if you choose a high dwelling coverage limit. However, it's important to ensure adequate coverage to protect your home during a loss. If you have a mortgage on your home, your lender may require you to have a certain amount of dwelling coverage to protect your investment.
In Southern Pines, North Carolina, a policy with $200,000-$299,999 in dwelling coverage costs an average of $1,265 per year. However, if your home is worth more, you'll want more coverage, so homeowners wanting $400,000-$499,999 in dwelling coverage will pay an average of $1,792 in Southern Pines, North Carolina.
| Dwelling Coverage Limits | Average Annual Premium (incl. Windstorm & Hail Coverage) |
| --- | --- |
| $100,000.00 - $199,999.00 | $884.40 |
| $200,000.00 - $299,999.00 | $1,264.51 |
| $300,000.00 - $399,999.00 | $1,543.00 |
| $400,000.00 - $499,999.00 | $1,791.80 |
| $500,000.00-$599,999.00 | $2,127.52 |
| $600,000.00-$699,999.00 | $2,526.41 |
Does the Size of My Southern Pines Home Affect My Insurance Rates?
The size of your home is a factor in your home insurance cost. Larger homes with more square footage often have more belonging inside, which is inherently more expensive to replace if they were to be destroyed by a covered peril. Also, your home's size directly correlates to your home's replacement cost, severely influencing the amount you will pay in homeowners insurance. 
In Southern Pines, North Carolina, houses that are over 2,500 square feet will cost you an average of $1,892 per year. Houses that are under 2,500 square feet have an average annual premium of $1,241 per year.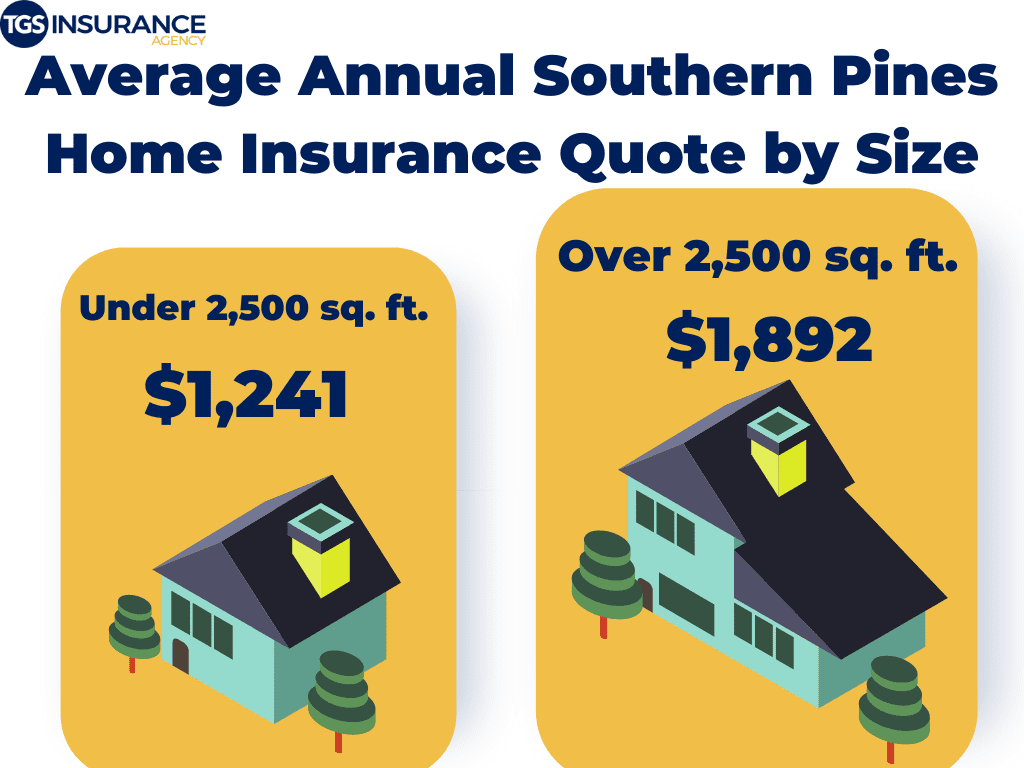 Southern Pines Home Insurance Rates By Company
Choosing your home insurance provider is about more than the price, even though we know the cost is undoubtedly a factor. Because each provider sets their rates, the same coverage can vary between carriers. The top carrier in Southern Pines is SageSure. TGS customers in Southern Pines pay an average of $1,044 when insured by SageSure. Looking at the numbers, an overwhelming number of people in your area have chosen SageSure over our next most popular carrier, SafePort. The average premium for SafePort is $1,110 for TGS Insurance customers. Here is a breakdown of the different carriers used in Southern Pines.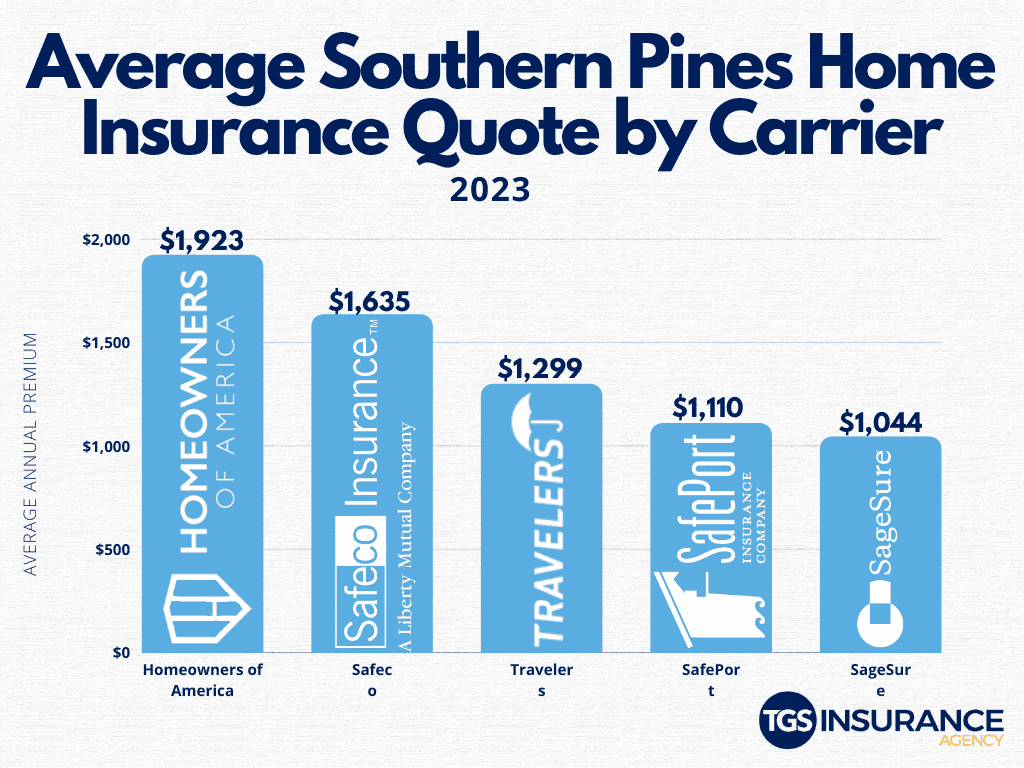 Zip Codes in Southern Pines TGS Insurance Covers
Don't see your zip code? You'll still have coverage with us! We make shopping for the best home insurance easy and hassle-free for all residents throughout North Carolina. Start today with a free, instant quote!