Getting a Spring Lake Home Insurance Quote is as Easy as 1-2-3!
Getting the best homeowner's insurance in Spring Lake is easy when you use TGS Insurance's proprietary online quoting tool for a free, no-obligation quote. Did we mention it only takes 15 seconds?
Enter your address

View your quote 

Customize your coverage with the guidance of one of our expert independent agents
What is Included in Spring Lake Home Insurance?
There are a few standard forms of home insurance that offer different levels of protection. This varies from different perils coverage and how much protection you want. Most of these forms include coverage- at some level- for:
Dwelling

Other Structures

Personal Property 

Loss of Use

Personal Liability

Medical Payments
Having these coverages at the base of every standard home policy allows everyone to be somewhat protected. You can choose whether or not you have more coverage in one area compared to another. All of this is based on your unique lifestyle in Spring Lake.
How Much is Home Insurance in Spring Lake, North Carolina?
Spring Lake home insurance costs an average of $1,571 per year for TGS Insurance customers. This average is factored with policies with a 2% wind and hail coverage deductible and an average home value of $307,283. The cost of your home insurance premium will vary based on a few different things. This can be your credit, where you live, how much your house is worth, and the age of your home. Our instant home quote tool shops for you to find the best rates with just your address. After your instant quote, connect with one of our agents to further customize your coverage!
Average Spring Lake Home Insurance Cost By Coverage Level
Dwelling coverage is a fundamental element of home insurance that protects the physical structure of your home against covered hazards. The intention is to cover the expenses of repairing or rebuilding your home if it is damaged or destroyed due to a covered event. The amount of dwelling coverage needed depends on the cost of rebuilding your home. Your home insurance covers the policy limit- which is coverage for up to a specified dollar amount. It is critical to ensure that your dwelling coverage limit is sufficient to cover the cost of rebuilding your home in case of a complete loss. Dwelling coverage limits can significantly impact home insurance premiums, with higher limits resulting in higher premiums since the insurance company is assuming more risk.
Spring Lake Home Insurance Cost By Home Age
The age of your home is also a factor considered when carriers determine your home insurance premium. The age matters because older homes might be more expensive to rebuild after a total covered loss, especially if they must bring them up to modern safety and building codes. If you have an older home and you are looking for ways to keep your premiums low, be sure to stay up to date on home maintenance and replace older systems in your home. 
Compare Spring Lake Home Insurance Premiums By Carrier
The price is often the most influential factor when considering a home insurance policy. Because each carrier sets its rates, sometimes the same type of coverage can vary in price among different carriers. Two of our most popular carriers in Spring Lake are SageSure and SafePort. Home insurance quotes from TGS Insurance for SageSure average $1,156 annually. Home insurance quotes for SafePort run more expensive at $1,258 per year. 
When picking the right home insurance carrier, many factors are involved. You want to make sure the carrier you choose is right for you! Here are some questions to ask yourself when picking a home insurance carrier. 
What is their price for the coverage I want?

What are the company's history and reputation?

Have you heard anything about the company?

Do they offer the coverage I am looking for? 

Are there discounts available?

Is it easy and convenient to work with them?
At TGS Insurance Agency, we work with over 55+ 'A-rated' home insurance carriers to help you make the right decision for your home. Use these questions and call one of our agents to find the right fit for you.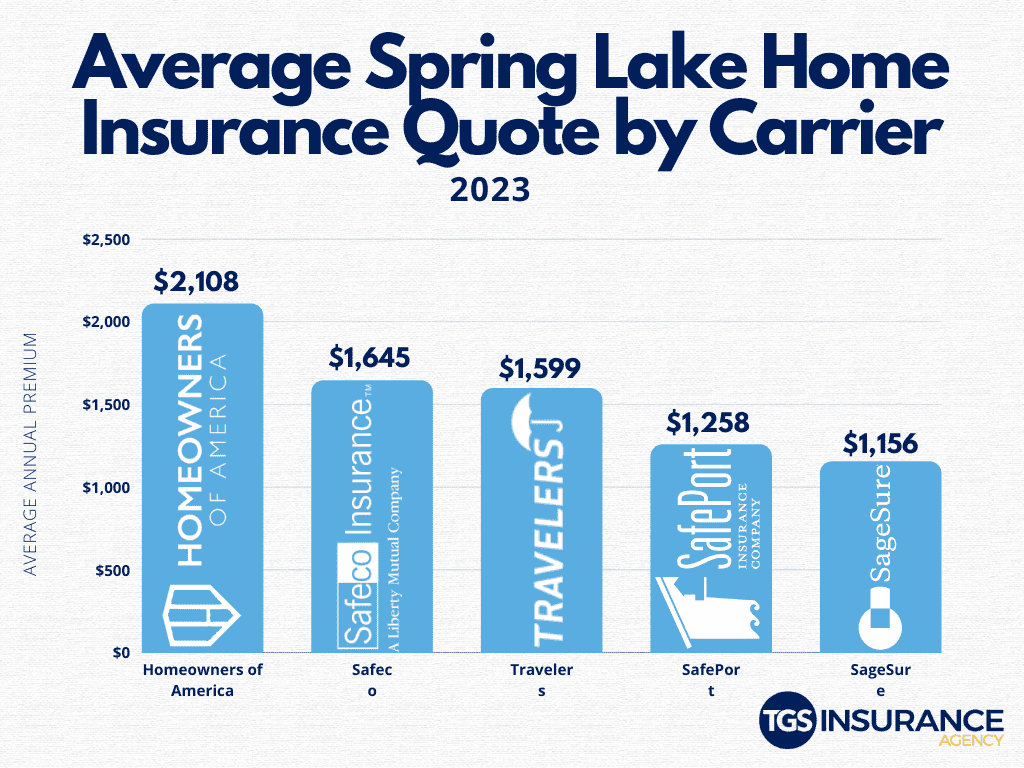 Spring Lake Zip Codes We Insure
Zip code not listed? Don't worry! We can help homeowners throughout North Carolina save money on their home insurance. Get started with a free instant quote by providing your address above.