Getting a Thomasville Home Insurance Quote is as Easy as 1-2-3!
Getting the best homeowner's insurance in Thomasville is easy when you use TGS Insurance's proprietary online quoting tool for a free, no-obligation quote. Did we mention it only takes 15 seconds?
Enter your address

View your quote 

Customize your coverage with the guidance of one of our expert independent agents
What is Included in Thomasville Home Insurance?
There are a few standard forms of home insurance that offer different levels of protection. This varies from different perils coverage and how much protection you want. Most of these forms include coverage- at some level- for:
Dwelling

Other Structures

Personal Property 

Loss of Use

Personal Liability

Medical Payments
Having these coverages at the base of every standard home policy allows everyone to be somewhat protected. You can choose whether or not you have more coverage in one area compared to another. All of this is based on your unique lifestyle in Thomasville.
What is the Cost of Home Insurance in Thomasville, North Carolina?
Your home insurance policy is crafted to fit your needs as a homeowner and protect your home. Your specific policy will look different from anybody else's since it is built to protect your home and belongings. Look at how Thomasville compares to other averages. 
National Average: $1,477
North Carolina Average: $1,215
Thomasville, North Carolina Average: $1,153
Your home insurance premium can vary from these averages, but it is always good to compare. If your current homeowners insurance policy is much less expensive than the city average, you may not have enough coverage and be underinsured. You could be overpaying for home insurance if you pay much more than these averages. 
Average Home Insurance Quotes in Thomasville by Coverage Level
Dwelling coverage is a critical aspect of home insurance that protects your home's physical structure from covered hazards. Typically, your home insurance policy provides coverage up to a specified dollar amount, known as the policy limit. Ensuring that your dwelling coverage limit is sufficient to rebuild your home in the event of a total loss is critical. Since the insurance company assumes more risk, dwelling coverage limits may significantly impact home insurance premiums, with higher limits resulting in higher premiums. Below is a breakdown of the average home insurance premium based on dwelling coverage limits.
| Dwelling Coverage Limits | Average Annual Premium (incl. Windstorm & Hail Coverage) |
| --- | --- |
| $100,000.00 - $199,999.00 | $741.14 |
| $200,000.00 - $299,999.00 | $1,055.68 |
| $300,000.00 - $399,999.00 | $1,262.19 |
| $400,000.00 - $499,999.00 | $1,544.53 |
| $500,000.00 - $599,999.00 | $1,768.26 |
Thomasville Home Insurance Quotes and Your Home's Age
Many factors go into calculating your home insurance premium, including your home's age. Typically, older homes are more expensive to insure because their structure and other components tend to be outdated (Ex. using galvanized piping instead of PEX) and experienced years of all-around wear and tear. 
Age is not the only influencing factor for your home insurance premium. Carriers look at a variety of other things, including: 
Attractive nuisances 

Pet breeds

Claims history

Credit score

Crime rate 

Location

Marital status

Size

Replacement cost

And much more!
Who is the Most Popular Home Insurance Carrier in Thomasville, North Carolina?
We want you to find the perfect homeowners insurance in Thomasville, North Carolina. Knowing what the best insurance carriers in your area charge for home insurance is a great way to know if your policy is competitive. We pulled together some data from TGS customers in your area and found that SageSure is the most popular in Thomasville. People with SageSure pay an average of $867 annually. Another popular carrier in Thomasville is Travelers. Travelers' rates differ from SageSure, with an average cost of $1,082 annually. Check out our data below for Thomasville's four most popular carriers and their average annual home insurance premiums.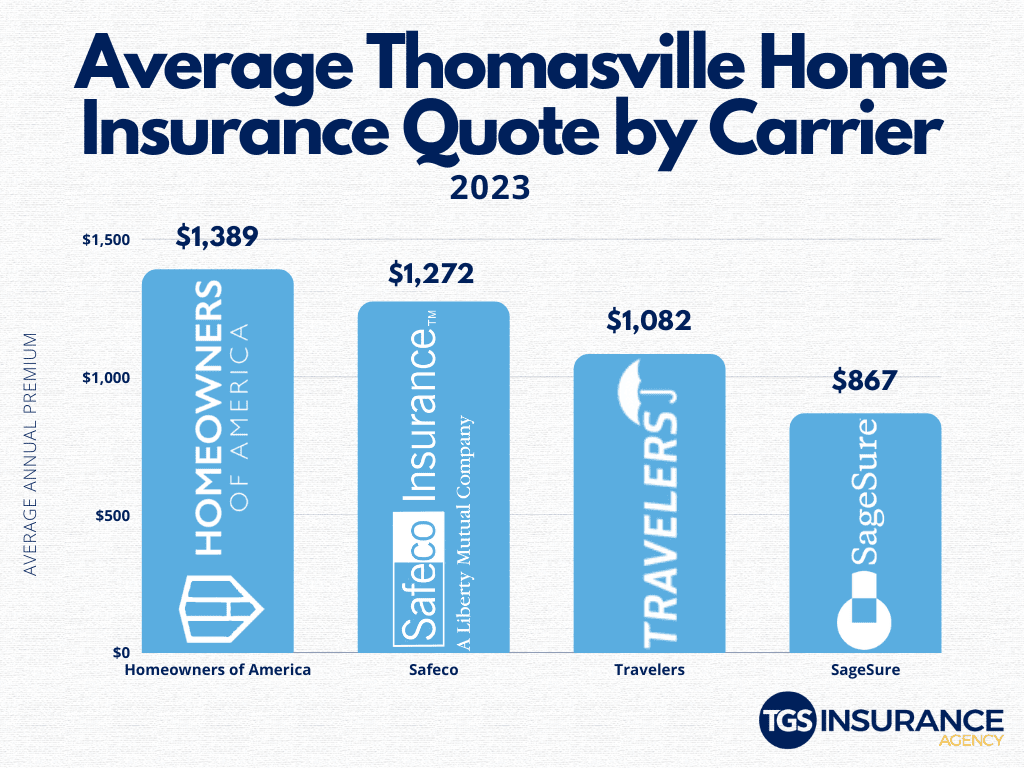 Zip Codes in Thomasville TGS Insurance Covers
Don't see your zip code? We've got you covered! We make shopping for the best home insurance easy and hassle-free for all residents throughout North Carolina. Get started today with a free, instant quote!