Comparison Shop Home Insurance in Waxhaw from Multiple Carriers Instantly!
Being an independent insurance agency means we shop and compare the best Waxhaw homeowners insurance options on your behalf to find you the best combination of cost and coverage. You'll love doing business with us if you want an easier insurance experience. How do you get started? Easy! All we need is your address; you'll get an instant quote in 15 seconds or less. After that, our agents will tailor and further customize your policy to fit your specific insurance needs. Did we mention we re-shop your policy renewal to ensure you are still getting the best deal year after year?
You're one click away from never worrying about home insurance again! 
Waxhaw Home Insurance Coverage: The Basics
If you're like most homeowners in Waxhaw, your home is your most valuable asset, and you should protect it as such. It's important to understand that when you create your home insurance policy, it should meet your individual needs. Insurance companies offer different levels of coverage, endorsements, and protections with varying conditions and limitations that enable policies to be customized. With that in mind, the most common types of coverage you will see on a homeowners insurance policy include: 
Dwelling coverage for the structure of your home.

Other structures coverage for structures not attached to your home, like detached garages, sheds, and fences.

Personal property coverage for replacing and repairing furniture, electronics, clothing, etc.

Loss of use coverage for additional living expenses if you need to stay somewhere else while your home is being repaired.

Personal liability coverage for legal bills if someone gets injured on your property or you cause damage and get sued.

Medical payment coverage helps cover medical expenses for nonhousehold members injured on your property.
Cost of Home Insurance in Waxhaw
In Waxhaw, the average home insurance costs $1,430 per year for TGS Insurance customers. The cost of your home insurance is based on several different factors, including, but not limited to:
The value of your home.

Where your home is.

How old your home is.

The number of residents in your home.

Your credit score.
These factors set a base for your home insurance, and then you can customize your coverage. The more coverage you choose to have, the more your yearly premium will be. TGS Insurance is here to help you find the best price without sacrificing any coverage you want.
Average Homeowners Insurance Cost by Coverage Level in Waxhaw
The cost to replace your home is essential to determine the dwelling coverage you need on your home insurance policy; this limit directly impacts your home insurance premium. On top of affecting your average annual costs, having an accurate replacement cost can prevent you from being underinsured if a covered loss takes your entire house. These are the average annual home insurance costs in Waxhaw, North Carolina, based on dwelling coverage limits associated with the policy. 
| Dwelling Coverage Limits | Average Annual Premium (incl. Windstorm & Hail Coverage) |
| --- | --- |
| $100,000.00 - $199,999.00 | $731.42 |
| $200,000.00 - $299,999.00 | $968.31 |
| $300,000.00 - $399,999.00 | $1,163.67 |
| $400,000.00 - $499,999.00 | $1,433.15 |
| $500,000.00-$599,999.00 | $1,719.71 |
| $600,000.00-$699,999.00 | $1,969.37 |
How Square Footage Affects Your Waxhaw Home Insurance
When you initially chat with your insurance agent about your quote, they will want to know the square footage of every part of your home. They do this because the more square footage you have, the more your house will inevitably cost to rebuild if you lose it due to a covered loss. Rebuild costs- known as replacement cost in the insurance world- are a big part of determining how much you will pay in insurance premiums. Below we have a breakdown of average annual premiums in Waxhaw, Noth Carolina, based on the size of your home.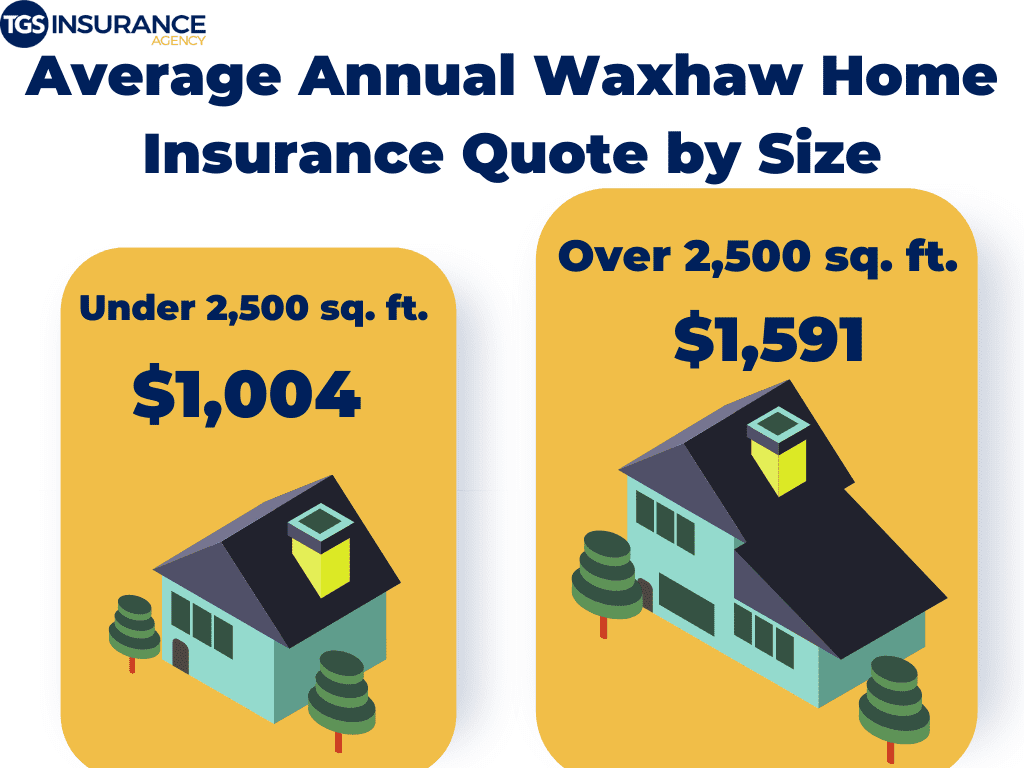 How Different Insurance Carriers in Waxhaw Differ in Price
When searching for a new home insurance policy, you want to ensure it fits your needs and is within your budget. The carrier you decide to use is one of the biggest factors affecting your premium cost. Carrier rates differ because they have different ways of determining your risk to them. Say your house is a bit older- one carrier may see that as not a huge deal, but another will take that seriously and charge you more for your premium. In Waxhaw, the least expensive carrier is SageSure; on average, Waxhaw residents pay $1,028 a year. Here is a breakdown of the four most popular carriers in Waxhaw and how their averages differ.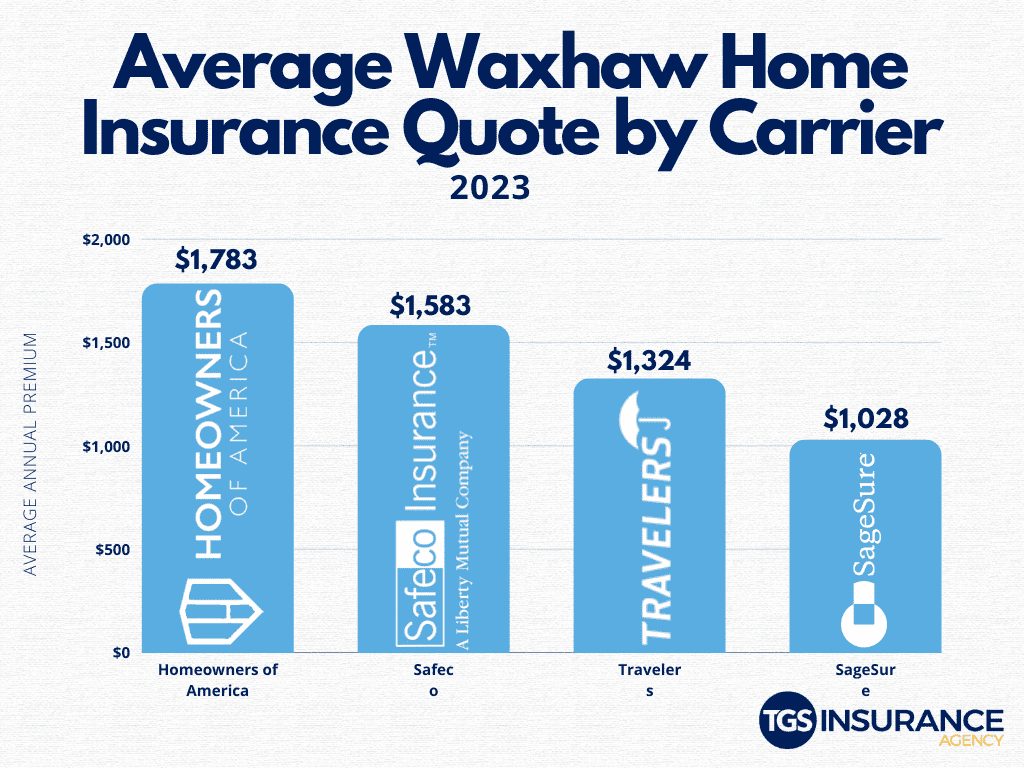 When picking which carrier is right for you, the cheapest may not always be the best. But there is no need for endless days of researching, quoting, and aggravation. At TGS, we shop around for you. You get all the prices and coverages given to you. Then you can decide which is your perfect match!
Waxhaw Zip Codes We Insure
Zip code not listed? Don't worry! We can help homeowners throughout North Carolina save money on their home insurance. Get started with a free instant quote by providing your address above.