Comparison Shop Home Insurance in Weddington from Multiple Carriers Instantly!
Being an independent insurance agency means we shop and compare the best Weddington homeowners insurance options on your behalf to find you the best combination of cost and coverage. You'll love doing business with us if you want an easier insurance experience. How do you get started? Easy! All we need is your address; you'll get an instant quote in 15 seconds or less. After that, our agents will tailor and further customize your policy to fit your specific insurance needs. Did we mention we re-shop your policy renewal to ensure you are still getting the best deal year after year?
You're one click away from never worrying about home insurance again! 
Weddington Homeowners Insurance Coverage Explained
Your home is more than just a building – it's where memories are made and cherished. That's why having the right home insurance in Weddington is so important. A standard policy typically covers losses caused by weather, theft, and accidents and includes essential coverages like protection for your home's structure, personal belongings, liability, and additional living expenses. But every homeowner's needs differ, so working with a trusted agent who can help you customize your coverage is important. From adding flood insurance to increasing your liability limits, we're here to help you protect what matters most.
What is the Cost of Home Insurance in Weddington, North Carolina?
Your home insurance policy is crafted to fit your needs as a homeowner and protect your home. Your specific policy will look different from anybody else's since it is built to protect your home and belongings. Look at how Weddington compares to other averages. 
National Average: $1,477
North Carolina Average: $1,215
Weddington, North Carolina Average: $1,658
Your home insurance premium can vary from these averages, but it is always good to compare. If your current homeowners insurance policy is much less expensive than the city average, you may not have enough coverage and be underinsured. If you pay much more than these averages, you could simply be overpaying for home insurance. 
Average Weddington Home Insurance Cost By Dwelling Coverage Limits
Dwelling coverage is the component of home insurance that protects the physical structure of your home from covered perils. It is designed to cover the cost of repairing or rebuilding your home if it is damaged or destroyed by a covered event. The amount of dwelling coverage you need will depend on the cost of rebuilding your home. Your home insurance policy typically provides coverage up to a specified dollar amount, known as the policy limit. It's important to ensure that your dwelling coverage limit is high enough to cover the cost of rebuilding your home in the event of a total loss. Dwelling coverage limits can have a significant impact on home insurance premiums. In general, the higher the dwelling coverage limit, the higher the premium since the insurance company will take on more risk.
In Weddington, North Carolina, if you need $200,000 in dwelling coverage, you'll pay an average of $995 per year. However, if your home is worth more, you'll want more coverage, so homeowners wanting $400,000 in dwelling coverage will pay an average of $1,541 in Weddington, North Carolina.
| Dwelling Coverage Limits | Average Annual Premium (incl. Windstorm & Hail Coverage) |
| --- | --- |
| $200,000.00 - $299,999.00 | $995.38 |
| $300,000.00 - $399,999.00 | $1,351.73 |
| $400,000.00 - $499,999.00 | $1,541.11 |
| $500,000.00 -$599,999.00 | $1,622.96 |
| $600,000.00- $699,999.00 | $1,757.62 |
How the Age of Your Weddington Home Affects Your Insurance
The age of your home can affect your insurance in many ways. Older homes are more at risk of electrical, plumbing, and heating/cooling complications. These issues increase the risk of fire and water damage in homes. Also, older homes can be less structurally sound than newer homes. This could lead to more damage when natural disasters-like hurricanes- come through. All of these can result in higher insurance premiums. In contrast, newer homes may be immune to these issues, making them cheaper to insure. 
Weddington Home Insurance Rates By Company
Choosing your home insurance provider is about more than the price, even though we know the cost is undoubtedly a factor. Because each provider sets their rates, the same coverage can vary between carriers. The top carrier in Weddington is SageSure. TGS customers in Weddington pay an average of $1,255 when insured by SageSure. Looking at the numbers, an overwhelming number of people in your area have chosen SageSure over our next most popular carrier, SafePort. The average premium for SafePort is $1,405 for TGS Insurance customers. Here is a breakdown of the different carriers used in Weddington.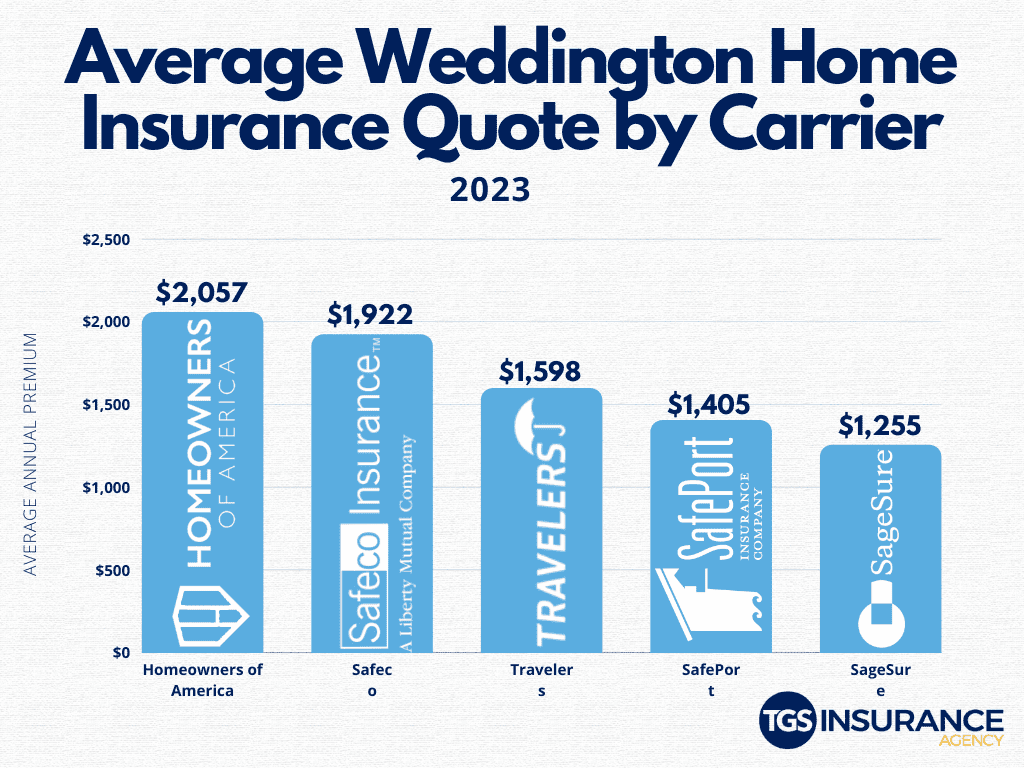 Zip Codes in Weddington We Insure
Don't see your zip code? Not a problem! We can help homeowners throughout North Carolina find the best home coverage for their needs. Get started with a free instant quote by providing your address above.