Getting a Winterville Home Insurance Quote is as Easy as 1-2-3!
Getting the best homeowner's insurance in Winterville is easy when you use TGS Insurance's proprietary online quoting tool for a free, no-obligation quote. Did we mention it only takes 15 seconds?
Enter your address

View your quote 

Customize your coverage with the guidance of one of our expert independent agents
What Does Winterville Home Insurance Cover?
Don't let unexpected losses threaten your home and personal belongings. With home insurance in Winterville, you can have peace of mind knowing you're covered against various risks. A standard policy typically covers your home's structure, personal belongings, liability, and additional living expenses. But not all policies are created equal, so it's important to work with an agent who can help you customize your coverage to fit your unique needs. Whether you need more protection for your high-value items or want to add coverage for specific risks like earthquakes or floods, we've got you covered. 
What is the Average Cost of Home Insurance in Winterville?
In Winterville, the average cost of home insurance for TGS Insurance customers is $1,570 per year. While the cost of your policy will depend on several factors, such as the value and age of your home, your location, and your credit score, our agents can help you find the coverage you need at a price you can afford. We'll work with you to customize your coverage and ensure you're not sacrificing anything important to save money.
Average Cost of Winterville Home Insurance by Dwelling Coverage Amount
Typical home insurance includes dwelling coverage which covers the costs of repairing or rebuilding your home if it sustains damage or is destroyed due to a covered event. The limit of your dwelling coverage should match the rebuilding cost of your home, and the higher the limit, the more substantial the impact on home insurance premiums since the insurance company bears more risk. For TGS customers with a $200,000 dwelling coverage limit, their premium averages at $1,461 per year. 
| Dwelling Coverage Limits | Average Annual Premium (incl. Windstorm & Hail Coverage) |
| --- | --- |
| $100,000.00 - $199,999.00 | $1,100.11 |
| $200,000.00 - $299,999.00 | $1,460.86 |
| $300,000.00 - $399,999.00 | $1,790.54 |
| $400,000.00 - $499,999.00 | $2,090.93 |
| $500,000.00-$599,999.00 | $2,407.57 |
How the Size of Your Winterville Home Affects the Cost of Insurance
Another thing that will affect the cost of your Winterville home insurance is the size of your home. Insurance carriers look at the square footage of your home to determine the replacement cost.  If you have a larger house, your replacement cost will be higher. Because of the higher replacement cost, your home insurance premium will be higher than that of smaller houses. Some other factors that affect your replacement cost are:
Building materials used to build your home

Features in your home like fireplaces or a jetted tub

The age of your home
In Winterville, houses that are over 2,500 square feet cost $2,130 per year. Houses under 2,500 square feet have an average annual premium of $1,416.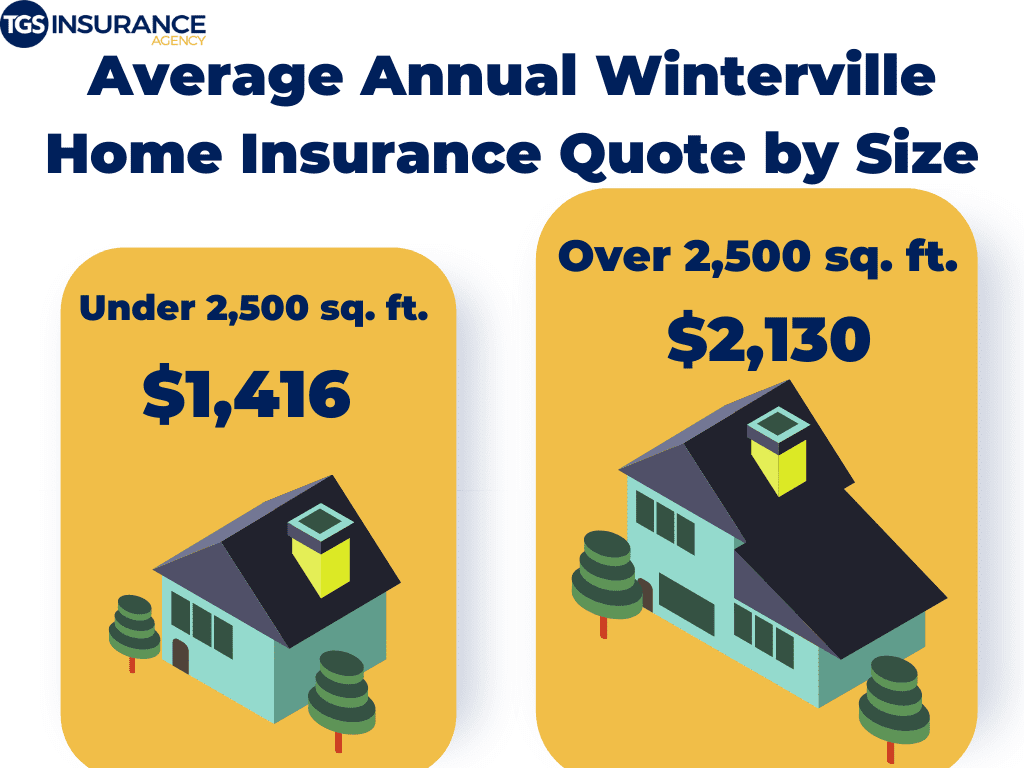 Winterville Home Insurance Rates By Company
Choosing your home insurance provider is about more than the price, even though we know the cost is undoubtedly a factor. Because each provider sets their rates, the same coverage can vary between carriers. The top carrier in Winterville is SageSure. TGS customers in Winterville pay an average of $1,182 when insured by SageSure. Looking at the numbers, an overwhelming number of people in your area have chosen SageSure over our next most popular carrier, SafePort. The average premium for SafePort is $1,223 for TGS Insurance customers. Here is a breakdown of the different carriers used in Winterville.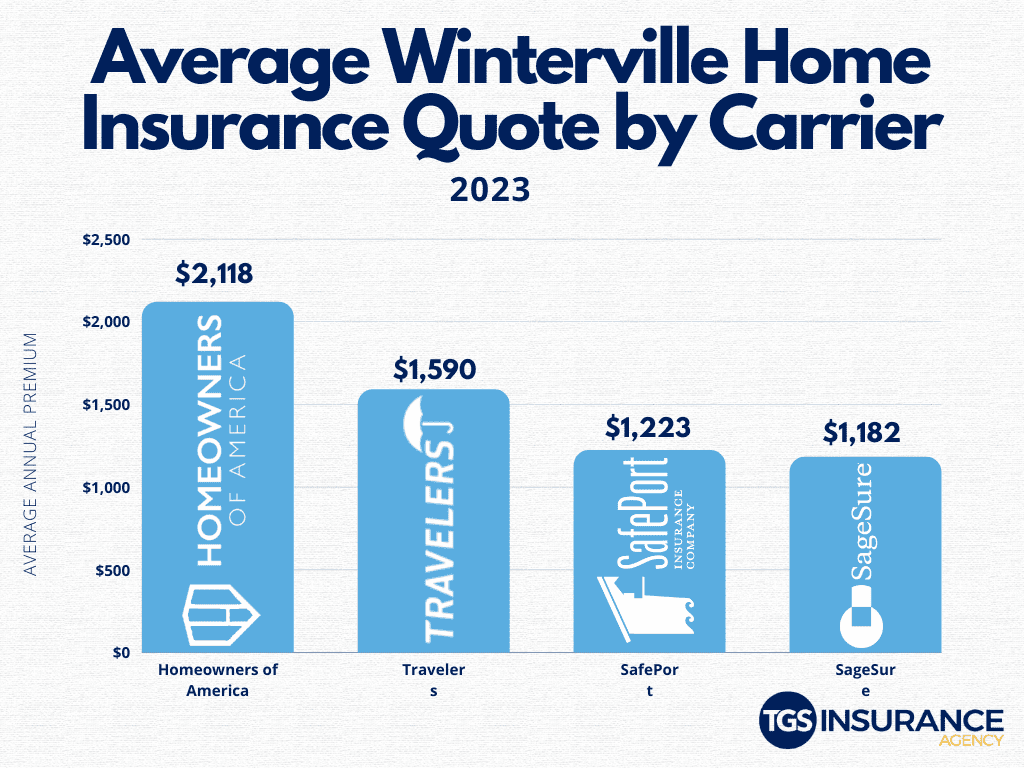 Winterville Zip Codes We Insure
Zip code not listed? Don't worry! We can help homeowners throughout North Carolina save money on their home insurance. Start with a free instant quote by providing your address above.