Comparison Shop Home Insurance in Beaumont, TX from Multiple Carriers in Minutes!
Over 56% of homeowners don't shop their home insurance policy around and therefore are missing out on substantial savings. At TGS Insurance, we automatically shop over 35+ A-rated (or better) home insurance carriers in Beaumont, TX so homeowners always get the best policy at a great rate! 
How Much is Home Insurance in Beaumont, TX?
The average cost for home insurance in Beaumont is $1,692 for TGS Insurance Agency customers. While every policy is different and dependent on multiple factors, including your home's value and the type of coverage you get, we have proudly been able to save our Texas customers an average of $870 per year on their home insurance premiums when they switch to us. Finding out how much you can be saving is as easy as providing your address above for an instant quote– really! 
Comparing the Average Cost of Homeowners Insurance in Beaumont, TX By Home Value
Below is a comparison of the average home insurance quote from TGS Insurance Agency in Beaumont, by home value. Home value is one of many factors that influences your home insurance rate. Below, home values are rounded to the nearest $25,000 so $100,000 includes homes in the $75,000 to $125,000 range.
| Home Value | Average Annual Premium (incl. Wind Coverage) |
| --- | --- |
| $100,000 | $1,105 |
| $150,000 | $1,259 |
| $200,000 | $1,519 |
| $250,000 | $1,745 |
| $300,000 | $2,010 |
| $350,000 | $2,233 |
| $400,000 | $2,468 |
| $500,000 | $3,070 |
| $550,000 | $3,035 |
| $600,000 | $3,177 |
| $650,000 | $3,379 |
| $700,000 | $4,236 |
How Much is Flood Insurance in Beaumont, TX?
The average cost of flood insurance in Texas is around $634 per year but can vary depending on where you live. Beaumont, TX is just outside of Houston where flood insurance policies average around $592 annually. The average Beaumont, TX resident pays $494 per year when they purchase their flood insurance policy through TGS Insurance! 
There are a few factors that determine the price of flood insurance:
Where you live

The value of your home

Flood risk 

The amount of your deductible.
Are Floodplains Changing in Beaumont?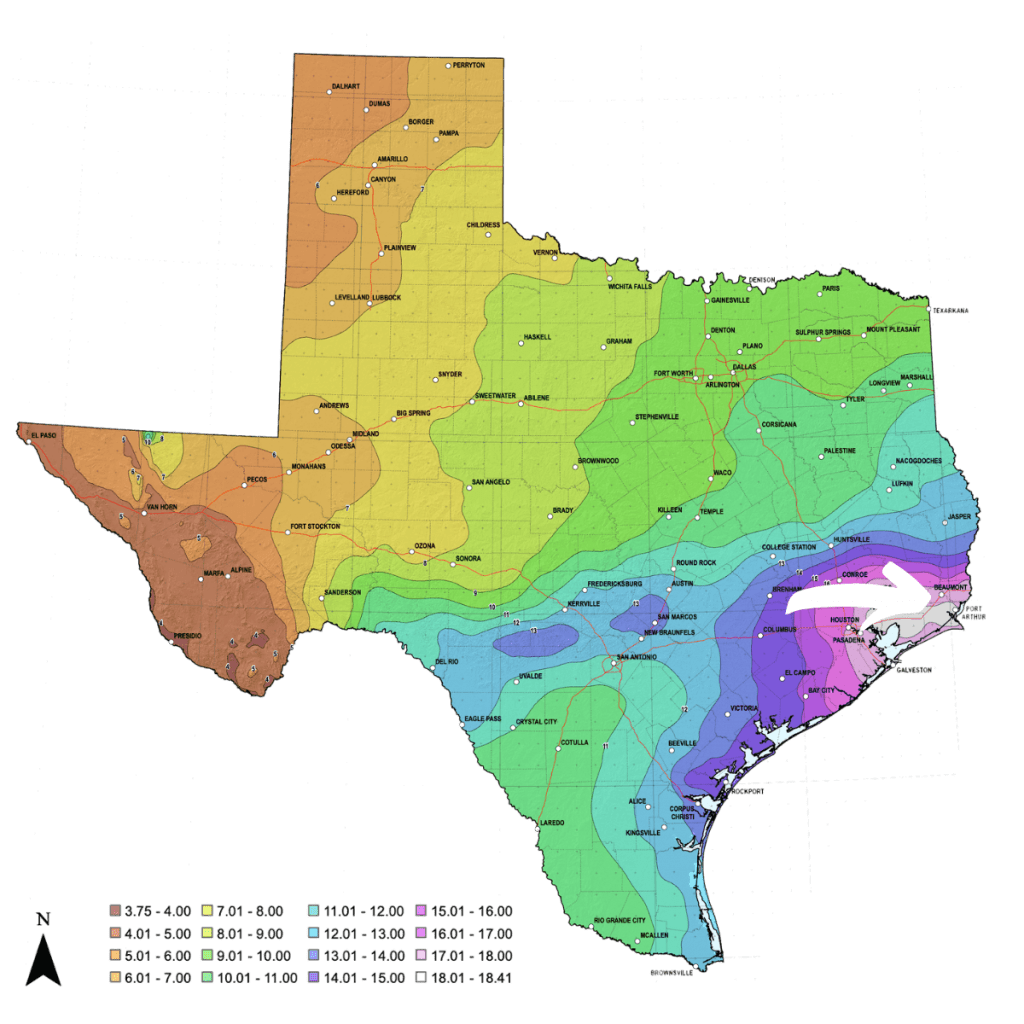 Beaumont, TX gets an average of about 60 inches of rain per year, with the US average at 38 inches of rain per year. During Hurricane Harvey Beaumont, TX recorded a whopping 104 inches. In 2019, the Beaumont-Port Arthur area recorded 85.49 inches so it should be no surprise that new precipitation maps released by the NOAA have increased the threshold for Beaumont by 4 inches! Based on this new data, there is potential that floodplain maps could require updates to the 100-year floodplain which would likely expand the number of homes with increased home insurance rates from being in a flood plain. 
Regardless of what FEMA decides to do with this new data after further analysis, its important to remember that over 20% of flood insurance claims from Harvey came from those living outside of a flood zone. Beaumont is prone to natural weather disasters such as tropical storms and hurricanes, so it's always a safe bet that regardless of whether you live outside of a flood zone, you should always consider a flood insurance policy.
Additional Coverages for Your Beaumont, TX Home Insurance Policy 
Windstorm Insurance: Beaumont homeowners are no strangers to intense windstorms and know all too well the destruction they can bring. This policy covers the physical harm to your home as well as your personal property in the event a tornado, hurricane, or tropical storm hits your area. Typically, windstorm insurance policies are purchased as a separate add-on type of coverage. 
The TGS Difference: We believe you should be covered for any event, and that includes windstorms. We always include windstorm coverage to all of our standard Beaumont homeowners insurance policies with a 2% windstorm/hail deductible. We can simply add or remove windstorm coverage based on your insurance needs. 
Hailstorm Insurance: Texas is ranked #1 for the largest number of hail damage between the years of 2017-2019. Depending on your homeowners insurance policy, hail damage might not always be included because of how close Beaumont is to the Texas coast. 
The TGS Difference: To guarantee you're fully protected, we automatically write-in hail protection as part of your standard Beaumont home insurance policy, with a 2% hail/windstorm deductible that can be customized for your preference.
Flood Insurance: Beaumont, TX is only 16.4 feet above sea level and homeowners in Beaumont, TX should seriously consider purchasing a flood insurance policy. Contrary to popular belief, damage caused by a flood is not covered by homeowners insurance. Flood insurance will protect your home and personal belongings from rising waters due to a hurricane, tropical storm, or heavy rainfall. 
The TGS Difference: We shop your flood insurance rates through FEMA and other private insurers so you always get the best flood insurance rate available. 
Bundle and Save Even More on Your Beaumont, TX Homeowners Insurance!
Bundling your homeowners insurance with your auto insurance policy is an easy way to rack up additional savings on your insurance policies. When you purchase two policies from the same carrier, customers can save anywhere from 5% to 25% per year on their premiums! 
At TGS Insurance, we make it easy to bundle your home and auto policies in Beaumont, TX. We work closely with 35+ highly-rated insurance providers to make sure you are getting the best bundling options with the most coverage at the best price! 
Zip Codes in Beaumont, TX That We Insure:
| | | | | |
| --- | --- | --- | --- | --- |
| 77701 | 77702 | 77703 | 77704 | 77705 |
| 77706 | 77707 | 77708 | 77709 | 77710 |
| 77713 | 77720 | 77725 | 77726 | |
Don't see your zip code listed? Don't worry, as long as it's in Texas, we've got you covered!